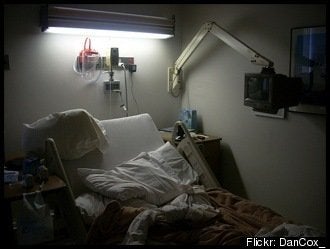 As part of its Bearing Witness 2.0 project, the Huffington Post is rounding up a few of the best local stories of the day.
Patricia Gill has insurance for her family but wound up with a $17,000 lawsuit from the hospital after her daughter's medical emergency reports the Fairfield Weekly's Betsy Yagla. In August, a court ruled in the hospital's favor, and now Gill is seeing her wages garnished to the tune of $220 a month.
Now Gill is scared of returning to the hospital: "I don't know if I can cover the bill, and I don't want to be sued again."
The branch manager shared a witticism: "If you're lucky, your parents teach you about everything except two subjects: love and finance."
A hospital in Snoqualmie Valley, Wash., has started its Affordable Access program, which gives members a primary care plan for just $30 a month, reports Tara Ballenger for the SnoValley Star. The program has no income restrictions, is open to anyone, and though it does not cover major medical claims, the regular care it gives patients can prevent major illnesses from developing.
"Before, I'd wait and get increasingly sicker," said Denny McClain, who came down with bronchitis and pneumonia a few years ago. He enrolled in the program in August and has seen a doctor three times since.
Last week Colton, Calif., closed its three library branches and laid off almost 60 people. "We know we are affecting children and we are impacting families but the budget shortfall was so great that immediate action needed to be taken," said Colton's Interim City Manager Bob Miller.

HuffPost readers: Seen a compelling local story? Have a neighbor going to bizarre lengths to get through the recession? Tell us about it! Email jmhattem@gmail.com.

REAL LIFE. REAL NEWS. REAL VOICES.
Help us tell more of the stories that matter from voices that too often remain unheard.