NEW YORK -- Spending a day at an affluent, mostly white high school in Brooklyn led Bronx Academy of Letters student Shania Russell to grapple with some complex feelings.
The high school junior, who is black, attends a school where most students are black or Latino. Her day in Brooklyn was part of an exchange program designed to help students connect with teens from other backgrounds.
"The point is that we already attend a really good school, and so do the other kids," she told classmates, reading from a sheet of paper on which she'd written about her experience at the school in another borough.
"But we also attend very different schools, and we attend them separately," Shania continued. "And unfortunately, that means there are resources that just aren't fairly allocated between us, and there are opportunities that are not fairly distributed between us. And there's something fundamentally wrong with that."
Shania is involved with IntegrateNYC4Me, a Bronx Academy of Letters elective course that teaches students about the impact of school segregation and helps them advocate for more integrated, equitable ones.
Sarah Camiscoli, an English as a second language teacher at the Bronx school, co-founded IntegrateNYC4Me in the 2014-15 academic year after hearing that some students were concerned about resource allocation across schools.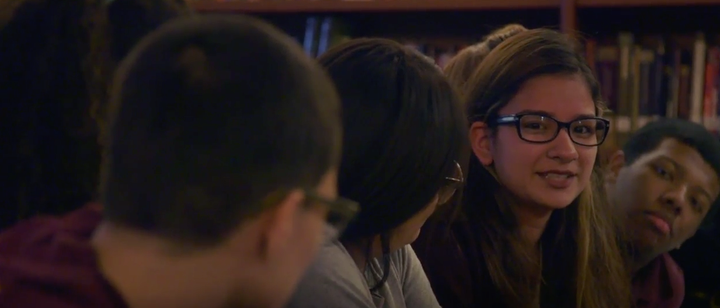 Camiscoli was already interested in these issues, and had been particularly struck by a 2014 study from the UCLA Civil Rights Project that found New York City schools to be some of the most segregated in the nation. Eighty-five percent of black students in the city attend schools where less than 10 percent of students are white, according to the report.
The group originally involved Camiscoli and six students. This year, it became a class with about 23 kids.
"As someone who identifies as an activist as well as a teacher, I said: How can I bring these students ... into the public school system to transform those concerns into reality?" Camiscoli said. "We started looking at: What are some resources we think every school should have access to? What are some ways that we could reimagine schools to be more fully integrated in terms of young people and resources?"
"The point is that we already attend a really good school, and so do the other kids. But we also attend very different schools, and we attend them separately."
The day-long exchange helps open students' eyes to how resources are distributed among schools in different parts of the city.
"I always feel this tingling bit of embarrassment when I explain the exchange to people, because I just can't find a short way of summarizing what it is that we are doing," Shania told her classmates. "I feel like, no matter how I describe it, no matter how I try to rationalize our actions, it comes across as: 'We wanna go look at another school and see what they have, and complain that we don't have it.'"
But the program entails much more than the student exchange. IntegrateNYC4Me students have held workshops to facilitate conversations about equality, spoken to city council members, attended a congressional briefing on school segregation, and participated in a roundtable discussion with representatives from the U.S. Department of Education.
They've also painted murals depicting the importance of interracial friendships and are in talks to design a youth diversity council that would involve students across the city. Their advocacy has already resulted in their school tripling its number of sports teams.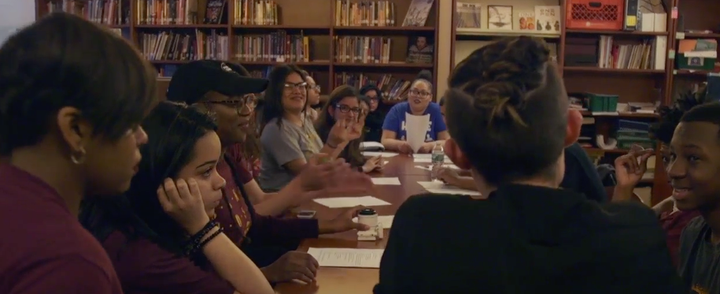 New York City schools operate as a two-tiered system where affluent, white students inhabit schools that are largely isolated from most of the city's black and brown children. This is bad news for students of color. High-minority schools tend to have less experienced teachers, and don't have as much access to elective courses, after-school programs, and high-level, rigorous courses, like Advanced Placement classes.
The students of IntegrateNYC4Me noticed these differences when they did their exchange.
"The moment of truth came when we set foot off the bus. Culture shock crept in. I never expected to see a school that big. The school looked like a university," 11th-grader Garna Gaymon told the class. "The fact that the school had its own building wasn't that surprising, but somewhat upsetting, because every school I have attended shared the building with other schools and even an after-school program."
But they also noticed that they shared interests with their Brooklyn peers. In the months leading up to the exchange, students from both schools participated in icebreakers, wrote letters and had Skype sessions. They formed easy connections. One Bronx student has plans to go shopping with her Brooklyn partner. Another was flattered when Brooklyn students complimented her style and makeup.
Tenth-grader Amera Attalah, who is white and Arab, said her exchange partner "was expecting, um, a lot of ghetto people and commotion" at the Bronx school.
"I knew doing the exchange would change his mind," she added.
Kevin Guerrero, a 10th-grade Latino student, was initially anxious about meeting students from the Brooklyn school, and wasn't sure he wanted to participate in the exchange. But he ultimately credits the experience with making him a more positive person.
"This is the power of school integration. It has the power to open minds and open doors for so many people," Kevin told his classmates. "I am glad to have participated in the exchange and see now that integration would help everyone; not just the students that are segregated, but those who are privileged too."
Camiscoli wants her students to leave the program feeling like Kevin -- stronger, more open-minded and hopeful about what's possible -- rather than downtrodden or bitter.
"These are stories of strength because integration needs to be a conversation about strengths," she told her class. "All of you have beautiful strengths, and we are looking to see how we can most powerfully look at how we are not bringing them together and how we might in the future."
This video was produced by Will Tooke and Susannah Gruder and edited by Ethan Kirby.
Rebecca Klein covers the challenges faced in school discipline, school segregation and the achievement gap in K-12 education. In particular, she is drilling down into the programs and innovations that are trying to solve these problems. Tips? Email Rebecca.Klein@huffingtonpost.com.
Support HuffPost
The Stakes Have Never Been Higher
Popular in the Community