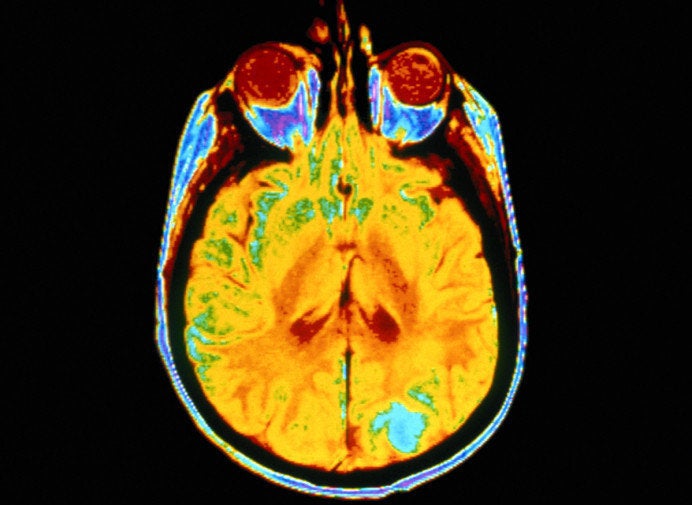 Diagnosed with a brain tumor in 1998 when I was 24 years old, I knew nothing about cancer. Since then, my health and healing journey has taken me to places far and wide.
Within one month I had undergone awake brain surgery at the National Institutes of Health (NIH). I felt my left temporal lobe brain tumor -- the center of speech, memory and sound -- required awake brain surgery to help protect my cognitive functions. Twelve hours of surgery later -- complete with awake speech and memory testing -- neurosurgeons removed the brain tumor along with some surrounding tissue. In the ICU, my brain re-routed, my cells repaired, my bones mended, my jaw slowly unlocked, my heart trembled, my body acclimated to new terrain, my soul sung tunes and my spirit held me.
"You need to track brain tumor scientific studies for your tumor type and care for yourself," said one of my neurosurgeons. I had no concept for any of it. Crisis serves as a powerful teacher and a catalyst for change.
Several opinions from pathologists diagnosed a lower grade stage of a brain tumor. For cancer patients, multiple opinions are necessary. No conventional cancer treatments were recommended. Instead, I had frequent MRI scans at Memorial Sloan Kettering Cancer Center (MSKCC).
Recovering from my surgery and learning about anti-cancer modalities, I built a team of providers and developed self-care strategies. I developed my health and healing map over many years. Some approaches and therapies supporting me involve acupuncture, herbs, holistic medical care, craniosacral treatments, exercise, dietary changes, homeopathy, Shamanic work, energy healing, dental work, psychotherapy and support groups.
Over time, my personal journey and professional cancer work begged the question, "What do people with cancer really need for improved quality of life and survival?" The answer for me has been integrative cancer care. Integrating more than the cancer diagnosis, integrative cancer care addresses the whole person of body, mind and spirit, including social and environmental health. I've found studies that show that integrative cancer care can possibly reduce cancer risk, and improve cancer survival and quality of life.
My integrative cancer care plan continues to evolve. In some ways, I began to feel stronger. Some aspects of my health and healing moved forward while other aspects moved backward. Dealing with fatigue and other ailments, I was finally told news about my tumor's recurrence in February 2004. Not only was I informed about my brain tumor recurrence, I learned that the tumor actually regrew in 2000. Despite my frequent MRI scans, my doctor never informed me. It was a double whammy. Getting copies of medical records, questioning hospitals claiming to offer the best of cancer care, learning about advocacy and self-care -- these were only some of the lessons I learned.
Moving toward thinking and creating anew, I added more integrative therapies and made more changes to my life. During the last five years, I completed four major cancer protocols, including three at cancer clinics in Europe and one in New York City. Once again, I became stronger in some ways, but other health problems surfaced simultaneously.
I've constantly tried to figure out where I have been and need to go. Now, more than 13 years after my brain tumor diagnosis, surgery, recurrence, more than 30 MRI scans, many cancer therapies, healing modalities, introspection, study and resources, my life contains new knowledge and personal transformation. I embrace adversity as opportunity, seeing healing as a never-ending road and life as a spiritual journey.
But change has occurred once again. A new chapter in my brain tumor journey began three weeks ago. My most recent MRI scan the end of July 2011 showed that my brain tumor requires me to have a second brain surgery. I've worked extremely hard trying to heal holistically and trying to avoid another surgery. Yet to stay alive, that is what I must do. On September 1, 2011, I'll have awake brain surgery at the University of California San Francisco (UCSF) with Mitchel Berger, M.D.
While I live with uncertainty, vulnerability and sometimes pain, my knowledge and strength carries me forward. Eager and open to transforming my challenges into opportunities, I further evolve into my deeper self.
Through my own personal cancer experience and professional cancer work, I've identified some essential tips for cancer patients:
1.Self-Care: Make yourself a priority each moment, hour, day and week. Support your own whole person. Definitely sleep, relax, eat healthy, reduce stress, use mind-body support, lean on your spiritual and social connections, live in a clean and green environment and address any other needs you may have.
2.Support Team: Love yourself and receive support. Create a group of family members and friends to help you through your cancer journey. Specific types of support are wide and varied. You can even use Internet-based programs to organize help. Find what works for you. Be open.
3.Advocacy: Self-advocate, and receive help from loved ones and other professionals to navigate your cancer diagnosis, side effects, treatments and journey. Move step by step. Conduct research, ask quality questions, seek multiple opinions, maintain a willingness to change directions when necessary, and use other resources to improve quality of life and cancer survival.
4.Choose Quality Providers And Build A Team: Choose an oncologist with expertise in your specific cancer and access to excellent treatment facilities. I believe that quality cancer care must include other treatments for the cancer diagnosis and your whole person. Identify a group of integrative providers tending to many aspects of your health and healing. The full spectrum of comprehensive integrative cancer care will not come from one professional -- instead it will occur through the help of a team.
5.Joy, Love, Passions And Purpose: Focus your attention on what you enjoy and the way that love brings light to your life. Express your passions and purpose in order to strengthen your innate healing capacity. I believe that passions flow through your heart. Purpose feeds from your core through embodiment of heart, soul and spirit.
With these essential tips, many other cancer resources, my personal cancer knowledge and professional cancer work, my commitment is to help people with cancer. You can learn more about integrative cancer care resources for the whole person through my non-profit organization called EmbodiWorks at www.embodiworks.org.

Related