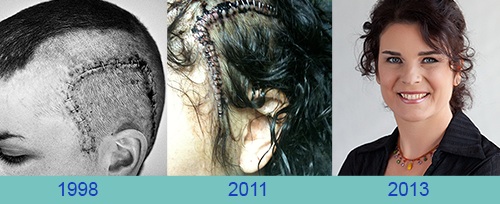 I did not think I'd still be alive after diagnosed with a brain tumor in the spring of 1998 at age 24, 15 years ago. In my healing path since then -- having been treated with two awake brain surgeries and hundreds of integrative cancer therapies, my own professional cancer jobs, and many other positions -- I've learned seven key healthy strategies with transformative healing outcomes. Along with evidence-based cancer insights, my knowledge has been cultivated through my quest for quality of life and cancer survival plus thousands of cancer patients I've met in my path.
Use Integrative Cancer Medicine and Integrative Health Care
When first diagnosed with a brain tumor, I knew virtually nothing about healing. Necessity becomes a powerful teacher. I dived into a healing path in directions high and low, and ultimately to navigate with quality actions. I learned that cancer patients must combine conventional cancer care with whole-person health and healing. Integrative cancer care treats the entire physical body, mind-body vitality, spiritual wellness, social connections, and a clean, green environment. Studies show that integrative cancer medicine may improve quality of life, cancer survival, and cancer prevention.
The integrative cancer care plan must include a top-notch oncologist plus an integrative cancer physician, naturopath, and/or other providers. Research must evaluate all options to create an individualized optimal team. For cancer patients and caregivers that cannot fully conduct their research, they benefit from assistance through experts. All aspects of whole-person health and healing must be incorporated into a customized integrative cancer care protocol. Cancer patients can experience different situations when new health conditions occur that need alterations with integrative treatments. Everyone affected by cancer must be proactive. Also essentially clear, everyone without cancer immensely benefits from whole-person integrative health care.
Commit to Optimal Health and Healing Daily
Integrative cancer care does not only include medical visits and treatments. In combination with necessary conventional cancer treatments and other integrative therapies addressing the entire body, cancer patients need to use self-care daily.
What includes self-care? Adequate sleep, low stress levels, healthy organic foods, exercise, positive thinking, vital relationships, supplements from integrative providers, and other optimal support to the body-mind-spirit provide self-care.
Cancer patients can experience profound core health improvements through self-care. That includes a healthy diet to eliminate foods supporting cancer growth. Cancer patients significantly benefit from cancer-fighting foods. Since foods impact genes and every cell in the body, incorporating what to eat and what not to eat is a requirement.
Ride Your Tides and Release What No Longer Serves You
Life is change. Attitudes strengthen by perceiving challenges as opportunities. Everyone goes through life with new chapters. Embracing some acceptance reduces stress, and helps people receive and integrate support.
Evaluate yourself and life. Get rid of anything that does not support your optimal wellness. Make better choices. Each person who does not have the skills needs to ask for help.
Walk Your Talk With Awareness and Integrity
Beliefs of each person conform their foundation and navigation through life. The cancer experience can illuminate some belief systems regarding core constructs of self. Thoughts about health care and cancer are included into the conversation. The healing path deeply benefits from new insights into beliefs and ego structure, plus understanding associated with thoughts and feelings. Related patterns must be identified, tracked, and transformed toward integrated improvements. Self-awareness becomes enhanced through an embodied commitment with consistencies to think, feel, say, and do. Those components of an integrated, individualized self support the alignment into integrity.
Part of my learning about lack of integrity includes unprofessional cancer doctors. My studies mentally, emotionally, and in spirituality flooded to cultivate efforts for integrity within myself, and identify others.
Embody Love Into All of Your Cells
Along with a new relationship through the physical body, cancer patients also develop a new connection in the mind-body with cancer-disease-related mental and emotional issues. If people have not loved themselves previously, the route through cancer enlightens its requirements. For other people who know how to love themselves, the conversations emerge to cope with a stranger inside one's internal landscape in personal locations unwanted.
Love yourself. True love must be fully cultivated and maintained at an extremely powerful level of healing. Embracing complete love transforms and transmits currencies for healing toward every cell in the body. Your own love impacts your internal terrain -- your environment that influences dis-ease.
Everyone has a unique purpose in this lifetime. If you do not know your purpose yet, search to identify your true self. Once discovered, embrace your path. When people express their meaning and purpose that helps them maintain wellness and -- even for cancer patients and others with health problems -- strengthens their innate healing capacity.
When I received my brain tumor diagnosis, I worked in the U.S. Congress with plans to attend law school. In my chaos, I developed a new relationship with my deeper self. Levels of guidance through my soul and spirit directed me to many jobs to educate me with important skills for my purpose. Now I work in integrative cancer care and love what I do to serve others for their healing.
Unite With Soul and Spirit
Dealing with cancer highlights that sometimes we are not in control. While there are positive actions with clear, improved benefits, other aspects of life involve the unknown with no guarantees. Cancer and any types of intense life experiences can cultivate feelings, thoughts, and beliefs about lack of stability and lack of trust. Ultimately people can benefit from learning and accepting that they can influence, but cannot control. In that process, new understandings and relationships emerge with spirit. Conscious awareness expands into spiritual dimensions visible and invisible. Spiritual connections become more cultivated in communion into the soul. Ultimately, true freedom can flourish into wisdoms about eternal life.
Jeannine Walston provides information and inspiration about integrative cancer care for the whole person to improve quality of life, cancer survival, and cancer prevention through her educational website. Her services include work as a Cancer Coach & Navigator, Writing & Consulting, and Public Speaking. Jeannine is a cancer survivor since 1998 with extensive experience in cancer education and advocacy, health care policy, and conventional into integrative cancer care through work for the National Cancer Institute, Food and Drug Administration, National Institutes of Health National Center for Complementary and Alternative Medicine's Clearinghouse, the U.S. Congress, cancer non-profit organizations, and health care practices. Learn more to visit her integrative cancer website, Facebook, and Twitter.