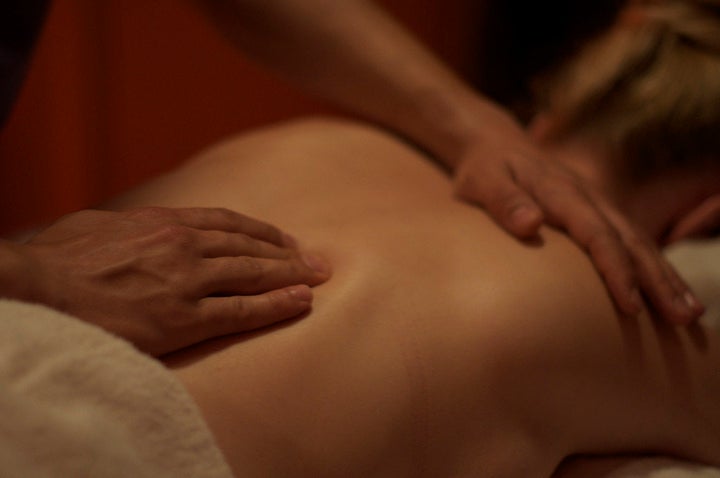 Many of my patients express their frustration that massage therapy generally is not covered by their health insurance, yet the health benefits seem tremendous for them. I believe that the growing trend of discontent with lack of coverage for massage therapy is not just limited to patients, but from health practitioners as well.
What is even more unfortunate is that sometimes health care practitioners rarely fully lay hands on patients even for office visits and evaluations anymore. As a part of most healing modalities in the past, the simple touch therapy of examining and treating the patient imparts a level of healing that is now becoming lost in modern day medicine.
Many of my patients joke that doctors these days don't even put their hands on the patient anymore except for a cursory exam at the first visit or unless absolutely necessary. It is unfortunate that along with declining time allowed with each patient, even the simple but effective practice of laying of hands on patients is slowly becoming lost as well.
Even as recent as just a few decades ago, the laying of hands and massage therapy or manual therapy was considered a normal natural part of medicine. In more recent times, massage and manual therapy is seen as more of a luxury rather than a necessary part of healing and wellness.

This is an unfortunate change in Western healing philosophy since studies show that massage and manual therapy are beneficial for many medical conditions and health concerns, which is likely the reason why manual therapy is still considered an important part of healing in most other parts of the world.
Based on numerous studies as listed below, massage and manual therapy is in my opinion an essential part of health and healing based on improvement of circulation, muscle function and stress reduction, just to name a few.
Nowadays in medicine, we are all well aware of how stress affects our body negatively. We see time and time again that patients who are stressed, anxious or depressed tend toward more negative health outcomes than those who are feeling balanced, calm and positive.
Studies indicate that manual therapy likely helps with stress reduction as well as other aspects of physiology. But even taking those other physiological benefits aside, the reduction of stress alone has tremendous health benefits to patients, as related to more positive outcomes to overall health and daily functioning.
So, my recommendation to everyone reading this article is to stop thinking of massage or manual therapy as a luxury. It is well worth the investment on a regular basis if you can afford it. It is likely worthwhile to double check with your insurance company and ask whether you have some coverage within your physical therapy coverage, which many of my patients were not aware of and were pleasantly surprised.
My second recommendation is to find a physician who still uses the healing modality of touch in the clinic. Frequently, just simply laying hands on a patient during an exam allows the physician to both heal and diagnose all in one motion.
I am a firm believer that the therapeutic alliance between a patient and a health care practitioner is stronger when there is a respectful level of healing touch involved in treatment and diagnosis. In order to achieve an accurate level of diagnosis, we were taught in medical school to obtain at least 90 percent of the diagnosis from the patient. In order to do that, we would need to lay our hands on our patients to fully evaluate and diagnose them... and that is what I would recommend that you look for in your physician.
Overall, I agree with my patients that insurance companies do not cover for this vastly beneficial healing modality enough. Not only do they not allow physicians more time with patients for visits (short visits are necessary in order to keep a clinic financially afloat based on the current system), but frequently they do not cover for hands-on therapy such as massage or manual therapy. Unfortunately then, it is left to us to pursue this topic with our physicians and our insurance companies and see if there is coverage hidden in the fine print of the physical therapy coverage.
If there is, I highly recommend that you utilize the services and not wait until you have longstanding chronic pain, insomnia, irritable bowel syndrome or hypertension, just to name a few adverse consequences of longstanding stress and discomfort.
I like to frequently remind my patients that our body is not cut off at the neck; such that what is in our mind does affect our body, and what is happening in our body does affect our mind. So, why not make use of a healing modality that seems to treat both our mind and body?
Ultimately, if you have to put in some leg work on your end to figure out an affordable way to achieve regular manual or massage therapy, either through your physical therapy coverage or an affordable massage clinic in your neighborhood, in the long run, your mind and body will both be better off for it.
For more by Julie Chen, M.D., click here.
For more on personal health, click here.
Anderson PG, Cutshall SM. Massage therapy: a comfort intervention for cardiac surgery patients. Clin Nurse Spec. 2007;21(3):161-5; quiz 166-7.
Bernas M, Witte M, Kriederman B, Summers P, Witte C. Massage therapy in the treatment of lymphedema. Rationale, results, and applications. IEEE Eng Med Biol Mag. 2005;24(2):58-68.
Billhult A, Bergbom I, Stener-Victorin E. Massage relieves nausea in women with breast cancer who are undergoing chemotherapy. J Altern Complement Med. 2007;13(1):53-7.
Billhult A, Stener-Victorin E, Bergbom I. The experience of massage during chemotherapy treatment in breast cancer patients. Clin Nurs Res. 2007;16(2):85-99; discussion 100-2.
Buckle S. Aromatherapy and massage: the evidence. Paediatr Nurs. 2003;15(6):24-7.
Button C, Anderson N, Bradford C, Cotter JD, Ainslie PN. The effect of multidirectional mechanical vibration on peripheral circulation of humans. Clin Physiol Funct Imaging. 2007;27(4):211-6.
Cambron JA, Dexheimer J, Coe P. Changes in blood pressure after various forms of therapeutic massage: a preliminary study. J Altern Complement Med. 2006;12(1):65-70.
Dryden T, Baskwill A, Preyde M. Massage therapy for the orthopaedic patient: a review. Orthop Nurs. 2004;23(5):327-32; quiz 333-4.
Furlan AD, Imamura M, Dryden T, Irvin E. Massage for low-back pain. Cochrane Database Syst Rev. 2008;(4):CD001929.
Gordon C, Emiliozzi C, Zartarian M. Use of a mechanical massage technique in the treatment of fibromyalgia: a preliminary study. Arch Phys Med Rehabil. 2006;87(1):145-7.
Kaye AD, Kaye AJ, Swinford J, Baluch A, Bawcom BA, Lambert TJ, Hoover JM. The effect of deep-tissue massage therapy on blood pressure and heart rate. J Altern Complement Med. 2008;14(2):125-8.
Kutner JS, Smith MC, Corbin L, Hemphill L, Benton K, Mellis BK, Beaty B, Felton S, Yamashita TE, Bryant LL, Fairclough DL. Massage therapy versus simple touch to improve pain and mood in patients with advanced cancer: a randomized trial. Ann Intern Med. 2008;149(6):369-79.
Maa SH, Tsou TS, Wang KY, Wang CH, Lin HC, Huang YH. Self-administered acupressure reduces the symptoms that limit daily activities in bronchiectasis patients: pilot study findings. J Clin Nurs. 2007;16(4):794-804.
McNeill JA, Alderdice FA, McMurray F. A retrospective cohort study exploring the relationship between antenatal reflexology and intranatal outcomes. Complement Ther Clin Pract. 2006;12(2):119-25.
Plews-Ogan M, Owens JE, Goodman M, Wolfe P, Schorling J. A pilot study evaluating mindfulness-based stress reduction and massage for the management of chronic pain. J Gen Intern Med. 2005;20(12):1136-8.
Sherman KJ, Cherkin DC, Deyo RA, Erro JH, Hrbek A, Davis RB, Eisenberg DM. The diagnosis and treatment of chronic back pain by acupuncturists, chiropractors, and massage therapists. Clin J Pain. 2006;22(3):227-34.
Skillgate E, Vingard E, Alfredsson L. Naprapathic manual therapy or evidence-based care for back and neck pain: a randomized, controlled trial. Clin J Pain. 2007;23(5):431-9.
Vernon H, Humphreys K, Hagino C. Chronic mechanical neck pain in adults treated by manual therapy: a systematic review of change scores in randomized clinical trials. JManipulative Physiol Ther. 2007;30(3):215-27.
Wilkinson SM, Love SB, Westcombe AM, et al., Effectiveness of aromatherapy massage in the management of anxiety and depression in patients with cancer: a multicenter randomized controlled trial. J Clin Oncol. 2007;25(5):532-9.
Wu HS, Lin LC, Wu SC, Lin JG. The psychologic consequences of chronic dyspnea in chronic pulmonary obstruction disease: the effects of acupressure on depression. J Altern Complement Med. 2007;13(2):253-61.
Yang MH, Wu SC, Lin JG, Lin LC. The efficacy of acupressure for decreasing agitated behaviour in dementia: a pilot study. J Clin Nurs. 2007;16(2):308-15.