Fashion shows don't come any grander than Carolina Herrera's Fall 2010 Collection. Ms. Herrera's show was all about embracing luxury and reveling in its beauty. Fashion icon Anna Wintour, buyers from Neiman Marcus and celebrities were in attendance to watch Ms. Herrera roll out a 42-piece collection. The materials included mink, eel, blue silver fox, wool crepe and Prince of Wales degrade fabric. While not all of the collection is wearable by the ordinary woman, it is clearly not designed for the ordinary woman. It is designed for a woman of discriminating tastes, who is dedicated to wearing the very finest materials and possesses a healthy pocket book. Someone like Jacqueline Kennedy Onassis, who Ms. Herrera outfitted for 12 years. The sleeves were voluminous. Collars were trimmed with fur. Cashmere, jacquard and silk crepe were abundant. The entire collection was luxury uncompromised. Here are a few images of dresses from the collection that tell the story.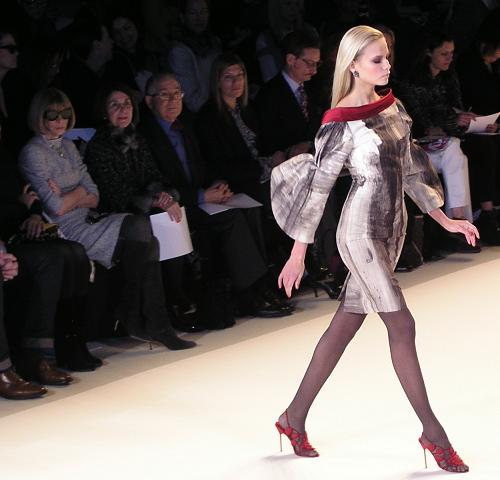 Brush stroke print, off the shoulder full sleeve dress with deep red collar on the runway with Vogue's Anna Wintour looking on (Photo: M. Hall).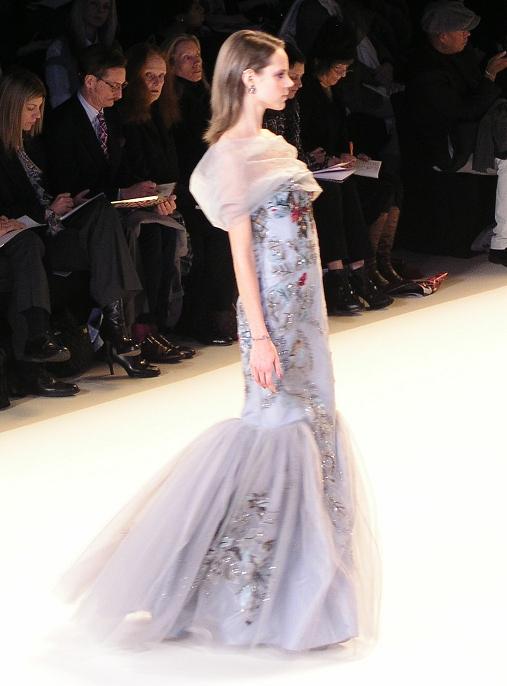 My red carpet fantasy - a silk "layered gown" with mermaid flare (Photo: M. Hall)
Mixed separates and hats also played a part in the collection. I felt like Ms. Herrera was paying homage to her Venezuelan heritage with some of the almost "gaucho" inspired looks. A very wealthy fantasy of a gaucho to be exact.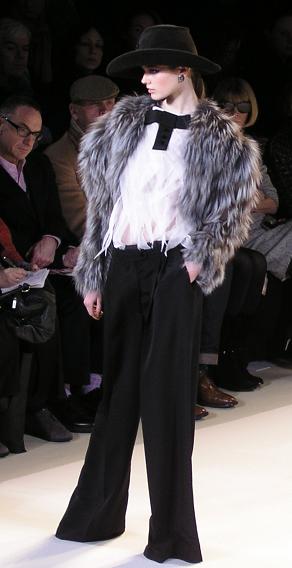 The Gaucho Goes Deluxe look - Organza blouse, wide leg pants, fox jacket and hat. (Photo: M. Hall)

There is nothing casual about this collection. For fashionistas of wealth and an inherent need for elegance, the Carolina Herrera collection literally fits the bill. The designer's eye for detail is astounding and overall, her taste is impeccable.

Related