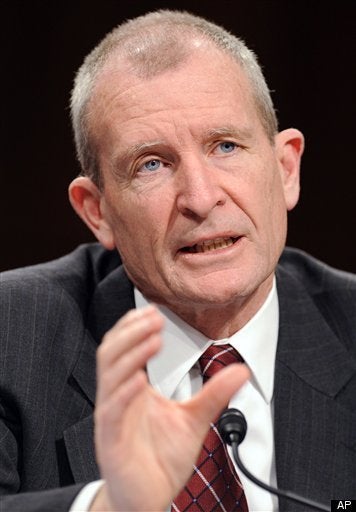 Recently the Director of National Intelligence (DNI), Dennis Blair, testified before the Senate Homeland Security Committee about the suspect accused of trying to detonate explosives on a Christmas Day flight. What was widely reported and roundly criticized was that Blair suggested a special interrogation group be used despite the fact that such a group does not yet exist. What received less attention was that according to the Washington Post, Blair and the heads of the FBI, National Counterterrorism Center, and Department of Homeland Security were not consulted about the decision to charge the suspect in a civilian criminal court. This incident has reopened debate about the role of the DNI and the intent of the Intelligence Reform Act of 2004. While this debate plays out, there are three actions that should be taken to build the Intelligence Community (IC) into a stronger and more cohesive unit and improve oversight of it.
First, leaders from both parties of the House and Senate intelligence committees should team with the administration to formally review and assess the effectiveness of the Intelligence Reform Act in order to implement midcourse corrections. Only five years since it became law, a thorough review would ensure it is fulfilling congressional intent and is properly implementing the recommendations of the 9/11 Commission Report. An undeniable fact is that at least one key recommendation of that Report has not been acted upon -- a call for a unity of effort in Congress that would be the "most difficult and important recommendation" to implement.
Secondly, it is time now for Congress to come together with the Administration to complete the intelligence reform dealing with Congressional oversight and create House and Senate Committees that have both authorization and appropriation power. The existing bifurcated congressional oversight impedes the American people from having an experienced, singular watchdog and the IC from being most effective. Sen. Russ Feingold (D-WI) introduced legislation that has bipartisan support with cosponsors Sens. Burr (R), Bayh (D), Snowe (R), and McCain (R) that would give the Senate Select Committee on Intelligence appropriations power. This would allow the same members to delve more deeply into intelligence programs and operations without dividing priorities among "authorizers" and "appropriators." The Administration should immediately support the Feingold measure, prod the House leadership to follow suit and encourage leaders to attach it to next appropriate vehicle heading for signature -- all while leveraging the Republican cosponsors of the bill. This would go a long way toward rebuilding confidence that our nation's security is a bipartisan issue, some of which was lost following the Christmas Day incident.
Third, bridges must be built to have effective oversight. Like any effective team, there must be mutual trust between the DNI, the CIA and IC elements at all levels. The DNI already has in place a community-wide directive requiring rotational assignments in other intelligence community organizations, which is a great start. Intelligence leaders must expand the number of these jobs available and make the most attractive jobs open for competition outside their own organizations to make this more effective. The DNI staff should go further and ensure that all IC elements are better integrated in a more inclusive and measured decision-making and policy processes. Although the Justice Department is not entirely part of the IC, the Attorney General and FBI Director must collaborate to the fullest extent that law allows and work to build trust with IC personnel right down to staff officers working these cases. All leaders and their staffs must direct their organizations to do more than just collaborate, but work together to build professional bonds and respect which will effectively improve the DNI's oversight. We'll never know for sure but is seems as if better working relationships among IC and Justice senior officials may have led to a much different handling of the Christmas Day case.
Within the IC, we are constantly reminded how dangerous the world is that we live in. We must take these steps in order to keep the trust of those intelligence professionals and war fighters on the front lines in order to provide timely, accurate and relevant information to policymakers and those who need it.
Calling all HuffPost superfans!
Sign up for membership to become a founding member and help shape HuffPost's next chapter