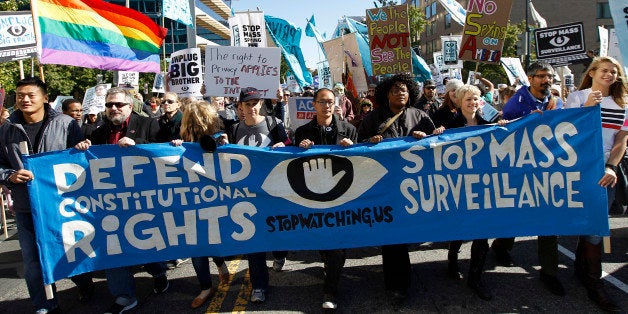 WASHINGTON -- A White House-appointed board published a comparative chart Thursday on how U.S. intelligence agencies use a Reagan-era executive order to collect Americans' private information, adding fuel to an already smoldering debate.
The Privacy and Civil Liberties Oversight Board, an executive branch watchdog established to weigh Americans' civil liberties against the government's need to gather intelligence, compiled the chart on Executive Order 12333, which governs a large chunk of the government's intelligence collection.
The agency guidelines noted in the table weren't necessarily unknown to the public before -- in most cases, they were buried in government websites. But what the oversight board's effort shows is how outdated many of those guidelines are. Most agencies have not revisited their handling of data collection since the early 2000s, and in some cases not since the 1980s.
After languishing without a quorum for years, the oversight board gained a new importance when the 2013 revelations by former National Security Agency contractor Edward Snowden reignited the debate over government surveillance. In its initial endeavors, the board took on comprehensive examinations of sections 215 and 702 of the Foreign Intelligence Surveillance Act, which authorized the controversial NSA data dragnets revealed by Snowden.
As the public furor over Snowden's leaks has faded, however, so has the board's spotlight. Quietly in August last year, the panel announced that it would conduct a comprehensive review of Executive Order 12333 and whether the government's use of the order adequately protected civil liberties.
The 12333 (twelve-triple-three) order, which was signed by President Ronald Reagan in 1981, outlines the structure of the U.S. intelligence community and presents a slew of avenues by which those agencies can collect data from both Americans and foreign targets. Each agency is required by law to have guidelines, approved by the attorney general, that govern how those data are handled, including how they're scrubbed for inadvertently collected information.
The oversight board gathered those guidelines into the chart released Thursday. It's clear the intelligence community has slacked off in self-policing. The Defense Department and FBI conducted the most re-evaluations of their internal guidelines -- in 2008. Other agencies haven't looked over their standards in decades, and the Homeland Security Department, Treasury Department and United States Coast Guard don't even have 12333-specific rules.
Outside the small community of national security wonks, the debate over the executive order has been fairly quiet so far, eclipsed by the controversy over the NSA's data collecting -- which is run under a separate authority.
But 12333 is not benign. According to former State Department employee-turned-whistleblower Jonathan Napier Tye, its intelligence-gathering authority may be an even bigger threat than the programs Snowden revealed. "[It] threatens our democracy," he told Vice News last year.
"Government surveillance under Executive Order 12,333 increasingly vacuums up the everyday communications of Americans," warned Patrick Toomey, a staff attorney with the American Civil Liberties Union's national security project. "This spying is vast and complex, and the NSA's own documents show that compliance violations are regularly the result. We cannot allow the executive branch to be its own overseer."
The unchecked data collection that can occur under 12333 also inspires much more concern in Congress. Lawmakers have said they have little knowledge and even less oversight of that intelligence gathering.
Just last month, the Senate Intelligence Committee's vice chair, Dianne Feinstein (D-Calif.), questioned Attorney General nominee Loretta Lynch on the administration's use of the 12333 order. Feinstein, who has defended the NSA's efforts, also revealed that a 1984 Office of Legal Counsel opinion on the order had still not been provided to Congress despite multiple attempts from lawmakers -- including the Intelligence Committee -- to get their hands on it.
"Executive branch officials have previously advised the committee of the existence of a seminal OLC opinion written by [then-OLC chief] Ted Olsen decades ago governing the conduct of collection activities under Executive Order 12333," Feinstein said at the hearing. "My question is, can we have your commitment that you will make a copy of this OLC opinion available to members of both the Intelligence and the Judiciary Committee?"
Although Lynch said she was committed to working with the Hill, she stopped short of directly promising the legal opinion in question.
Feinstein also pressed the 12333 issue last year when the appetite for NSA reform was greater. In one of many reform proposals tossed around Congress, she added several provisions that would have strengthened congressional oversight of programs run under 12333 and required more frequent updates to the attorney general-approved guidelines.
That bill was ultimately never enacted, like every other piece of NSA reform legislation that was proposed. But, as one Intelligence Committee staffer put it, "The issue remains."
It's unclear whether lawmakers will take a whack at 12333 this year, especially as reformers are struggling just to get in a few jabs at the NSA programs before a June deadline for their reauthorization.
Calling all HuffPost superfans!
Sign up for membership to become a founding member and help shape HuffPost's next chapter
BEFORE YOU GO
PHOTO GALLERY
Edward Snowden