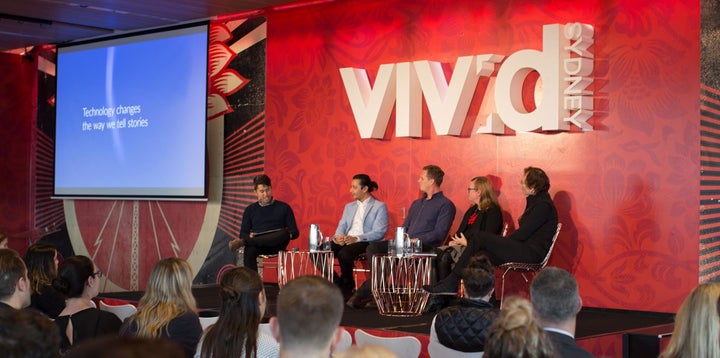 From augmented and virtual reality to artificial intelligence, new innovations are redefining the way we interact, both with each other and the world around us. And they're doing so by enriching a centuries old form of communication that has become fundamental to the human experience: storytelling.
Last week, at Vivid Sydney in Australia, Tash Tan, of S1T2, hosted a panel of experts to discuss the relationship between storytelling, technology and interactivity. The panel which included SecondMuse 's Allan Soutaris, Adobe's Clare Cahill, S1T2's Chief Technology Officer, Naimul Khaled, and Michela Ledwidge of Studio Mod was part of Vivid Ideas, a program to bring world leaders in creative industries together to share ideas and collaborate with each other.
"We frame our discussions in both the procedural and participatory," Tash Tan said. "Not only are we concerned with the human dialogue of storytelling but how the representational power of computers can be used to facilitate and enhance this conversation for both immersion and empathy."
Discussion throughout the event was focused around how we might be able to use emerging technologies to produce world first storytelling experiences that have the ability to create tangible outcomes and human connections around the world.
For Allan Soutaris, the immersive potential of new technologies such as augmented and virtual reality is the key to producing innovations that correlate to behavior impact one of the goals involved in the LAUNCH Legends project, a collaboration between SecondMuse, S1T2 and DFAT innovationXchange, based in the Pacific Islands.
"New technologies allow us an opportunity to immerse young audiences into a world that is uniquely theirs, shaped by their cultures and traditions. Through strong connections to the narrative, we can introduce powerful educational based content," Soutaris said.
The project's aim is to create an immersive storytelling experience through new technologies that can help to restore pride in traditional eating throughout the Pacific. Through these interactive experiences the LAUNCH Legends team hopes to gather insights, and translate them into an immersive learning experience that helps reinvigorate local culinary traditions and promote healthy food choices.
"Through their ability to create immersive experiences," said SecondMuse Managing Partner Carrie Freeman, "These technologies have the power to educate and impact the way people think and behave around issues facing their communities."
It's the combination of these three things story, technology and interactivity that, according to the Imagining an Interactive Brand panel, has the power to create experiences that shape individuals, communities, and cultures around the world.
LAUNCH Legends is a program supported by the Australian Department of Foreign Affairs and Trade's innovationXchange.
Popular in the Community