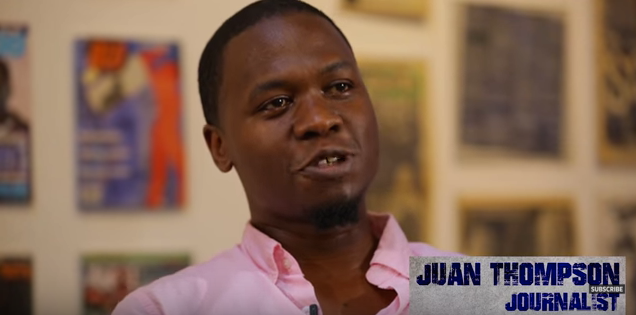 Former Intercept reporter Juan Thompson invented quotes, storylines and even sources, Editor-in-Chief Betsy Reed said Tuesday in a note to readers.
Reed wrote that Thompson, who started working at the site in November 2014, engaged in "a pattern of deception," including creating fake email accounts to impersonate people.
"We apologize to the subjects of the stories; to the people who were falsely quoted; and to you, our readers," Reed wrote. "We are contacting news outlets that picked up the corrected stories to alert them to the problems."
In an email to The Huffington Post, Reed said The Intercept "conducted a thorough review of his published work, attempting to contact sources to verify the original quotes in his stories." She declined to comment further beyond the editor's note, which summarizes the site's internal investigation.
The Intercept has added corrections and editor's notes to four pieces and redacted one.
Thompson's most egregiously false piece appears to be a feature quoting Scott Roof, who Thompson identified as the cousin of Dylann Roof, the alleged gunman in a deadly shooting in a Charleston, South Carolina, church last year.
After speaking with two members of Dylann Roof's family, The Intercept can no longer stand by the premise of this story. Both individuals said that they do not know of a cousin named Scott Roof.
A Dec 2. article on police violence now notes that Jasson Perez, a Chicago-based activist quoted in the original story, said Thompson never interviewed him.
The following day, Thompson wrote a piece on Black Lives Matters activists being blocked from entering a Donald Trump rally and quoted a woman who claims she never spoke to the reporter, either:
The woman was identified by her first name, Kathy, while the man was identified only as her husband. The reporter had provided a real individual's full name and identity to editors but said the source did not want it to be used. When contacted, this individual said she did not support Trump, had not attended his rally, and had never spoken to our reporter.
When reached for comment on Tuesday, Thompson provided HuffPost with a lengthy email he said he had sent that afternoon to Reed.
An Intercept spokesman said a paragraph in the letter provided to HuffPost was not included in the original email to Reed. Thompson apparently tweaked the email again when sending it to a CNN reporter.
In the email, Thompson said he is undergoing radiation treatment for testicular cancer in St. Louis, and doesn't have "access to my notebooks (which I took for most stories) to address these matters."
"Moreover, after finally looking over the notes sent to me, I must say this: I had a habit of writing drafts of stories, placing the names of ppl I wanted to get quotes from in there, and then going to fetch the quotes," he wrote in the email to Reed.
Thompson acknowledged being "sloppy," while suggesting The Intercept should have provided more oversight. "I'm a cub reporter and expected a sustained and competent editor to guide me, something which I never had at your company and something with which The Intercept continues to struggle as everyone in this business knows," he wrote.
If I couldn't obtain a quote from the person I wanted, I went somewhere else, and must've forgot to change the names—clearly. Also, yes I encouraged some of my interviewees to use another name; they're poor black people who didn't want their names in the public given the situations and that was the only was of convincing them otherwise. That also explains why some of them didn't want to talk with your company's research team or denied the events. These weren't articles in Harpers or The Nation. Instead, these are the lives of people forgotten by society and their being in public and talking to white, NY people, no less, could harm and turn them off. They've lost loved ones to violence you and others couldn't possibly imagine.
Thompson titled his email "The Great Problem" -- referring to largely white media organizations, like Intercept's owner, First Look -- and claimed in the paragraph he didn't include in his email to Reed that he had been mistreated while on staff.
The comments from editors calling me a stray dog; the lower pay; the being told on a trip to DC that I "shouldn't spend like it's the first of the month". I shrugged it all off.
In a version of the email Thompson sent to CNN, he suggested that mistreatment prompted him to exaggerate.
Three journalists closely tied to the disclosures of NSA whistleblower Edward Snowden -- Glenn Greenwald, Jeremy Scahill and Laura Poitras -- launched The Intercept in February 2014. First Look had a rocky first year given the failed launch of a second site, Matt Taibbi's "The Racket," and the departure of top editor John Cook. The Intercept, under Reed, has stabilized and produces deep reporting on national security and intelligence, including October's "The Drone Papers," and penetrating media criticism.
Thompson has largely written on crime, policing and race. He previously worked at Chicago NPR station WBEZ and at DNAinfo Chicago.
A former colleague of Thompson's at DNAInfo suggested on Twitter that there were problems with his past work, too.
DNAInfo managing editor Shamus Toomey told HuffPost that Thompson briefly served as a summer intern in 2013 and mainly covered events.
A spokeswoman for WBEZ said Thompson worked production on the show "Afternoon Shift" in summer 2014, but did not write any articles.
Christopher Mathias contributed reporting.
Related
Popular in the Community