With nearly 200,000 of lane miles and more than 50,000 bridges Texas has the biggest highway system in the United States. With this much road to cover, if you're a fan of the classic road trip there's a lot to discover in the Lone Star State.
If you're a seasoned road tripper who's more interested in the road less traveled, here are eight unique spots on the Texas map.
1. The Orange Show Monument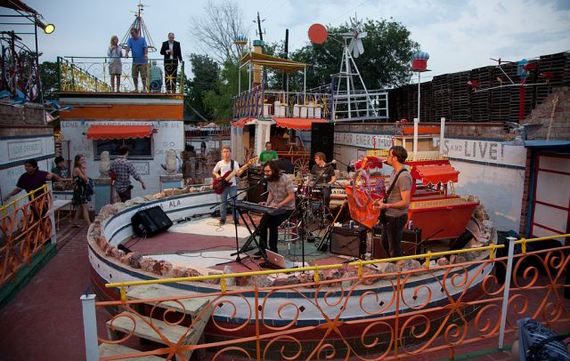 Image: Wikimedia Commons by Ed Schipul
In Houston's East End you will find a very odd place called The Orange Show Monument. You're either going to love the wackiness or hate it. It's a folk art environment and the creator based it on his love for oranges, although you won't find much of the fruit in the place. Instead, it's a strange brightly-colored combination of a maze of walkways, balconies, exhibits and odd paraphernalia. It has the feel of a chaotic disjointed circus.
After marveling at the curiosities at the Orange Show make your way to another quirky attraction, The Beer Can House, a house covered in flattened beer cans and decorated with beer can "garlands" hanging from the roof edges. According to Ripley's Believe It or Not the house is covered in over 50,000 beer cans. Both these houses are part of The Orange Show Center for Visionary Art.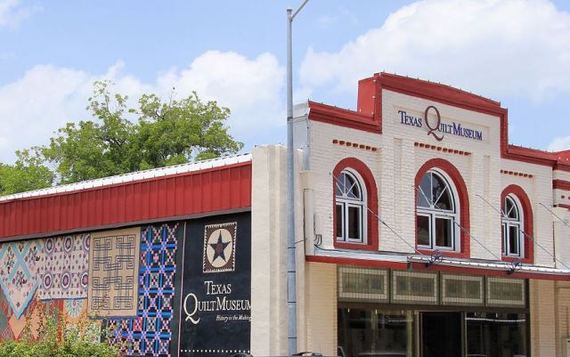 Image: Wikimedia Commons by Larry D. Moore
Halfway between Austin and Houston lies the small historic town of La Grange. Its most notable attraction is the interesting little Texas Quilt Museum housed in two historic 1890s buildings. A striking "wall of quilts" mural depicting 19th-century quilts adorns the side of the building. Quilters will appreciate the love and care put into this museum, with a mix of antique and contemporary quilts on display. Exhibits are changed every few months, so you'll find something new every time you visit.
Before leaving La Grange stop by the Old Jail, now the Visitors Bureau. Built in the 1800s in Victorian Gothic style, it is a unique piece of architecture. Its claim to fame is that in the 1930s two members of the notorious Bonny and Clyde gang, Raymond Hamilton and Gene O'Dare, were jailed here for robbing a bank.
If you're looking for all things cowboy, you've found it. Bandera in Texas Hill Country is known as the "Cowboy Capital of the World" and they live up to. It has it all -- rodeos, honky tonks, horseback riding, chuck wagons and more.
Bandera General Store is a landmark and not to be missed. Old world charm is still captured in this eclectic store. Built in 1907 it is over 100 years old. You'll find everything from cowboy boots, cowboy hats, souvenirs, hand-scooped ice cream, pickles, and jams. It also has an original 1950s soda fountain, one of only 11 left in Texas.
For an authentic honky-tonk saloon experience, head to Arkey Blue's Silver Dollar Saloon for some country music and two-stepping on the sawdust-covered floor. Bandera is the real deal -- real cowboys, real country.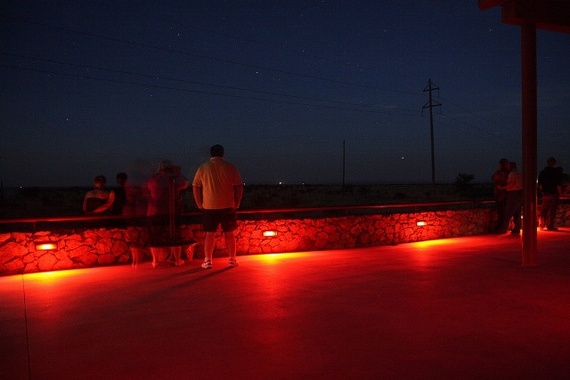 Marfa Lights Viewing Area. Image: Flickr by Jon Hanson
Marfa in West Texas is famous for the mysterious lights (known as the Marfa Lights) that hover, flicker, and dart across the sky. Nobody knows where the lights are coming from. Speculation ranges from it being UFO or other paranormal activity, while scientists argue that the reason could be naturally-occurring gases from the environment that produce a glow, or an electrical charge from geological activity. Other sceptics say it is simply the headlights of vehicles from U.S Highway 67. Whatever it is, it's fascinating and you know you're curious, so take a drive to Marfa.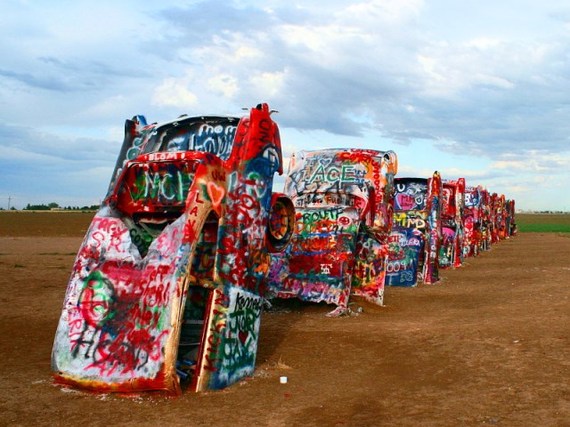 Image: Flickr by Chuck Coker
Along the old Route 66 just off the I-40 in Amarillo is the Cadillac Ranch, an art installation of ten old Cadillacs half buried nose first in the sand. It was first installed in 1974 by three artists and represented the range of models from 1949 to 1964. Over the years it became a popular roadside attraction with visitors grabbing the chance to spray graffiti on the cars. And if you just can't get enough of old cars stuck in the dirt, a little further west along the I-40 in Conway is a copy and tribute to the Cadillac Ranch, the VW Slug Bug Ranch with five VW Beetles buried nose first in the ground.
While in Amarillo, stop in at The Big Texan Steak Ranch. Sure it's touristy, even a bit kitsch, with its mounted animal heads and giant steer "Big Moo" statue that welcomes you. The Big Texan is famous for its 72-ounce steak challenge. If you have the stomach to scoff down a 72-ounce (2 kg) steak, you get it for free.
Along this historic route near McLean in the Texas Panhandle is the first Phillips 66 Service Station. This is another great roadside photo opportunity. Quaint and in bright orange, it resembles a doll house and would fit in rather nicely at Disneyland. Parked right next to it is a vintage Phillips 66 fuel delivery truck. This gas station was built in 1928 by the Phillips Petroleum Company and has been immaculately preserved.
Don't leave McLean without visiting the Devil''s Rope Museum. It's an odd museum dedicated to barbed wire. Two giant barbed wire balls sit perched on pillars at the entrance and there are sculptures made from barbed wire. You will find yourself pleasantly surprised though. It is an interesting display and history of barbed wire, branding irons, fencing tools, and all you ever need to know about barbed wire. Most people leave feeling amazed and with a new respect for the humble fencing wire.
7. Dinosaur Valley State Park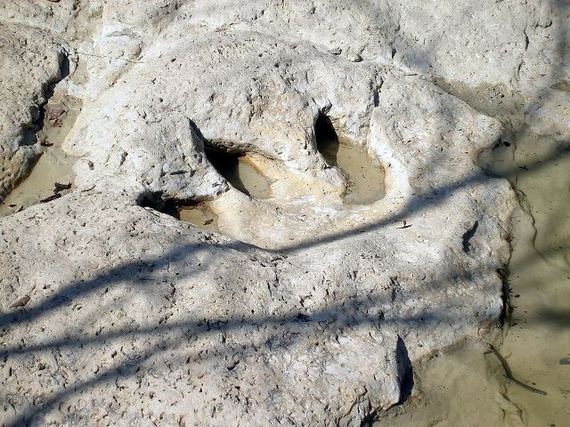 Image: Wikimedia Commons by Diane Turner
Not quite Jurassic Park, but an interesting way to spend an hour or two. Dinosaur Valley State Park in Glen Rose has the actual footprints of these long extinct creatures still visible in the riverbed of the Paluxy River. Learn more about these magnificent animals and walk in their footprints. This is definitely one for the kids who will love the giant Tyrannosaurus rex and Brontosaurus at the entrance. There's also a camp site and museum. Avoid visiting during the rainy season when the river water levels are higher making it harder to see tracks.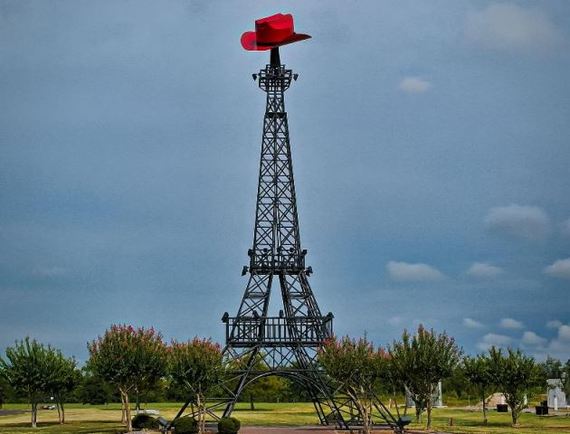 Image: Flickr by Nancy>I'm gonna SNAP!
Having seen the real Eiffel Tower in Paris, France I had to chuckle when I came across the not-quite-so-impressive Eiffel Tower in Paris, Texas. Naturally, this being Texas, they had to put a Texan spin on it by placing a Stetson hat on the top. And there you go. Nothing more to say and not much more to see in this town. But come on, taking a photo at an Eiffel Tower topped with a bright red cowboy hat has got to be on your bucket list, right? It's so quirky and off-the-beaten track that I had to include it on my "interesting places to discover in Texas" list! Plus there is one more quirky thing to see in Paris -- the Jesus in Cowboy Boots statue in the Evergreen Cemetery. Enough said.

Things to Remember About Driving in Texas:
Don't drink and drive. According to The Zebra the costs associated with a DUI can end up costing as much as $10,000.
Can't find your insurance card? Don't worry, digital insurance cards are allowed in Texas.
Pickup trucks are the most stolen vehicle in Texas with the Ford Pickup, Chevrolet Pickup, and Dodge Pickup listed as the top three.
The well-known slogan "Don't Mess With Texas" is not just about the tough Texan attitude, but started as an anti-litter campaign in 1985 to keep Texas roads clean. The campaign is still in place today so don't toss junk out your car window and make use of the iconic blue, white and red trashcans you'll find along your travels.