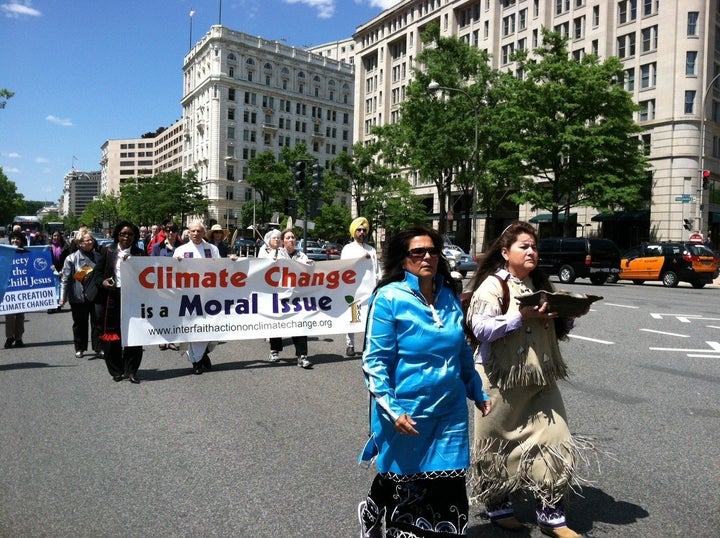 The Islamic call to prayer resonated from the balcony of the historic New York Avenue Presbyterian Church, once regularly attended by Abraham Lincoln in Washington, D.C. The cry of "Allah-u-Akbar" proclaimed the greatness of God. The piercing blast of the Jewish shofar -- a ram's horn blown with both reverence and conviction -- affirmed the sacredness of the gathering.
For me, as well as others, it was a stirring and fitting beginning to an extraordinarily diverse multifaith worship service with a common theme: the healing of the climate. By the time the service ended Bahá'í, Baptist, Buddhist, Catholic, Evangelical, Hindu, Jewish and Muslim traditions had contributed readings, reflections and prayers supporting that mission. Indigenous tribal leaders had further graced the ceremonies.
The service was part of a day of religious activities organized by Interfaith Moral Action on Climate Change, a collaborative initiative of religious and faith-based leaders, groups and individuals of goodwill who are compelled to lead the call for urgent action to address the deepening climate emergency as a moral imperative. The day began with a vigil at the Martin Luther King Jr. memorial and ended with visits of multifaith delegations to members of Congress.
Why were so many religions weighing in on this issue? How can religion help to address an issue like climate change? In my experience as a Bahá'í representative, I've had several discussions with scientists on this matter. It is well known that for most of us, facts and numbers, even combined with dire warnings about the future, fail to motivate. The scientists I know are good at presenting the facts, but even they admit that they aren't so adept at moving people to take effective action. Religion has the power to motivate people for all the right reasons. It is able to mine the depths of human motivation, discern truth and speak directly to conscience. Through religion, matters of justice, equity, and fair-mindedness are elevated in priority.
After the multifaith worship service, the diverse gathering walked toward the Capitol holding banners proclaiming three simple but powerful messages: "Climate Change is a Moral Issue," "Inaction is Immoral" and "All Faiths Care for Creation." This was not a typical procession of environmentalists. Colorful cloth banners displayed the symbols of every faith. A universal cry, voiced by all the world's religions, for taking action on moral grounds has the potential to be a game changer. It is a cry that Congress needs to hear.
Despite sincere efforts by some in Congress, that body as a whole has failed meaningfully to act on climate change. Given that failure, the group presented Congress an "F" report card during a press conference that afternoon and during the one-on-one meetings later in the day.
But the point was not so much to condemn the inaction but to urge Congress to work rapidly to raise its grade from F to A+. It can do this by enacting policies that dramatically reduce wasted energy, significantly shift our power supplies to renewable energy sources, eliminate fossil fuel subsidies and assist the vulnerable here and abroad to adapt to climate changes already underway.
Such practical steps are based on science and backed by religion. The world watches and waits. Will Congress heed the call?
Related
Popular in the Community