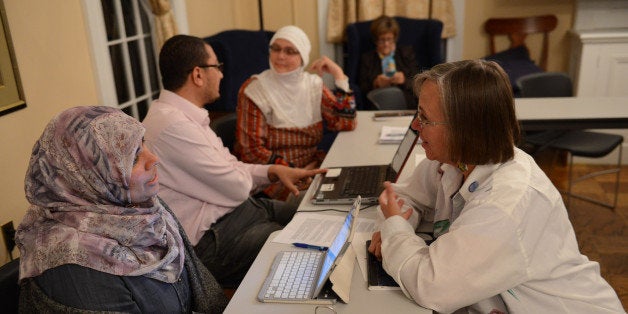 When Doaa Baumi arrived on Hartford Seminary's campus in Connecticut to study interfaith dialogue, she was asked to live with a Roman Catholic roommate.
Baumi, an Egyptian Muslim, had eagerly soaked up information about Judaism and Christianity while studying religion as an undergrad at Cairo's Al-Azhar University, one of Sunni Islam's most prestigious schools. But this was the first time she had ever shared a living space with an a Catholic -- nevermind an American. And, she admits, she came into the situation with stereotypes in her mind.
During those early days of communal living, Baumi remembered nervously telling her roommate that she needed to wake up early to say her morning prayers. They lived in a wooden house with squeaky floors, and she was worried that her roommate would be annoyed to be awoken at 5 a.m.
The response she got from the roommate surprised her -- and set the tone for her year at Hartford Seminary.
"She asked me to wake her up as well, so that we could pray together," Baumi recalled. "So we tried to wake up together. I prayed and she prayed. And it was awesome."
Baumi is one of a growing number of religious scholars and leaders seeking seminary training to help them understand other faith traditions. She chose Hartford Seminary, a non-denominational graduate school for religious and theological studies, as her launching pad.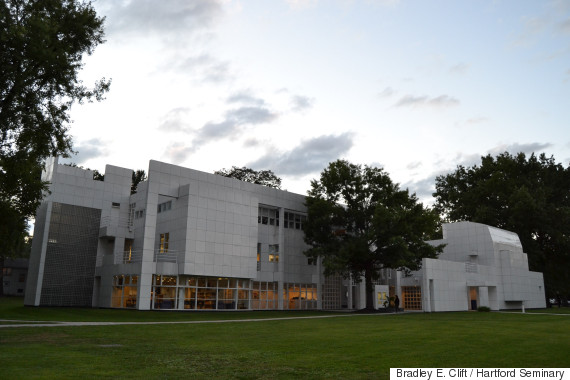 Hartford is unique among American seminaries because it offers classes taught by full-time Muslim, Jewish, and Christian faculty. The school puts an emphasis on creating spaces for students of different faith backgrounds to interact.
Hartford offers an International Peacemaking Program that teaches students from countries where there are inter-religious tensions how to build partnerships and negotiate conflicts across faiths. Acceptance into the program ensures a full scholarship for a year of study.
Students who come to Hartford for the International Peacemaking Program have the opportunity to obtain a certificate in Interfaith Dialogue. Since 2005, seven students have graduated with this distinction.
Heidi Hadsell, the seminary's president, said it's increasingly vital for religious leaders and clergy members to have interfaith dialogue skills. In fact, she wouldn't recommend anyone becoming a clergy member without taking at least some courses in interfaith dialogue.
"People in their congregations are increasingly living in interfaith families and having interfaith experiences, and they're turning to their pastor, priest, rabbi, or imam for guidance," Hadsell told The Huffington Post. "Our religious leadership needs to be able to guide their parishioners and congregations through the questions that are posed by life in the United States today, which is increasingly pluralistic."
One of the courses for students interested in dialogue is the Building Abrahamic Partnerships class, an intensive training program that fosters communication between Jews, Muslims, and Christians. Students learn about each of the three Abrahamic faiths, read scripture together, and attend worship services in mosques, synagogues, and churches. They are asked to spend time listening and seeking to understand how their classmates practice faith.
But the program has its limitations. One of the biggest is a self-selection bias. Students who choose to come to Hartford are already open to the idea of interfaith dialogue. The clergy members who most need this type of interfaith training may never apply for the course.
Some conservative religious communities have a sense that interfaith dialogue somehow weakens one's own faith, Hadsell said.
"I agree that a lot of people who would benefit from [interfaith dialogue training] either reject it, or are afraid of it and therefore reject it," Hadsell said. "Our hope is that the students take [the message] back to their own communities."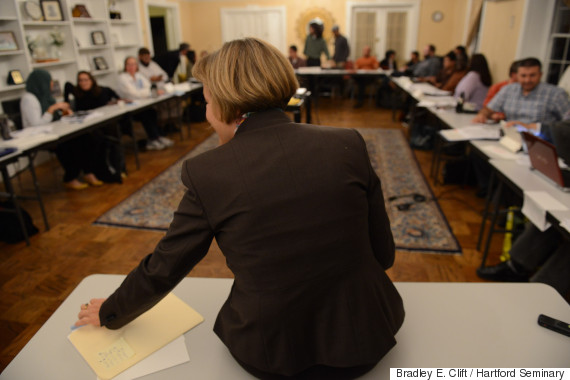 A "Dialogue in a World of Difference"class at Hartford Seminary.
Haidar Reda graduated from the International Peacemaking Program in 2012. At Hartford, he said, he was inspired by visiting worship spaces of different religions. After completing the course, the Baghdad native returned to Iraq and founded a nonprofit organization called "Ur for Interfaith Dialogue and Peacemaking." He introduces young Iraqis to different religious traditions by organizing group visits to religious communities and sites.
In 2012, he took about seven young Muslims to see Ezekiel's Tomb in Kifli, Iraq, a site is revered by both Muslims and Jews. He talked to the group about the Old Testament, drawing links between Judaism and Islam.
Reda's job now is to continue that legacy.
"I think most people hear misinformation about other religions," Reda told HuffPost. "But when they have interfaith dialogue, they come to realize what they heard is wrong."
Elena Dini is a Hartford alumna who hails from Italy. She started interacting with Muslim communities in Rome, but said she wishes more people from her hometown would mix with people of different faiths. As a Catholic, she believes this type of inter-religious conversation is crucial part of her faith.
"Love demands knowledge, time, respect, attention, being together," Dini wrote in an email. "I believe that we can see God in the world thanks to our fellow human beings and I don't want to lose the opportunity of seeing Him in the life of so many brothers and sisters."
REAL LIFE. REAL NEWS. REAL VOICES.
Help us tell more of the stories that matter from voices that too often remain unheard.
BEFORE YOU GO
PHOTO GALLERY
Religious Calendar 2016