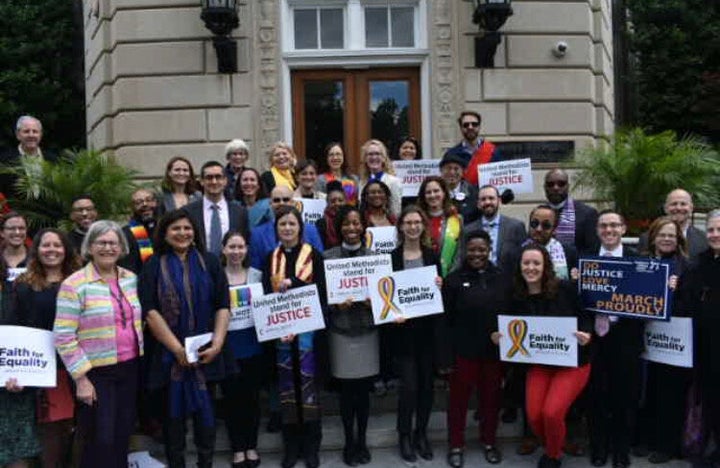 An interfaith coalition of religious leaders gathered in Washington, D.C., on Tuesday in support of the Equality Act, a bill that seeks to shield LGBTQ people from discrimination in employment, housing, public spaces and other key areas.
Christians, Jews, Muslims and Hindus were among those who rallied on the steps of the United Methodist Building on Capitol Hill to pray and urge lawmakers to support the bill, which could land on the House floor for a vote this week.
Rev. Michael Crumpler, a queer Unitarian-Universalist Christian minister, spoke about growing up in an evangelical Christian community that taught him he was "despised" by God.
"As people of faith, we are gathered here today to dispel the lie that God
does not love the queer community," Crumpler said at the vigil. "As people of faith, we are here to dispel the lie that faith is antithetical to love in all its forms, and to preach the truth that people of all gender identities and gender expressions deserve federal protections against sex discrimination at schools, in community centers and in homeless shelters that take federal dollars."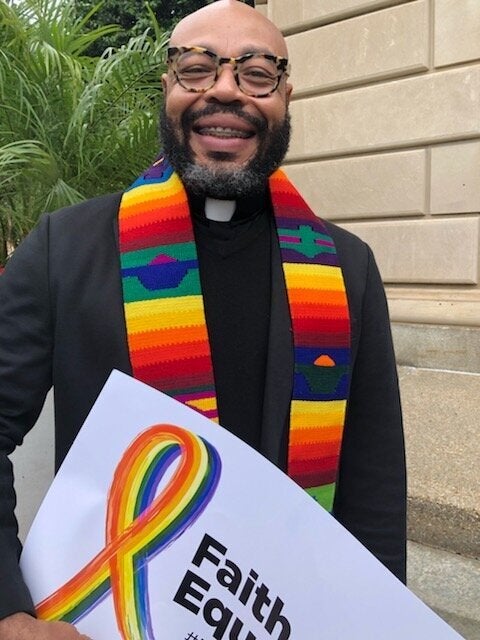 About 40 people attended the vigil, and 71 religious groups signed a letter endorsing the Equality Act. About 5,000 individuals added their names to the letter through an online form, according to Faith in Public Life, a progressive faith group.
Signatories included seminaries, faith-based civil rights and LGBTQ advocacy groups and entire denominations including the Episcopal Church, the Union for Reform Judaism and the United Synagogue of Conservative Judaism.
Progressive interfaith leaders came together to organize the vigil because they are "appalled" by how some people use religion as a "battering ram" to discriminate against LGBTQ people, said Faith in Public Life founder Rev. Jennifer Butler.
"This is helping to reclaim our theology and spirituality, which has often been hijacked by people who would use faith to discriminate," Butler said.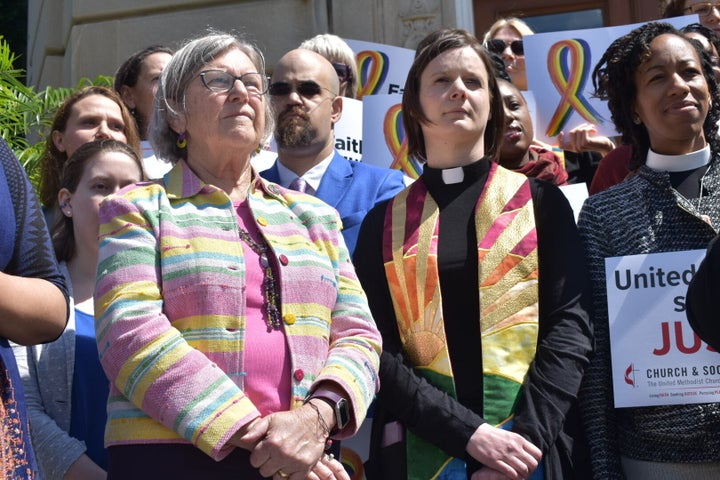 LGBTQ people in 30 states still don't have statewide nondiscrimination protections, which means they are at risk of being fired, denied housing or refused service because of their sexual orientation or gender identity. Various attempts to institute federal nondiscrimination protections for queer Americans have been introduced in Congress since 1974, but they have never gotten a floor vote.
The House Judiciary Committee approved the Equality Act earlier this month, marking the first time the measure has advanced out of committee, according to the Advocate. The bill faces long odds in the Republican-controlled Senate.
Several national faith groups have spoken out against the measure, claiming it would erode conservative Americans' right to freedom of religion. The U.S. Roman Catholic Church, the Southern Baptist Convention and the Church of Jesus Christ of Latter-day Saints, widely known as the Mormon church, are all opposed to the bill.
The UMC, America's second-largest Protestant denomination, decided in February to reaffirm its opposition to same-sex marriage. However, the denomination's social justice arm, the General Board of Church and Society, signed the letter and also agreed to host the prayer rally at the United Methodist Building. A spokesperson for Church and Society told HuffPost that its stance aligns with the broader denomination's support for basic human rights and civil liberties for all, regardless of sexual orientation or gender identity.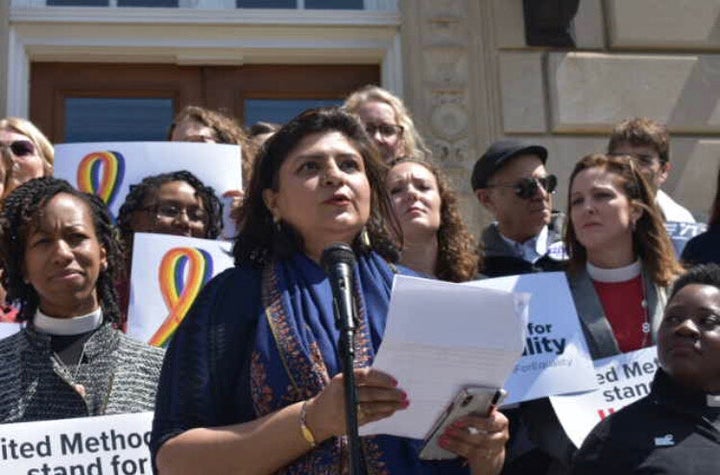 Studies have shown that many Americans support nondiscrimination protections for LGBTQ people. Nearly 7 in 10 Americans (69%) favor laws that would protect LGBTQ people from discrimination in the job market, public accommodations and housing, according to a 2018 survey from the Public Religion Research Institute. Majorities of all major religious groups ― including Jews (80%), Hindus (79%), Hispanic Catholics (72%), white Catholics (71%), Mormons (70%), Muslims (60%) and white evangelical Protestants (54%) ― support nondiscrimination laws.
Samir Kalra, managing director of the Hindu American Foundation, told HuffPost that his group's support of the Equality Act is consistent with their belief that it is wrong to undermine the basic human and civil rights of others.
"One of Hinduism's core teachings is that every being is Divine or a reflection of Divine qualities, regardless of one's outer attributes," Kalra said.
Farhana Khera, executive director of Muslim Advocates, said her group supports the Equality Act because they believe LGBTQ people, including LGBTQ Muslims, deserve equal protections under the law.
"The American Muslim community is incredibly diverse; we reflect every race, ethnicity, sexual orientation and gender identity, and each of us deserves the chance to live our lives free from bigotry and discrimination," Khera said.
Watch the interfaith prayer rally below.
Support HuffPost
Every Voice Matters
Popular in the Community