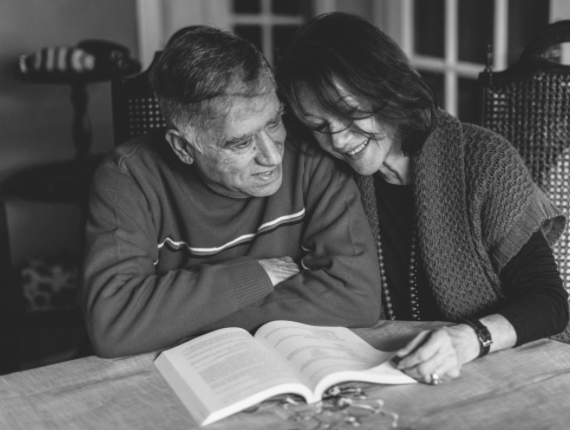 From my March series: "Inspiring People Around the World."
With so much talk these days about 'opposing beliefs' inciting conflict, violence and hate, I wanted to approach it from a positive angle and talk about 'opposing beliefs' coming together with respect, honour and most importantly, love. Encountering strong social, political and religious challenges in the name of love must surely prove that 'opposing beliefs' can fundamentally rise above diversity.

This very idea was the inspiration for my interview with Canadian documentary photographer Colin Boyd Shafer, the visionary behind Interlove Project. From across Canada, participating interfaith couples were brought together for a documentary series. Through the power of photography and story telling, the uniqueness of this project was gaining insight into a diverse group of people in love, who continued to practice their preferred faith, in a positive and loving family environment.

When we talked, Colin told me he was not trying to promote interfaith relationships but simply "telling stories and taking photographs of the people in them." He was truly inspired by the power of these unions. He explained that "interfaith relationships are still not accepted in many countries. As a Canadian, I am proud to live in a place that puts love first, respecting and encouraging diversity."

When I asked him to elaborate, he replied, "why not let the stories do the talking" and proceeded to tell me about Frank and Rejeanne.

Frank grew up in a religious household in Antigonish, Nova Scotia and his family were members of the United Church. He said, "as a young child I lived in fear of what would happen if I were "bad" and broke the rules of the church." Ruled by the threat of 'hell' whenever he disobeyed his parents, he realized they were controlling him through religion.

At the age of 19 Frank joined the Army and in 1974 served as a Canadian military peacekeeper in Cyprus. He witnessed, first hand, how suffering and violence were driven by religious differences. Having such an impact, Frank now considers himself an Athiest, regarding religion as something made up to control the masses. "If there is a Supreme Being and there may very well be one, I have lived a good life and will be judged on that. On the other hand if not, then it matters not."

Rejeanne was raised in a small, predominantly Roman Catholic town in Quebec. She went to Catholic school and church on Sundays. From a young age Rejeanne was told "only Catholics go to heaven -- everyone else is a sinner.' A curious child, she would often ask 'why?'. She was told, "asking why is a sin in itself," which caused her great turmoil. "We were always told that God was benevolent. I believe there is a higher being, whether I call that being God, another religion may have another name for him or her." Today Rejeanne is a practicing Roman Catholic, with a deep belief in God and the Holy Trinity.

The story goes that Frank and Rejeanne were on the same bus in Germany, en route to Brussels. He was stationed there and she was visiting her sister. Full of couples and families, the solo travellers started to talk and immediately felt a connection. Within a short time they were living together, which quickly escalated to a marriage proposal.

It was only when they decided to get married that they had to confront their different religious beliefs. For an officer in the army in Europe, getting married to Rejeanne was not an easy process. Frank was told by the Military's Catholic Priest that he would have to convert. Having strong, albeit individual beliefs, this did not sit well with Frank or Rejeanne.

They completely embraced each other's belief choice and were devasted until they received some good news from a friend. "In Denmark, people of any combination of faith can marry. All you have to do is travel to Copenhagen and briefly surrender your passports. You will become temporary residents in three days, regain your passports and can get married." The good news became reality and Frank and Rejeanne's marriage licence is in eight different languages. They honeymooned in Copenhagen and now, almost four decades later, the honeymoon continues.

Colin continued with the story of Najwa and Samir from Lebanon, where I come from. Najwa was born to a Muslim Sunni father and a Shia mother - the dominant force of the household. Najwa grew up identifying with both Sunni and Shia. Today she considers herself a liberal and non-traditional Muslim. Samir was raised within a Greek Orthodox family environment and grew up Catholic. In the 1970's, during the Lebanese Civil War, Najwa and Samir met at University and fell in love. Najwa's family was against the relationship, removed her from University and locked her in her room. In those days, falling in love with someone from a different religion was considered falling in love with the "enemy."

Colin went on to say, "together they overcame the stigma, accepted their challenges and fled the country. They settled in Canada where, to this day, they continue to live and pray "their own way." Their home became a natural meeting ground for both families and they told Colin, as they celebrated 41 years of marriage, "we believe that differences make us beautiful as opposed to being an obstacle". Samir continued, "neither of us gave up our faith and neither of us converted. We felt that religion kept us apart for so long and we would not let it do that to our marriage. We saw no problem with each keeping our own faith."

We finished the interview with a story from the series that Colin felt really highlighted this celebration of differences, especially within the family. It was about a Russian Jewish man named Mike, who fell in love with a Christian Lebanese woman named Rita. The two strive to fulfill their individual beliefs with mutual respect for each other and their child, Niko. Colin told me, "Niko is a product of their love and devotion, representing the possibility that peace and understanding, despite all manner of difference, can form a family bond. I see how couples master the art of compromise, like Frank the Atheist and Rejeanne the Roman Catholic."

Colin's accolades, among others, include Winner of the 2013 Human Rights Photography Competition in connection with the Human Rights Watch Film Festival/London UK. This leads me to another aspect of the Interlove Project -- Interfaith Couples Photo Series, Captures The Beauty and Challenges of True Love -- the documentary photography series. He told me, "everyone loves a good love story but for those in interfaith relationships, partnership can come with some barriers." This photo series captures portraits that reflect how true love comes in all forms, complemented by stories of how couples met and accepted each others' religious beliefs to live in harmony.

I was inspired by Colin's stories and hope Interlove Project continues to help communities understand the importance of accepting interfaith relationships. We need to celebrate the diversity of each others' uniqueness. Condemning differences is most certainly the core cause of today's world conflicts.
PHOTO GALLERY
Interlove Project
REAL LIFE. REAL NEWS. REAL VOICES.
Help us tell more of the stories that matter from voices that too often remain unheard.