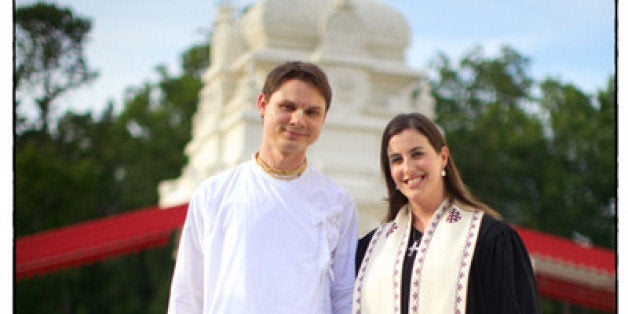 (RNS) Growing up Baptist, J. Dana Trent heard plenty of warnings about interfaith romance.
Marrying the wrong person — known as being "unequally yoked" — could ruin your faith and your marriage.
But three years after marrying a former Hindu monk, Trent says she's a better Christian than ever.
"I had become complacent in my Christianity," said Trent, an ordained Baptist minister. "Now my religion and spirituality have become much more integrated in my life."
Trent tells the story of her interfaith marriage in a new book "Saffron Cross: The Unlikely Story of How a Christian Minister Married a Hindu Monk." Out this month from Nashville, Tenn.-based Fresh Air Books, "Saffron Cross" is part of a recent mini-boom of guides to interfaith marriage and family.
There's also "Mixed-Up Love" from Jon M. Sweeney and Michal Woll, "'Til Faith Do Us Part" from Naomi Schaefer Riley, and "Being Both," by Susan Katz Miller.
All are aimed at helping families navigate the joys and challenges of interfaith life. They may find a large audience as blended faith families have become commonplace in American culture.
About out one in four Americans (27 percent) is either married to or lives with a partner of another faith, according to the U.S. Religious Landscape Survey, published in 2008 by the Pew Research Center.
But until recently there have been few books on how to make interfaith marriage work.
So Trent decided to write her own, with the help of her husband, Fred Eaker.
It's part love story, part how-to guide on interfaith communication.
The couple, who are now in their early 30s, met five years ago with the help of eHarmony.
Trent graduated from Duke Divinity School and was working for a North Carolina nonprofit. Her dating prospects were pretty bleak, she said.
"I was, quite honestly, very lonely," she said. "I was looking for someone that I could share my spirituality with as well as my life."
Eaker was looking for a spiritual companion, too.
An American-born Hindu convert, he spent five years as a monk at a Gaudiya Vaishnava monastery in California.
The time there taught him self-discipline along with spiritual practice.
"Some people join the military — I joined the monastery," he said.
When she signed up on eHarmony, the website asked Trent what faiths she'd be open to in a partner. She initially checked Christian and Jewish, and then, on a whim, added other faith traditions.
That ended up including Eaker, who described himself online as spiritual but not religious.
It's a description he still likes, when talking about faith.
"Spirituality means that you are interested in God's life and how you can be a part of it," he said.
When she learned that Eaker had been a monk, Trent assumed he was Catholic. Learning that he was Hindu was a bit of a shock.
Eaker had grown up as a nominal Christian, who rarely went to church, but had at one point taken part in an altar call. But he hadn't been baptized.
At first, Trent wanted to change that.
"I told him, you are nearly saved," she said. "As soon as those words came out of my mouth, I realized that I did not see Hinduism as an equally valid path."
Her view on salvation changed after that conversation, and Trent says she no longer worries about Eaker being saved.
Having an exclusive view of salvation can cause trouble for interfaith couples, said Riley, author of "'Til Faith Do Us Part: How Interfaith Marriage is Transforming America."
Riley commissioned a survey of 2,450 Americans on the topic of interfaith marriage as a part of her book. She found those with more inclusive theology tended to be more satisfied.
"If you think that your spouse is going to hell, you are going to be unhappy about that," said Riley.
Riley also found that interfaith marriage involves constant renegotiation. People's ideas about faith change.
Trent grew up Southern Baptist, and often heard pastors quote 2 Corinthians 6:14, which warns Christians not to be "unequally yoked" with unbelievers in marriage.
Trent said that she and Eaker are fortunate to be in congregations and have clergy that accept their marriage.
"Fred could have had a more conservative guru who came up with the Hindu version of 'be not unequally yoked,'" she said.
Their main advice to other interfaith couples is counterintuitive: Worship together.
Trent fasts twice a month and goes to a Hindu temple with Eaker on holy days, though she says she thinks about Jesus during worship there.
Eaker attends church services and teaches Sunday school with Trent, but refrains from singing the doxology, which ends with "Praise Father, Son and Holy Ghost."
They also worship together at home, at an altar that includes a photo of Eaker's swami, two Gaura-Nitai deities, and an icon of Christ.
Their joint worship includes offering food at the altar three times a day. That's a duty that Trent takes care of.
At first, she was uncomfortable with that. Now she says the altar helps her focus on spending time with Jesus in prayer.
"God doesn't need our food," she said. "But God needs our time."
Eaker has adopted some of Trent's spiritual habits as well. He was used to chanting God's name during prayer. Now he joins her in saying grace at meals and in less formal prayer in the evenings.
The next big challenge will likely come with children. For now, they are planning to raise children in both faiths, even though that may become complicated.
"Children can never have enough love," said Trent. "And children can never have enough God."

Related
Before You Go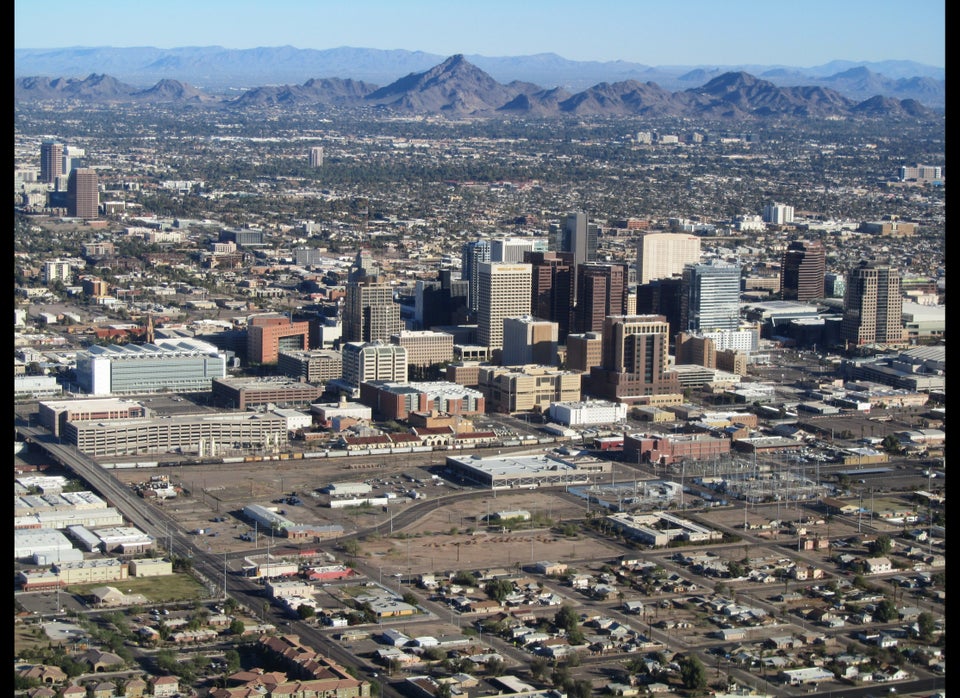 Most and Least Interfaith Cities
Popular in the Community