The Islamic Center of Greater Cincinnati witnessed the power of interfaith solidarity on Sunday, when a little over 100 Muslims, Christians and Jews gathered to form a symbolic "peace ring" around the mosque's entrance.
The group was inspired by a similar peace ring that was formed around a synagogue in Oslo, Norway in February following an attack against the Jewish community in Denmark earlier that month.
Event organizer Ericka King-Betts said she wanted to bring the same message of interfaith unity to her Cincinnati community. "We wanted to replicate that here in Cincinnati to show support for all faiths, and especially for the Muslim community," King-Betts, executive director of the Cincinnati Human Relations Commission, told The Huffington Post.
When she thought of the idea for a peace ring, she reached out to Shakila Ahmad, president of the Islamic Center of Greater Cincinnati, and Shabana Shakir-Ahmed, the mosque's tours and talks chair, who jumped on board.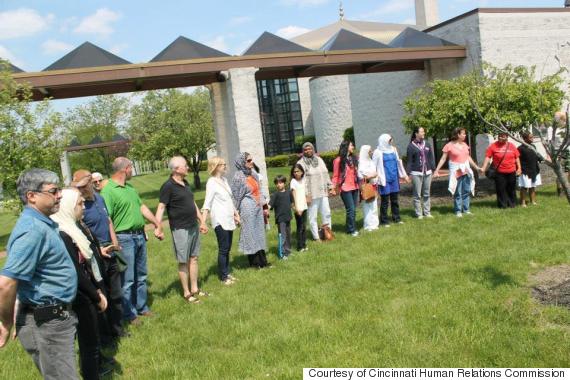 Three interfaith community leaders spoke at the event, offering prayers for peace. Those gathered formed a semicircle around the Islamic center's entrance, as King-Betts said the mosque was so big it would require "at least 1,000 people" to link arms around the entire structure -- a goal she said the group will work toward by making it a yearly event.
The power of Sunday's gathering -- a "beautiful moment," King-Betts said, when people of all ages and backgrounds stood side by side in prayer and reflection -- sent a message of interfaith solidarity that rings with greater potency in the wake of a shooting at an anti-Muslim event in Garland, Texas that occurred later that evening.
"There are small minded people out there that have really big voices, and all we can do is show them there are people of all different colors, walks of life and faiths that will support each other," Shakir-Ahmed told HuffPost, referencing the shooting. "More so than ever we feel we need to continue what we're doing."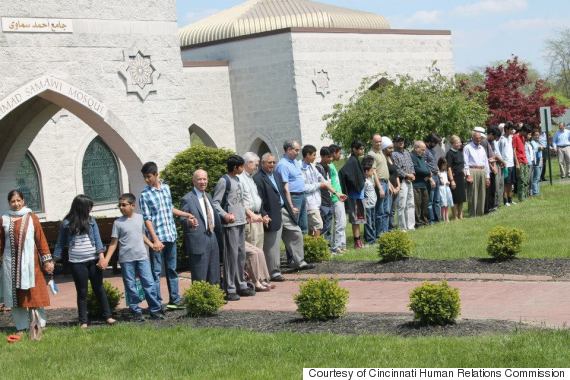 For King-Betts, who said she was fed-up with reading "hate-laden comments" vilifying Islam on social media, Sunday's event lifted up a message of inclusivity.
"We truly believe there are more people out here in this world that believe Islam is about love and unity," she told HuffPost. "And we refuse to allow a small group of people to define what Islam is."
Related
Before You Go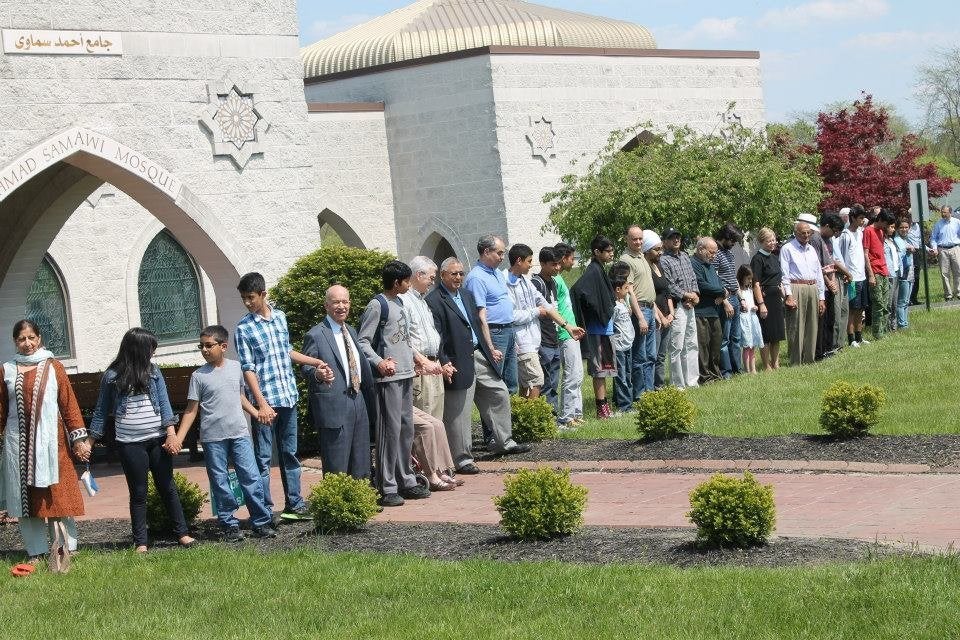 Interfaith Peace Ring At Cincinnati Islamic Center
Popular in the Community