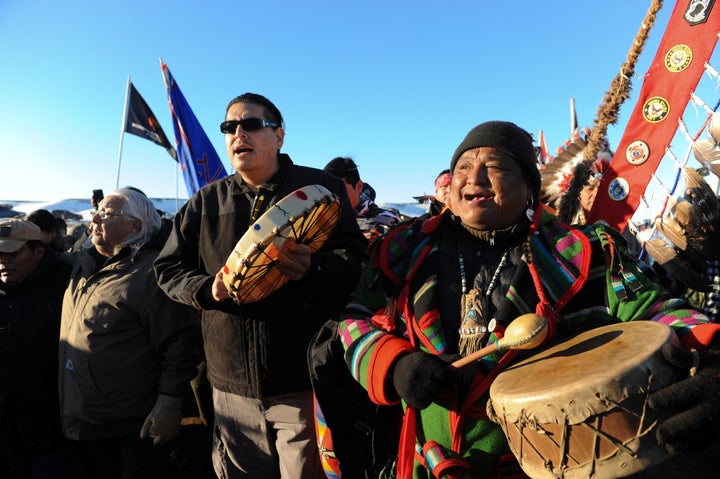 On Sunday, the US Army Corps of Engineers rejected an application that would have allowed the proposed 1,172-mile pipeline to tunnel underneath North Dakota's Lake Oahe. Native American activists and their allies have for months argued that the pipeline threatened the water source for the nearby Standing Rock Sioux reservation and would damage sacred land.
Days before the Army's announcement, Native American spiritual leader Chief Arvol Looking Horse, Keeper of the White Buffalo Calf Pipe, issued a call for people of faith to visit Standing Rock on December 4 to pray and stand with the protestors, who also call themselves "water protectors." 
An estimated 500 people representing about 40 spiritual traditions heeded the call, according to Rev. Karen Van Fossan, the minister of Unitarian Universalist Fellowship & Church of Bismarck-Mandan, who helped coordinate outreach for the event. 
The interfaith activists attended a Native American water ceremony early in the morning. Then, with the leadership of Chief Looking Horse, they gathered around a sacred fire. Representatives from different faiths came forward to offer prayers in their own traditions ― Christians, Sufi Muslims, Hindus, Old Catholics, and many others. Afterwards, the activists held hands in a prayer circle that surrounded the Oceti Sakowin camp.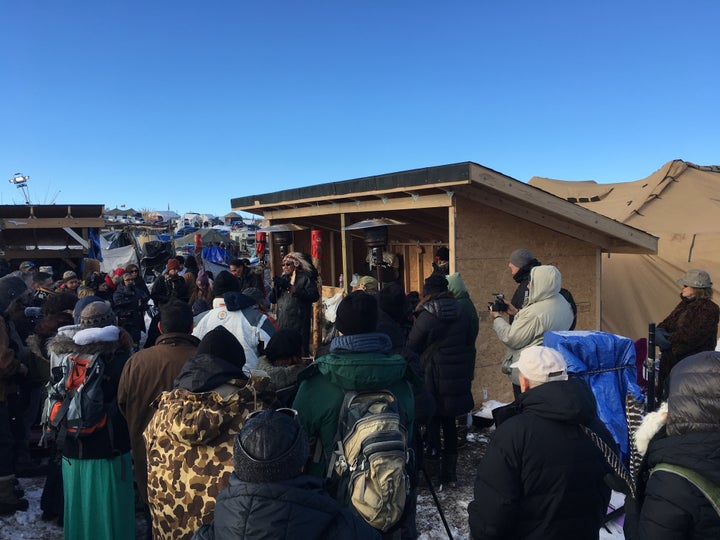 News of the Army's decision spread through the camp around 3 p.m that day, at first leaving the activists in "hushed disbelief," according to Van Fossan, before the celebration broke out in earnest. 
"We just cheered and immediately there was drumming and singing and a spirit of celebration and renewed prayerfulness in a really exuberant way," Van Fossan told The Huffington Post. 
The fact that the announcement came on the same day as the prayer gathering wasn't lost on her. 
"We were just deeply and profoundly and openly in prayer, and even as I start to describe it, I get reminded my body and spirit of the experience of praying with and for and among so many people from so many traditions, holding one another in respect and love," Van Fossan said. "So to be in that in a world of prayer, all things become possible."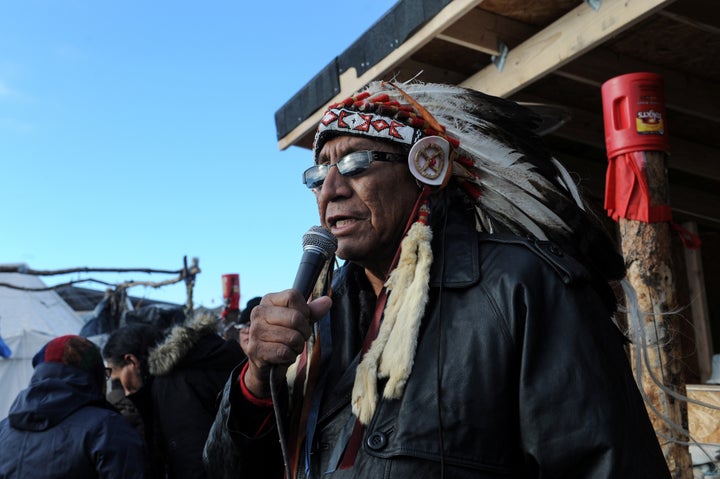 "Prayers have been answered," Chief Arvol Looking Horse, Keeper of the White Buffalo Calf Pipe, told the protesters gathered at the camp, according to CNN. "I know that the great spirit is going to bless each and every one of you."
Van Fossan said she's "listening with ears wide open" to what Native activists will want to do next. She's convinced that what's happening at Standing Rock is the beginning of a "cultural transformation." 
The spirit of the camp is one that was rooted in prayer, Van Fossan said. At the camp, help is always present for those in need, people give to each other without asking for compensation, and one's faith blossoms and is magnified by the prayers of people of other faiths. 
"In prayer and nonviolence, all things become possible because that's where we imagine another way," Van Fossan said. "And that imagining of another way is the cultural transformation that's happening [at Standing Rock]."
"While not the end of the story, while there's still much work to be done, these are glimpses of new ways of being that are the kind of cultural shift that we need to make a sustainable, renewable future really possible."
Scroll through the slideshow below to see why these interfaith activists are standing with Standing Rock. Quotes and images collected by Sari Heidenreich, Regional Coordinator for United Religions Initiative-North America.
Calling all HuffPost superfans!
Sign up for membership to become a founding member and help shape HuffPost's next chapter
BEFORE YOU GO
PHOTO GALLERY
Standing Rock