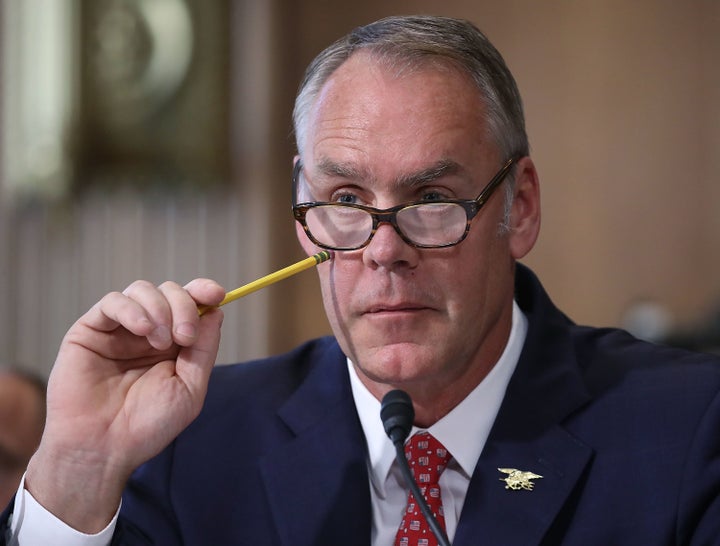 WASHINGTON — Thousands of federal workers at the Interior Department could soon find themselves out of a job as the Trump administration looks to reorganize the agency and cut its funding by /www.doi.gov/sites/doi.gov/files/uploads/2018_highlights_book.pdf"}}" data-beacon-parsed="true">12 percent. 
In written testimony submitted Tuesday to the Senate Committee on Energy and Natural Resources, Interior Secretary Ryan Zinke noted that President Donald Trump's 2018 budget request would slash funding by $1.6 billion — to $11.7 billion — and support just shy of 60,000 full-time staff, a reduction of roughly 4,000. 
"To accomplish this, the Department will rely on a combination of attrition, reassignments, and separation incentives," Zinke wrote. "Actual attrition rates and acceptance of separation incentives will determine the need for further action to reduce staffing."
Zinke, who's tasked with managing some 500 million acres of federal land ― roughly one-fifth of the United States — told the Senate committee Tuesday he supports Trump's proposal, which he said is "what a balanced budget looks like." The Interior workforce, he said, is "too heavy in middle and upper management," and his plan is to shift those assets out into the field, including America's national parks. 
"The way we're organized currently is we're all different bureaus reporting to their different regions, and we're not very good at joint operations," he said. "So we're looking at appropriately moving assets to where they should be." 
Zinke added that he has maintained a hiring freeze in Washington, D.C., and Denver, in order to "push bodies to where they belong, out in the front. And you'll see a movement to make sure we shore up and expand the front line."
Chris Saeger, executive director of the Western Values Project, blasted Zinke's testimony in a statement Tuesday.
"Secretary Zinke has already called Interior's employees 'serpents' and told park rangers that private entities could do their job better by privatizing campgrounds ― not a good way to run an agency or a business," he said. "The cuts in this budget will make it harder for Americans to access the lands that belong to them. Meanwhile, oil companies continue to get sweetheart deals for drilling on American public lands."
Less than a week ago, Zinke sent letters to at least three dozen senior Interior officials notifying them they will be reassigned by the end of the month, The Washington Post reported. 
Calling all HuffPost superfans!
Sign up for membership to become a founding member and help shape HuffPost's next chapter
BEFORE YOU GO