The Interior Department took six months to respond to investigators probing Interior Secretary Ryan Zinke's apparent effort to bully Sen. Lisa Murkowski (R-Alaska) into supporting Obamacare repeal last year, and ultimately skirted their questions.
Details about what Zinke said to the lawmakers "are immaterial to the legal issues you have raised," Jorjani wrote to Edda Perez, a managing associate general counsel at GAO.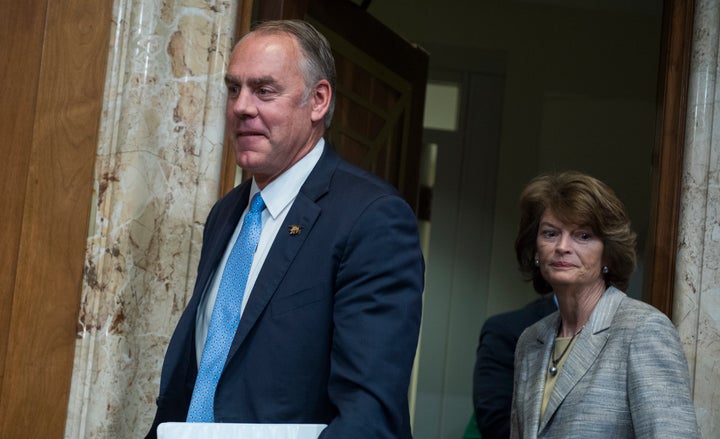 As Anchorage Daily News first reported, Zinke phoned Murkowski and Sullivan after Murkowski voted in July against a measure to begin debate on legislation to repeal and replace the Affordable Care Act, also known as Obamacare. Sullivan told the paper that Zinke had delivered a "troubling message," indicating that Murkowski's defection could jeopardize future energy projects in Alaska.
The Interior Department's Office of the Inspector General launched a preliminary investigation into Zinke's alleged attempt to pressure Murkowski in early August, but both Alaska senators refused to be interviewed, effectively shutting those efforts down, according to a letter the inspector general sent to Reps. Frank Pallone (D-N.J.) and Raul Raúl Grijalva (D-Ariz.).
Later that month, the Interior Department received an inquiry from GAO counsel Perez, as Jorjani noted in his response six months later.
Along with details about the call, Perez asked the department if it believes money appropriated for Zinke's salary and related expenses "is available for the purpose of communicating with senators about pending healthcare legislation."
"In our view," Jorjani responded, "this appropriation was available for the Secretary's call with the senators regardless of the topic that was discussed because the Secretary is authorized to engage in activities beyond his statutory duties and entitled to his salary incident to the office he holds — not the performance of any particular matter."
Jorjani also said he was unaware of the agency failing to meet its obligations or withholding money from the state of Alaska. There is no evidence that Zinke or the Interior Department retaliated against Murkowski for her vote.
The Interior Department did not respond to HuffPost's request for comment on Thursday.
Asked about the GAO's investigation into Zinke's call, Charles Young, GAO's public affairs managing director, told HuffPost that "no final determination has been made yet." Young said he was unable to provide HuffPost with Perez's initial letter to the Interior Department or comment on Jorjani's response to it.
In an emailed statement, Grijalva said the Interior Department's letter suggests Zinke believes he's above the law.
"Secretary Zinke's tenure has been marked by scandals, embarrassments and misuses of public resources, and given the tone of this response to GAO, I'm concerned that he truly has no idea how out of touch he appears," Grijalva said. "He needs more serious congressional oversight than today's Republican majority is capable of providing."
Popular in the Community