After Interior Secretary Ryan Zinke visited Northern California communities hit by the Camp fire, the deadliest in state history, he acknowledged that wildfires are getting worse in the Golden State ― but managed to not say the words "climate change" once.
"[Fire] season is getting longer, the temperatures are getting hotter," Zinke said at a press conference Wednesday with California Gov. Jerry Brown. The interior secretary added that "there's a lot of reasons for a fire" and "now is not the time to point fingers."
Noting that this was his fourth visit in a year to California in response to wildfires, Zinke said, "Each trip, I say this is the worst fire I've seen. We're here today, and this is the worst I've seen."
Brown attributed the worsening fires in California to the "changing of the climate" ― and noted that the scorched community of Paradise "looks like a war zone."
"We're in a different kind of world," he said. "What causes these catastrophes … the changing of the climate, the winds, the dryness and the continuing drought."
"We're in for difficult times. It will never be the same," Brown added.
In Northern California, the Camp fire has killed 48 people and burned over 6,000 homes as of early Wednesday ― making it the most destructive and deadliest fire in state history. Six days into the blaze, dozens of people were still unaccounted for, and it was only 35 percent contained.
In Southern California, the Woolsey fire has killed two people, caused mass evacuations, burned hundreds of homes and torched 83 percent of the Santa Monica Mountains National Recreation Area.
California is expected to see more dry weather in the coming days "that will produce new and potentially damaging fires," Cal Fire officials said at the press conference Wednesday.
Federal Emergency Management Agency head Brock Long said the Camp fire was "one of the worst disasters I've seen in my career, hands down."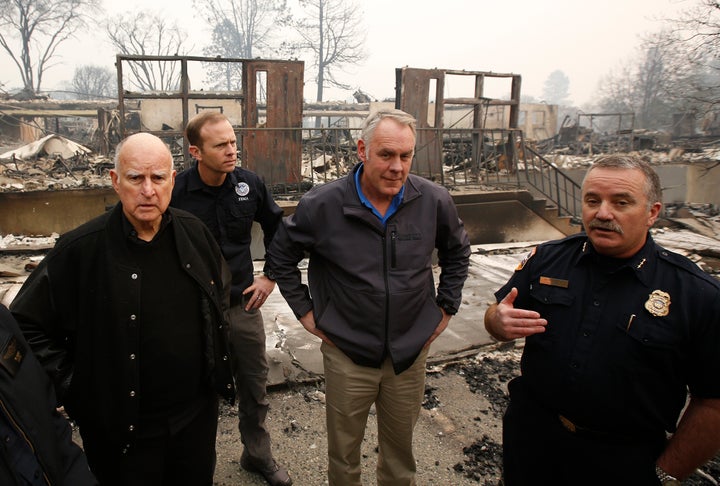 At the press conference, Zinke acknowledged that California has had multiple devastating fires. "This is unacceptable year after year, season after season, these catastrophic scales," he said. "It used to be a 5,000-acre fire was a big deal."
But he again said, "We're not finger-pointing here," and declined to mention climate change as part of the problem.
Zinke instead repeated a solution he gave after wildfires hit California this summer: Just cut down trees. "Maybe we should manage our forests a little more," he said Wednesday, pointing to "dead and dying timber" and the need to "shred trees."
In August, after visiting towns affected by the deadly Carr fire, he told KCRA-TV in Sacramento, "I've heard the climate change argument back and forth. This has nothing to do with climate change. … This has to do with active forest management."
Brown noted Wednesday, "Things are not going to get better. They're going to get more challenging because of the continuing alteration in the climate."
Popular in the Community