Yesterday, I attended the first major conservation policy speech by Interior Secretary Sally Jewell at the National Press Club.
Six months into her term, and counting, there had been a growing sense that there wasn't much happening at the Interior Department. The Secretary was certainly visible in her wide travels over the vast domain of lands the Interior Department manages which covers about 20 percent of America's geography. But there wasn't much to show in terms of direction, commitment, action items or even intent. So this speech was generating a lot of anticipation, with somewhat low expectations for the message.
When she concluded her speech she got the standing ovation. I think everyone in the room breathed that collective sigh of relief. The reaction from conservationists, park rangers, sportsmen, and environmentalists were all positive. She pinned the donkey tail on Congress for not adding a single new acre of land for conservation since 2010. The last time there was a Congress that failed to protect any new lands was more than 60 years ago. She rightly slammed the recent government shutdown as enormously wasteful and added that there was absolutely no political agenda in the National Park Service closing down access to visitors during the shutdown.
More importantly, she talked about balance between conservation of America's finest landscapes, particularly our national parks, and energy development. She echoed the view that there can be responsible energy development while safeguarding wilderness, wildlife, and scenic and recreation values. She even highlighted Master Leasing Plans, which are an innovative tool to encourage oil and gas drilling in areas of least conflict and ensure the multiple-use mandate of our public lands by protecting other values. More broadly she talked about the need to do planning on a larger landscape level. That is something we at Park Rangers for Our Lands have been urging from the beginning of her tenure.
To her credit, she specifically highlighted threats runaway oil and gas development poses to Theodore Roosevelt National Park. Many of our greatest national parks face the same challenges such as Arches and Canyonlands National Parks in Utah, Mesa Verde National Park and Dinosaur National Monument in Colorado, and Chaco Culture National Historic Park in New Mexico. If we don't find a way to take a more balanced approach to what happens on the doorsteps of these national parks, we stand to lose the cultural values and beauty millions of American families have come to enjoy and cherish every year.
We believe that we must develop oil and gas on public lands for America's energy independence. However, we've also argued that energy development can occur, without sacrificing the values of our national parks. Secretary Jewell embraced that position, and we commend her for it.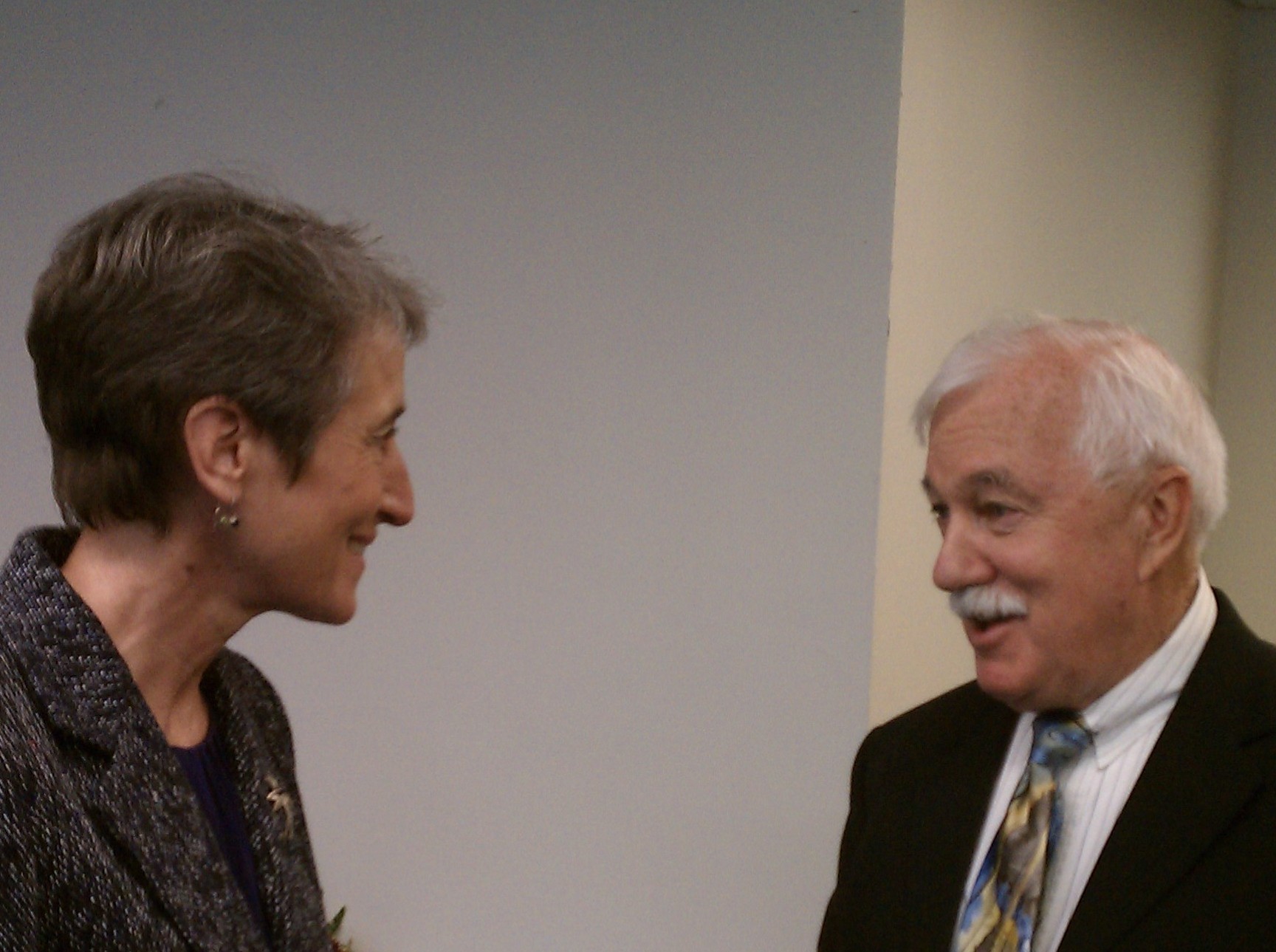 The challenge now is how much can be done in the short time remaining. As discouraging as it sounds, the secretary only has a little more than a year left to really make a difference. After that the nation will be in full campaign mode again, and this administration will become a lame duck. I would prefer it to be otherwise. Secretary Jewell showed herself to be a leader who grasped the complexities and subtleties of the problems and challenges her department faces. She understood the need for a landscape level perspective on planning. And she seems to understand the natural, social, and political elements at play in the issues that always swirl around conservation vs. development.
I had the chance to meet Sally Jewell at a reception shortly before her speech. I told her we are ready to support her department's preservation and conservation agenda. I hope she will take us up on that offer by taking concrete actions supporting her vision for balance between conservation and energy development. And I hope she will use this next year to make serious progress in protecting lands for preservation whether through Congress or through the President's use of the Antiquities Act. There is still time for a conservation legacy, but she will have to hurry.