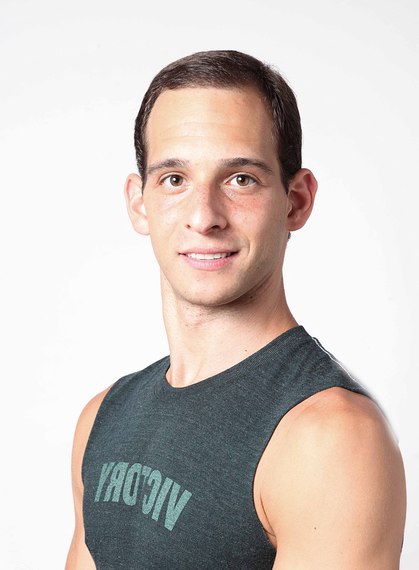 Conversing with Craig Salstein can be exhausting. He is a fiery presence on stage at American Ballet Theatre -- as Mercutio in Romeo and Juliet, the Bronze Idol and the Head Fakir in Bayadère, Puck in The Dream, the traitor Birbanto in Corsaire, the Champion Roper in Rodeo, the first sailor in Fancy Free. Off stage, he burns just as intensely.
He often teaches ABT's company class -- a gig he fell into almost by accident. He would put himself through a warm-up in the mornings and found many of the dancers gravitating to his routine. "His energy really gets you going," says one. The pace of his class is relentless and the dancers relish the challenges he throws at them. "Do you know how hard it is to get men to do adagio?" he groans. He has no time for inspirational talk: "There really is no magic in ballet. You need to do those Italian fouettés everyday or you'll never dance Dryad Queen."
Passionate on many subjects, including opera, Camus and Kierkegaard, he has lately channeled his zeal into carving a new niche for fellow dancers. He recently founded repertory company Intermezzo to showcase the technical and dramatic gifts of a handful of dancers. His curatorial tastes are unburdened by tradition, and by the mission of having to keep the classics alive. And unlike most of the smaller, nimble dance companies today, which expound on the vision of a single choreographer, Intermezzo unites new work by several choreographers around a central theme -- the glorious music of Verdi, for their first season, played live by The Wyrick Quartet.
Is he mad to try this in an era when established opera, symphony and dance companies across the United States are crashing and burning -- or at best, limping along, weathering funding cuts, abandoned by audiences increasingly distracted by the myriad entertainment choices available at the click of a remote control? Salstein isn't fazed by the odds. Intermezzo debuted at New York's 92nd Street Y in October, with ten dancers, and he's in the throes of planning their second season.
He appreciates his privileged perch as a soloist in a large company whose every season reflects both the glorious historical traditions of ballet and its evolution. Intermezzo is not "Salstein and Friends," however; the spotlight is on his chosen dancers, who have all done interesting work at other companies but whose talents he feels have not been adequately broadcast.
Salstein reflects on the quandary of today's top-flight dancers: trained by modern methods that enable them to perform at a technical level far beyond the demands of the corps de ballet in the classics, they compete fiercely to get into the leading companies, only to spend a great deal of their time standing on one leg next to a piece of scenery. Dancers understand they have to pay their dues, and are mindful of the honor and prestige of dancing with a renowned company, but the economics of the ballet industry guarantee massive underutilization of the majority of the professionals who are in it.
"Balanchine transformed what we see on stage, flattening the traditional ballet hierarchy to some extent, giving the corps much more to do," he acknowledges. But with shortened seasons, with two or three rotating casts for every ballet, and more extensive fielding of imported stars, the amount of actual dancing that the average corps dancer or soloist gets to do has shrunk dramatically in recent decades. "Many nights, the corps women could easily go on without pointe shoes and the men without their dance belts," he sighs. "That's the reality of life in ballet's major leagues."
Sadly, many cities that used to have their own resident ballet companies, or were regular stops on the itinerary of touring companies, no longer see any ballet at all. Though there are far fewer companies today, well-trained dancers are not an endangered species -- particularly as many colleges now offer dance as a standard four-year major.
Small companies like Intermezzo are a vital presence in this increasingly fragile ecosystem, freeing up small contingents of dancers from the cycle of having to repeat and revive the past. "We're not a team waiting for a court," Salstein points out. For his first season he commissioned work from Marcelo Gomes (ABT), Lisa de Ribere (formerly with New York City Ballet and with ABT), Adam Hendrickson (formerly with New York City Ballet), Gemma Bond (ABT), and Raymond Lukens (from ABT's Jacqueline Kennedy Onassis School).
Managing the company without an executive to shoulder some of the responsibility, and juggling his own rehearsing and performing schedule at ABT, is no small feat, but Salstein's energy seems inexhaustible. For Intermezzo's spring season, he has so far commissioned one piece of new music and is tossing ideas around with choreographers. He readily admits to having no grand plan, to experimenting with his team, to see if together they can redefine what good dancing looks like.