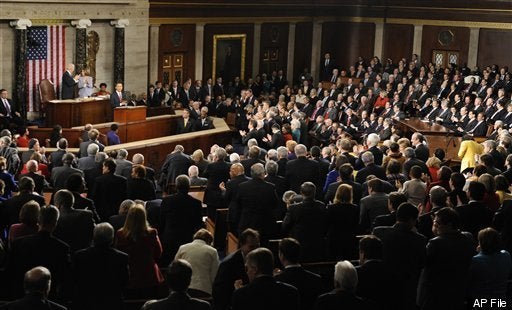 Jared Loughner's murderous rampage in Tucson, which claimed six lives and put Rep. Gabrielle Giffords (D-Ariz.) in the hospital, has provoked all sorts of important discussions. Some have called for specific responses, such as increased security for public officials and a ban on the extended clip that prolonged Loughner's spree. Others have sought to turn the discussion to more ephemeral matters, such as a call to elevate the public discourse and forgo violent motifs in favor of more positive ones. But the only certain way in which concern over the Tucson tragedy is going to manifest itself is that lawmakers have decided to put aside their differences and attend the State Of The Union address as each others' dates.
All across America, people with political differences come together in communities and workplaces and actually accomplish things of material benefit on a daily basis. Finally your lawmakers have noticed, and for a few hours they too will find a way to sit next to each other as if they were creatures capable of some small amount of empathy and fellowship.
It's the sort of thing that might make for a powerful statement if they all showed up the day of and surprised people, but those press releases touting their individual awesomeness aren't going to email themselves to reporters, so we've already been treated to many, many public declarations of being-willing-to-do-the-bare-minimum-to-be-nice-to-one-another. The whole event is shaping up to be America's most awkward prom.
-- SOTU Prom fever has all but engulfed the state of Illinois! Sens. Mark Kirk (R) and Dick Durbin (D) will be sitting together, as will two couplings from the House: Reps. Luis Guttierez (D) and Judy Biggert (R), and Reps. Dan Lipinski (D) and Bob Dold (R). They should probably all get together, to come up with ways to get around any earmark bans for the state of Illinois. (Similarly, Florida Sens. Bill Nelson (D) and Marco Rubio (R) plan on being SOTU besties.)
-- Sens. Mary Landrieu (D-La.) and Olympia Snowe (R-Maine) will sit together as well. This is maybe the first time a Maine senator has opted to make a decision quickly, instead of dragging it out pointlessly for months.
-- The entire Colorado delegation -- inspired by Sen. Mark Udall (D-Colo.), who called for the mixed seating in the first place -- will be sitting together at the SOTU, to be hopefully followed by a "Rocky Mountain Key Party."
-- Also, after House Minority Whip Steny Hoyer (D-Md.) backed the idea, saying, "I believe Congress has a responsibility to set an example of less ugly, less divisive debate," House Majority Whip Kevin McCarthy (R-Calif.) said, "I'd enjoy sitting next to him." Old statesman and "young gun," though? This is a Gyllenhaal/Swift waiting to happen, I'm afraid.
Public calls for bipartisan mingling have also gone out from Sens. Amy Klobuchar (D-Minn.) and Lisa Murkowski (R-Alaska) and Rep. Paul Gosar (R-Ariz.), but for the time being, it's unknown who they will be taking to the address. It sure would be awkward going stag to this thing, right?
Anyway, let's applaud our heroic congresspersons for their determined plan to follow in the footsteps of the rest of America and at least suck it up for a few hours and pretend to get along.
REAL LIFE. REAL NEWS. REAL VOICES.
Help us tell more of the stories that matter from voices that too often remain unheard.