~Sarah Palin addresses the Conservative Patriots Group rally in Wasilla, Alaska on 9/11/10
It has long been speculated that former Alaska governor and Vice Presidential candidate Sarah Palin would mount a bid for the White House in 2012. So far, Palin has avoided directly answering questions about her intent. However, internal emails obtained by The Mudflats provide the most conclusive evidence to date that Palin will be running for president, and also indicate a behind-the-scenes rift between the Palins and an Alaskan candidate that they have both publicly endorsed.
An irate email written by Todd Palin seems to confirm his wife's presidential ambition, and revealed his anger at Alaska Republican Senate candidate Joe Miller. The email demands that the treasurer of SarahPAC, Tim Crawford, "hold off on any letter of support for Joe," and came on the heels of an interview Miller gave to Neil Cavuto on Fox News Sunday.
In May, the then-dark horse Republican/Tea Party Senate candidate Joe Miller gleaned an endorsement from long-time friend Todd Palin, followed on June 2 by an official endorsement via Facebook post from Sarah Palin. Miller's subsequent stunning upset over Republican incumbent Lisa Murkowski may have had more to do with a ballot proposition calling out social conservatives, but has been widely credited, at least in part, to the Palin nod. Certainly, the Palins' endorsement helped Miller receive an official endorsement, as well as substantial financial backing, from the national Tea Party Express, which made possible a massive media buy in a small, easily-dominated market.
Miller has had a heavy schedule of fundraising in Washington D.C., and has made multiple appearances on Fox News in recent weeks. On September 19, he appeared on Fox News Sunday with Neil Cavuto who addressed the rumor of a Palin presidential run, and asked Miller if he thought Sarah Palin was qualified to be president.
Miller's non-committal response that there were "a number of great candidates out there" for the job fell far short of a Palin endorsement, and seems to have roused the ire of Todd Palin, who launched an angry email blasting Miller on behalf of his wife. Palin sent the email on the morning of the Cavuto interview to Tim Crawford, Joe Miller and the Palins' personal attorney, Thomas Van Flein (who also serves as Miller's attorney.) In the email, Todd Palin instructs SarahPAC treasurer Tim Crawford to "Hold off on any letter for Joe. Sarah put her ass on the line for Joe and yet he can't answer a simple question "is Sarah Palin Qualified to be President". I DON'T KNOW IF SHE IS."
Palin had previously given her support to Miller's fundraising efforts. The day after appearing with Miller at a Conservative Patriots Group rally in Wasilla on September 11, Palin had written
urging her more than 2 million Facebook friends to financially support Miller's "money bomb." As Todd Palin indicated, Sarah Palin's endorsement of Miller
was
politically risky, with failure meaning that her backing was no longer even enough to assure support for a Republican candidate in her home state. And if Miller, with her help, actually succeeded in toppling the incumbent, the way would be paved for
, the moderate Democratic candidate who would appeal to the Independents necessary to win any Alaska seat. At that time, no one anticipated that incumbent Republican Lisa Murkowski, after suffering a stinging defeat to Miller in the primary, would re-enter the race, launching a
with
~Sarah Palin and Joe Miller at the Conservative Patriots Group rally in Wasilla on 9/11
In the email Todd Palin went on to ask, "Joe, please explain how this endorsement stuff works, is it to be completely one sided." The specific use of the word "endorsement" and the Palins' anger at the endorsement being "one-sided" appears to be strong evidence that the Palins were, in fact, not only expecting a quid pro quo endorsement from Miller for a yet-to-be-announced Palin presidential run, but were furious that they didn't get it.
The email continues, "Sarah spent all morning working on a Face book post for Joe, she won't use it, not now. Put yourself in her shoe's Joe for one day." Though the exact contents of the Facebook post and the previously mentioned letter are not clear, it is obvious that the Palins did not, at the time of the email, intend to put any more political muscle behind Miller's candidacy, and were specifically withholding support they had intended to give in retribution for Miller's failure to support Palin's presidential aspirations.
Miller reacted three days later when he forwarded the email he'd received from Todd Palin, and added a message of his own. Miller's email was sent to his spokesman Randy DeSoto, campaign manager Robert Campbell, political advisor Walter Campbell, and a staffer. Miller stated that he had just found the email from Palin in his inbox, and noted, "This is what we're dealing with. Note the date and the complete misconstruction of what I said. Holy cow."
Todd Palin, while rarely making public statements, has been intimately involved in his wife's political career, and had been referred to in Alaska as the "shadow governor" during Sarah Palin's brief tenure as chief executive of the state. Todd Palin often sat in on official meetings, and gave input into decisions made by the administration. When his involvement fell under criticism, attorney Thomas Van Flein confirmed Todd Palin's involvement in government affairs by calling him "a key advisor" to the governor.
Palin has not used her Facebook account to promote Joe Miller since the plea for financial support on September 2. Since that time, she has used that platform to promote the candidacy of Christine O'Donnell, and twice urged readers to financially support "commonsense conservative candidates" in general. But Todd Palin did make an appearance at a radio telethon hosted by the Tea Party Express at a local Anchorage radio station yesterday. Miller is scheduled to be the keynote speaker at a Combat Veterans for Congress Patriot Gala in San Diego on October 9, where Palin is billed as a featured guest.
EMAIL: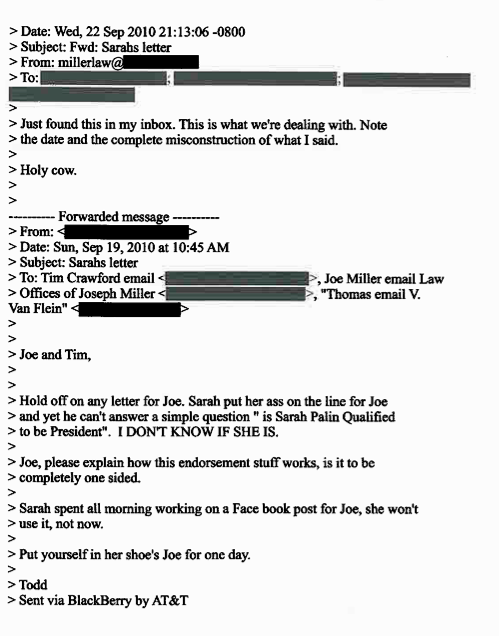 Popular in the Community