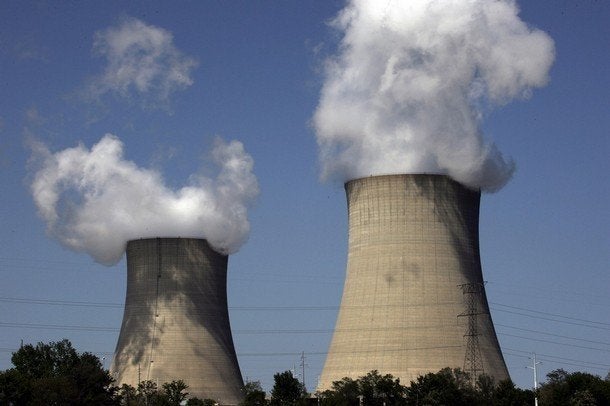 Exelon, the nation's largest nuclear power company, stands to rake in roughly an extra $1 billion to $1.5 billion a year if the House climate change bill passes, according to the company's own estimates. The House is expected to vote on the bill on Friday.
A memo produced for Exelon by Bernstein Research, and obtained by the Huffington Post, reports that Exelon CEO John Rowe recently told a gathering of investors and senior executives that the energy bill "will add $700 to $750 million to Exelon's annual revenues for every $10 per metric ton (MT) increase in the price of CO2 allowances." Prices will range between $15 and $18 per metric ton, the report estimates, "implying a positive earnings impact of $1 to $1.30 per share."
Exelon, with a major presence in Illinois, was an early backer of President Barack Obama's. "Barack has one of his biggest supporters in terms of funding, the Exelon Corporation, which has spent millions of dollars trying to make Yucca Mountain the waste depository," then-rival Sen. Hillary Clinton noted in a debate in January 2008 in Nevada, a charge PolitiFact deemed "mostly true," noting that in fact Obama, like Clinton, did not in fact support the Yucca Mountain project.
Last week, the company announced it was shedding 500 jobs, blaming the sagging economy and saying it hoped to trim $350 million in operating costs.
"While we do stand to make money when carbon legislation goes into effect, we've been advocating hard for allocation of free allowances to local utilities," Exelon spokeswoman Kathleen Cantillon said in an interview. Allocating free allowances to utilities wouldn't directly benefit Exelon, said Cantillon, but the company backs them out of concern that prices would rise too quickly otherwise, undermine support for the law and perhaps facilitate a repeal.
Nuclear power is among the lowest carbon-emitting sources of energy, which helps to explain Exelon's enthusiastic embrace of a carbon cap.
The company officials think that the bill is likely to become law. "Exelon's Executive Vice President for Government and Environmental Affairs, the former FERC Commissioner Betsy Moler, is guardedly optimistic that the Waxman-Markey climate change bill (H.R.
2454) will be passed into law by the current Congress, estimating its chances at 60%," reads the memo. Moler's 60 percent estimate is attributed to Rep. Rick Boucher (D-Va.), a subcommittee chairman pushing for power company subsidies.
Rowe, however, gives the bill a two-in-three chance of passing the House, but only a 50-50 chance of getting out of the Senate.
The company's leaders, at the recent meeting, declared their admiration for the skill with which Rep. Henry Waxman (D-Calif.) moved the bill. "Both John Rowe and Betsy Moler were pleased by the structure of the Waxman-Markey climate change bill (entitled the American Clean Energy and Security Act of 2009, or H.R. 2454), and impressed by the skill with which Chairman Waxman (D-CA) had forged the compromises necessary to pass the bill out of the House Energy and Commerce Committee."
The timing is right, according to Moler, in the memo. "Moler believes that there is a sense among Republican Senators that greenhouse gas regulation is inevitable, and that the current weak economic environment provides an opportunity to turn the proposed legislation in a more moderate direction," reads the memo.
With that kind of opportunity knocking, Exelon is doing all it can to make sure the door is opened. It's a major player in the Climate Action Partnership, a coalition of business and environmental groups pushing for climate change legislation.
Rowe even produced an ad with the aggressive environmental group Environmental Defense. After suggesting viewers check out the plan that Exelon and Environmental Defense have agreed on, Rowe notes to the camera: "You'll be surprised."
Popular in the Community