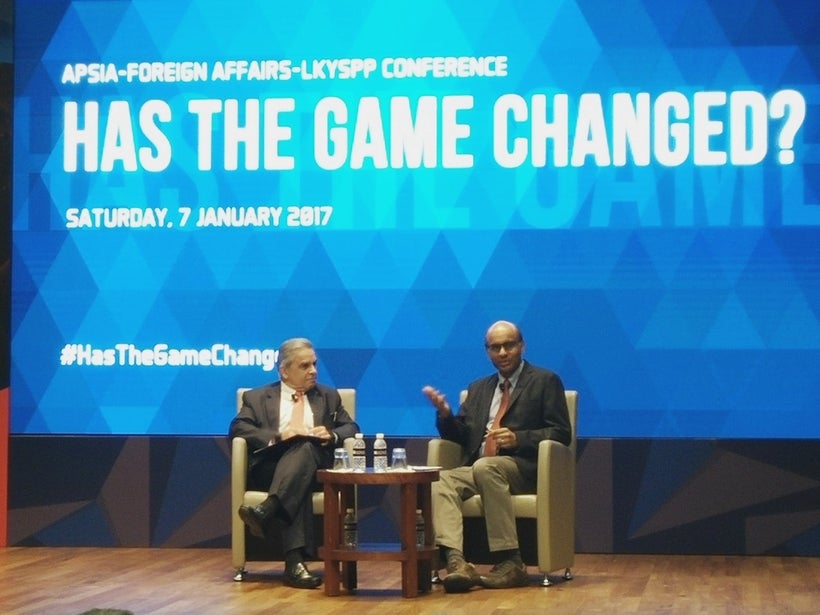 With political upsets like UK's Brexit vote and Donald Trump's election as the next U.S. President, has the global "game" changed for everyone across the world?
Singapore's Deputy Prime Minister (DPM) Tharman Shanmugaratnam tackled the above question at an international affairs conference titled "Has the game changed?" on Saturday, Jan 7, organized by the Lee Kuan Yew School of Public Policy.
The political upsets of 2016 - Brexit and Mr Donald Trump's election in America across the world and a rising sense of "despondency" about globalisation may seem to have changed the game on how the world works. But, in fact, these were caused by economic and social changes that have been going on for decades, said Singapore's Deputy Prime Minister Tharman Shanmugaratnam to an audience of 350.
1) Stagnant wages (and incomes) — not just for those at the bottom end of the income ladder, but for the middle class in countries like the United States and Japan.
2) General decline in social mobility across the advanced world — even those with higher rates of social mobility like Germany and Sweden. People know that their chances of moving up in life are less than they used to be if they start off at the bottom. They get a sense that society is not reshuffling, or favouring meritocracy, the way it used to.
3) A loss of a sense of togetherness in society — where people no longer think of themselves and society in terms of "we" but in terms of "us against them". Rural versus metropolitan is a good example of this.
4) An increasing polarisation of politics — caused by a decline in trust in governments, voter apathy, especially the young, and reinforced by a new phenomenon — social media — which has now become the dominant gate through which "news" is filtered to reinforce people's bias.
1) Regeneration of cities left behind through close collaboration with government, schools and employers —Cities left behind by globalisation are reflections of "creative destruction", trade and technological trends, geography and a reflection of new demands and old demands, with new products and services replacing old ones.
2) Regeneration of people's careers, not redistribution of incomes in societies — "You need redistribution in society, and you may need more in some areas, but it's not at the heart of the matter… Redistribution doesn't give hope. Regeneration is what brings hope because you allow individuals, communities and cities to rise through their own abilities" said Tharman.
3) Regeneration of neighbourhoods through active urban planning that goes beyond utilities — This is because neighbourhood issues and the composition of a neighbourhood determine social mobility, and a sense of how people thrive or do poorly together. Neighbourhood policies must discourage segregation, so that communities can do well together.
4) Regeneration of "the politics of the centre" — This means a return to politics that is "honest with the people". This includes the need to look long-term, because each of the major challenges "require actions that only pay off over multiple electoral cycles". For example, American politicians on the left and right in conventional politics have neglected issues that have resulted in the U.S. pension crisis, as well as their problems related to healthcare funding.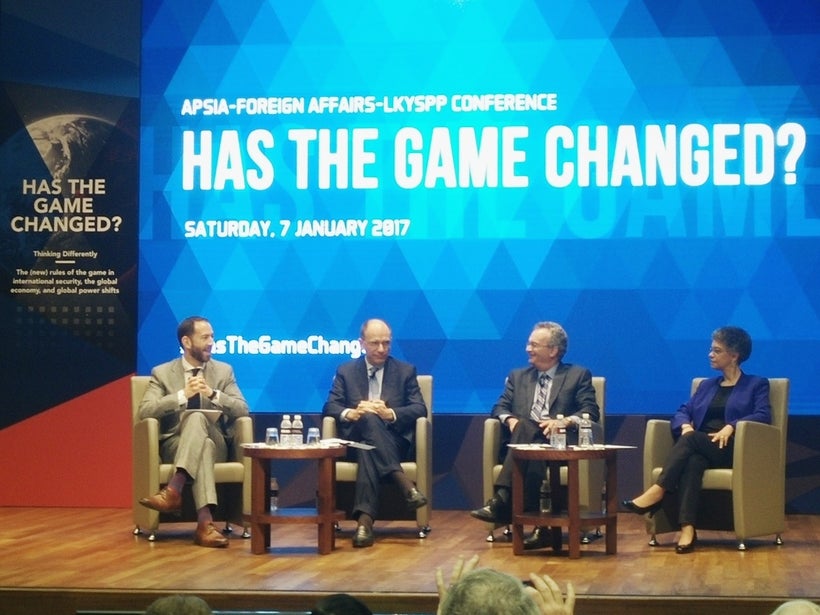 At the conference by the Lee Kuan Yew School of Public Policy, the audience and international affairs experts from around the world discussed global power shifts and issues — the impact of newly-elected President Donald Trump on pressing foreign policy challenges such as geopolitical tensions rising from the Islamic State, North Korea missile launches; the development of free trade agreements in the wake of Brexit and expectations for the continued development of free trade; and managing the rise of Asia.
Here below is a quick recap of the discussion by the panellists:
In managing the rise of Asia, James Goldgeier, Dean, School of International Service, American University said, "The Asia-Pacific region is and will continue to be the most dynamic in the world. The Clinton, Bush and Obama administrations have each come into office seeking to rebalance U.S. foreign policy toward the Asia-Pacific region, and each administration has faced crises in Europe and the Middle East that have required significant U.S. attention. Adding to the challenge today is the populist backlash against globalization that has led to far-reaching policy choices such as the failure of the United States to move forward with the Trans-Pacific Partnership. The most significant global trend today is the gradual decline of the liberal international order fostered by the United States since the end of the Second World War. That erosion has led to tremendous uncertainty across global issues, not only in Asia but throughout the world."
In defining world policies, Enrico Letta, Dean of the Paris School of International Affairs, Sciences Po said, "Economic patriotism has become the new rule in global economic relationships. Economic patriotism and closed borders are always negative decisions in the long-run. In this context, it's particularly important to avoid any diplomatic mishaps, and to ensure that Asia and Europe do not provide a protectionist alibi to President Trump."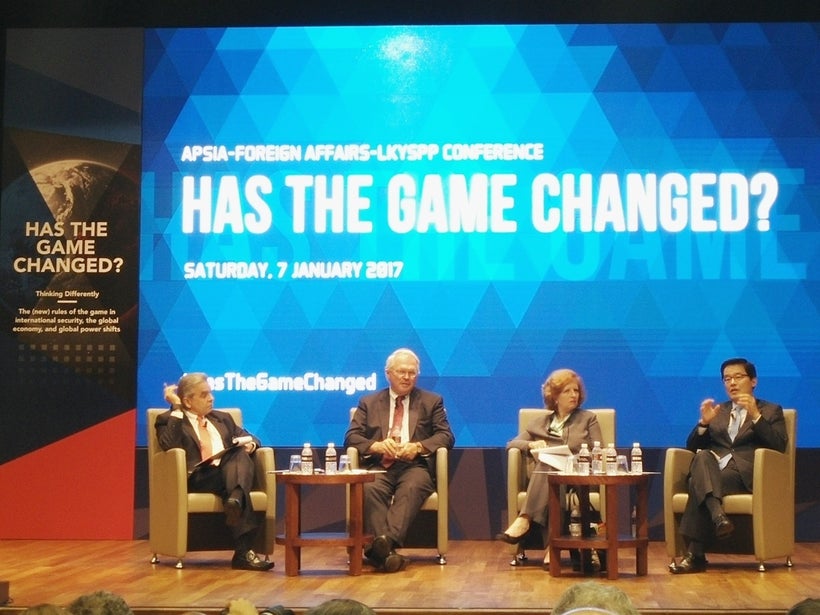 On the future relations of China and the U.S., Kishore Mahbubani, Dean of the LKY School in Singapore and former President of the United Nations Security Council said, "The relationship between the number one power in the world (today the US) and the number one emerging power in the world (today China) is always the key global geopolitical relationship. In the past eight years, Obama and Xi Jinping have done a brilliant job of keeping it on an even keel. Can Trump do the same? Or will he launch a new phase of Sino-American rivalry that could destabilise the Asia-Pacific region and our world? The stakes are high. Our seminar could not have been timelier to point out some great dangers we face. It would be a mistake to take for granted the current calm. It could be the calm before a major storm."
In discussing shifts of global powers, Merit E. Janow, Dean of the School of International and Public Affairs, Columbia University said, "The world has changed and has become multipolar, less dominated by the United States, to a point where reaching decisions at the global level is increasingly complex and difficult to achieve. It becomes more challenging given that a number of countries around the world and specifically in the Asia Pacific region are seeking greater influence within international bodies, such as the World Bank, International Monetary Fund, World Trade Organization, United Nations and G20. China has been particularly assertive in this regard."
"These countries, particularly in Asia, are taking steps to create their own regional institutions because they feel they are unable to have the degree of voice and influence in the established bodies that they perceive is appropriate. International organizations and bodies need to adjust to this new reality and ensure that important developing nations have a greater voice," added Dean Janow.
Calling all HuffPost superfans!
Sign up for membership to become a founding member and help shape HuffPost's next chapter
This post was published on the now-closed HuffPost Contributor platform. Contributors control their own work and posted freely to our site. If you need to flag this entry as abusive,
send us an email
.