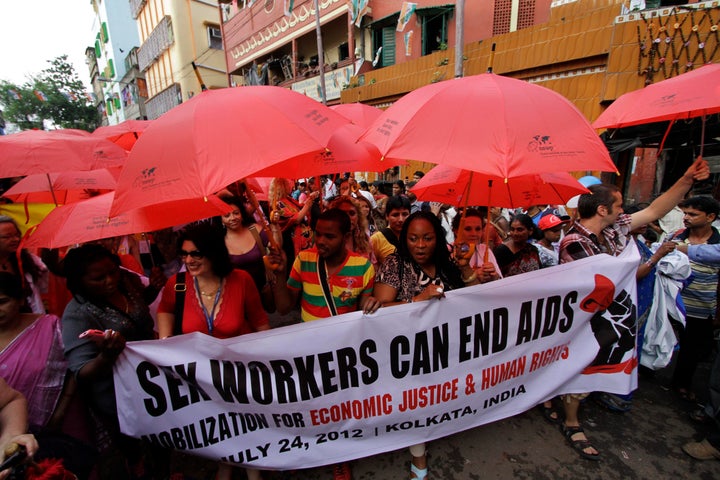 Though sex workers weren't even permitted to participate, they managed to take a stand at the International AIDS Conference.
"Exclusion of sex workers and drug abusers (a key population affected with AIDS) at the 19th International AIDS Conference in the US was a missed opportunity in the fight against the epidemic." Andrew Hunter, president of the Asia Pacific Network of Sex Workers, told the Daily News of India.
"Sex workers are key to all policy decisions on AIDS," Samarajit Jana, one of the co-organizers of the Kolkata conference, told Reuters. "It has been proved that if you can succeed in controlling transmission amongst sex workers, you can be rest assured that you will not face an epidemic. They must be part of the discussion."
Some organizations have been responding to the call.
Avahan, a project funded by the Bill and Melinda Gates Foundation, gave more than $200 million over five years to provide sex workers with preventative health education and has helped them integrate into society, according to ABC. The Somaly Mam Foundation in Cambodia gives out free hygenic supplies, condoms and medical services to sex workers and victims.
Though the conference in D.C. officially banned sex workers from the event, they still managed to have some representation. Debbie McMillan, a transgendered woman who became homeless and a sex worker at 14 -- and now lives with HIV -- shared her story and hopes for people in the sex industry, ABC reports.
She got help from the now defunct organization "Bridge Back," and wants other sex workers battling HIV/AIDS to have access to such support and also contribute to policy decisions.
"[T]ransgender persons, sex workers, and IV drug users, people like me," McMillan told ABC, "should be included and part of the solution."