The first big event on the main stage was the highly anticipated panel discussion on Art vs. Craft. Sitting in directors chairs at the center of the stage were David Kinch of the two Michelin starred Manresa in California, uber chef Thomas Keller of The French Laundry and Per Se, and farm-to-table chef Dan Barber of Blue Hill at Stone Barns. The discussion was moderated by food writer Michael Ruhlman.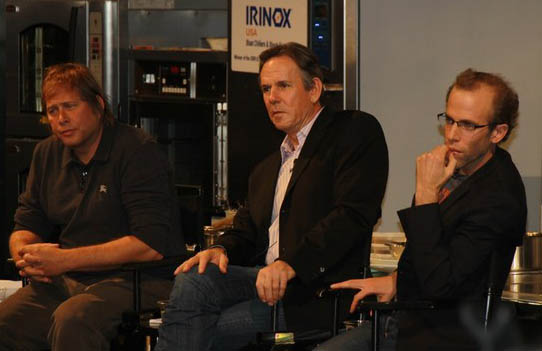 Left to Right: David Kinch, Thomas Keller, and Dan Barber (Photo by Regina Varolli)
I must admit, the discussion was a bit disappointing. For the most part, these three incredibly talented chefs, all of whom people like us do consider to be artists, sat there telling the audience that cooking is not an art, but a craft. Dan Barber said, "You don't need to be an artist to be a great chef." And Thomas Keller quipped, "To me, at the end of the day, it's all just food." This of course made me wonder why the chef's tasting menu at Per Se is $275.00. If it's "just food," then why is it so expensive?
At the end of the discussion, moderator Michael Ruhlman brought Jeffrey Steingarten, who was seated front and center in the audience, into the discussion. Steingarten made a comment along the lines of how this was a fruitless discussion, and then said "So let's wrap this up and never talk about it again." When they asked the audience if we had any questions, I was very tempted to ask Mr. Steingarten if he thinks this industry does not produce artists, then why did he pen the famous phrase about pastry god Pierre Hermé, calling him "The Picasso of Pastry?" Picasso was an artist after all. And so is Pierre Hermé.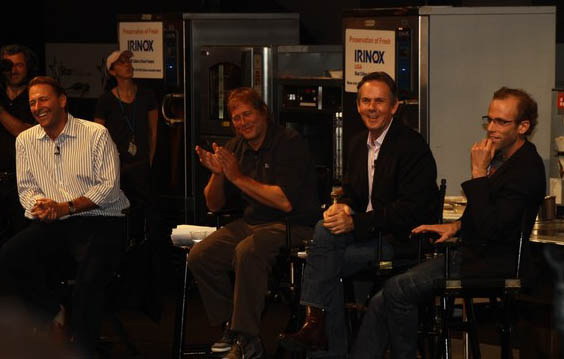 The Art vs. Craft Panel laughs at Jeffrey Steingarten's remarks. Pictured far left, Michael Ruhlman. (Photo by Regina Varolli)
To me, the best part of Day One at the StarChefs ICC were Bernard Lahousse and Dominique Persoone of The Chocolate Line in Brugge, Belgium. On the main stage, this chocolatier/scientist duo discussed food pairings with chocolate, and demonstrated to the audience how the experience of tasting chocolate, or any food for that matter, is greatly affected by our physical surroundings--the sights, sounds, and smells in our environment at the time we're eating any product. They used the example of eating seafood on the beach versus eating seafood in a restaurant, arguing that the fish will always taste better when it's consumed sitting on the sand in front of the ocean, smelling salt water and hearing waves crash on the shore. In their presentation, the audience sampled their chocolate-Tequila bonbon while they played Mariachi music and filled the main stage with the scent of lime.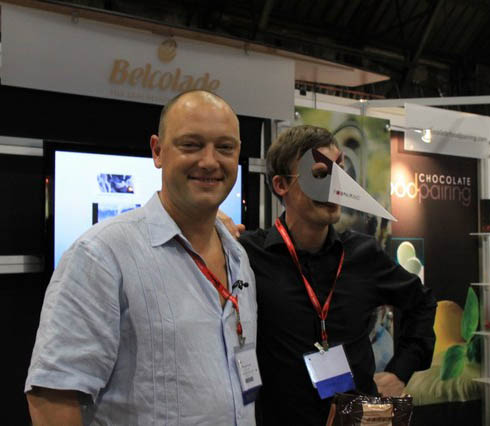 Left to Right: Chocolatier Dominique Persoone and Science Director Bernard Lahousse, wearing his scent mask. (Photo by Regina Varolli)
These boys from Belgium ended up being the buzz of the event thanks to their Chocolate Shooter Kit. Have you ever snorted cocoa? I certainly had not. But when I wandered over to the Belcolade Chocolate booth to meet Bernard and Dominique in person, I discovered this little invention of theirs, and of course I had to try it. The small plastic contraption is spring-loaded, and two little tabs with powder cocoa on them are at the catapult end, spaced roughly as far apart as a person's nostrils.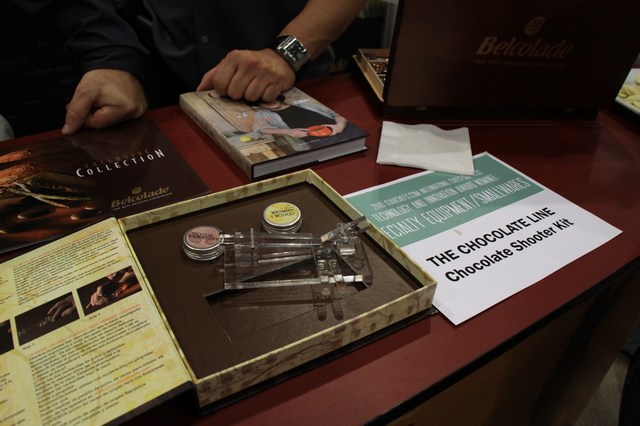 The Chocolate Shooter Kit (Photo by Regina Varolli)
They held the contraption right under my nostrils and said "On the count of three, inhale!" I shook my weary head and said "OK, here goes nothing." "One, two, three!" SNAP, SNIFF, and next thing I know I've just snorted cocoa. And the sensation was a weird one. At first my head spun a little and my body seemed to wonder what was going on. I did get a tiny buzz, but was mostly filled with the aroma of chocolate in my dizzy head. The guys got the idea when they were asked to come up with something funny for a birthday party being held for two members of The Rolling Stones. They came up with snortable powder cocoa.
Dominique Persoone told me that while some countries in Europe shun the device, Italy embraced it, and the government went so far as to buy a bunch of these kits to give to kids in high school, with the campaign, Snort Cocoa, Not Coke.
I was so blown away by this never before seen method of ingesting chocolate that I grabbed Alex Grunert, Executive Pastry Chef for Blue Hill at Stone Barns and made him try it. Like me, he was apprehensive, but with a bit of arm twisting, saying "Hey, I did it and look, I'm just fine," he finally went for it. After having snorted the powder cocoa, we both agreed, it would make a great party game. Which is precisely why Dominique and Barnard invented it.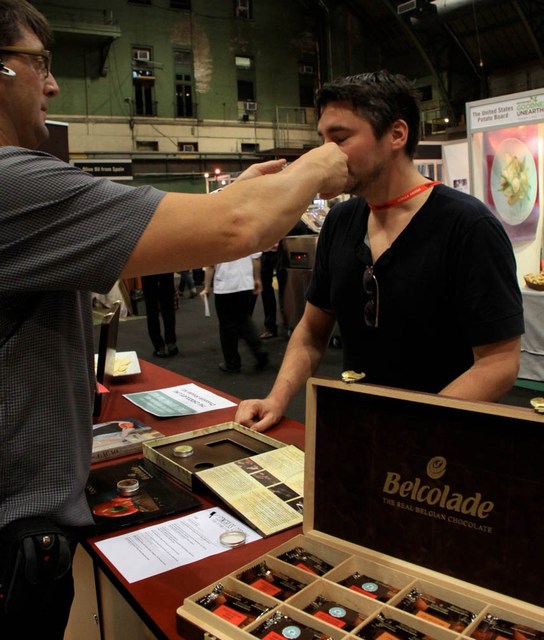 Alex Grunert snorting cocoa (Photo by Regina Varolli)
In my next article, I'll cover the highlights of Day Two at the ICC, followed of course by the final Day Three.

REAL LIFE. REAL NEWS. REAL VOICES.
Help us tell more of the stories that matter from voices that too often remain unheard.