 The StarChefs.com International Chefs Congress wrapped up with a panel discussion that headlined with Mario Batali. Probably the best quote of the high-energy, three-day Congress was when Batali said, "The first day that a chef thinks he knows everything is the first day he becomes an asshole for the rest of his life."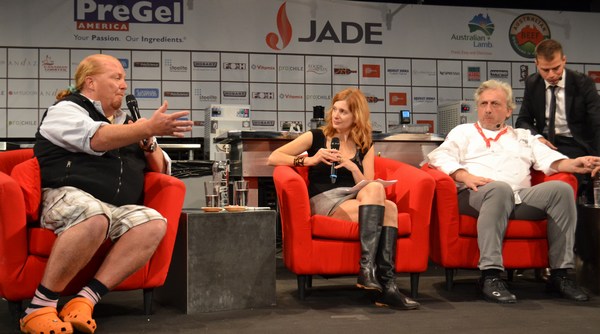 Mario Batali, Melissa Clark, and Italy's indomitable Davide Scabin of Combal.Zero (Regina Varolli)
Returning to the ICC for a command performance on the main stage was Iron Chef Masaharu Morimoto. Rolling out a 235 pound farm-raised Kindai Bluefin Tuna, Morimoto carved it up expertly, while discussing the topic of sustainable seafood. Talking simultaneously with a Japanese fish monger while he carved the fish, Morimoto spoke of how 10 years ago, the Japanese resisted buying farmed tuna, but today they have come to appreciate that its flavor and texture are equal, and now they no longer shun the sustainable version. Indeed, the price has grown to be equivalent, although Morimoto himself was visibly and audibly surprised when the fish monger told the audience that the specimen he was carving (that Morimoto buys for his restaurant), costs $23,000.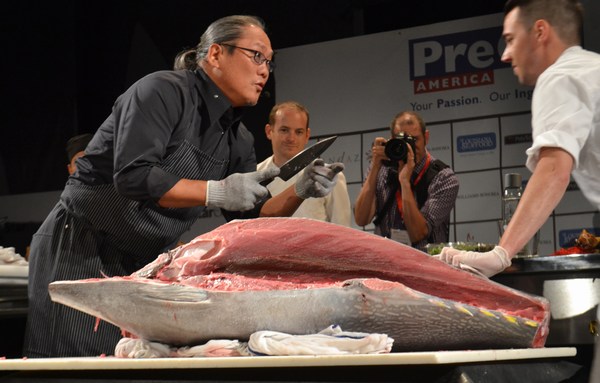 Masaharu Morimoto deftly carves up a 235 pound farm-raised Kindai Bluefin Tuna (Regina Varolli)

Masaharu Morimoto tells the audience which parts of the (giant) fish head are edible and tasty - he likes the eyeballs! (Regina Varolli)
New to the ICC this year was EAT@ICC, where chefs manned food carts and pop-up restaurants. The choices were plentiful and delicious, but as I roamed and grazed for three days, tasting each and every dish, I came away with clear favorites on the savory side. Ken Oringer of Cleo in Boston and Toro in NYC created a complex Tripe Chili that melted in your mouth and could convince anyone that offal certainly is not awful. The John Dory Oyster Bar took the lobster roll to new heights when they not only used super fresh meat, but a freshly-baked roll that was toasted and doused in melted butter.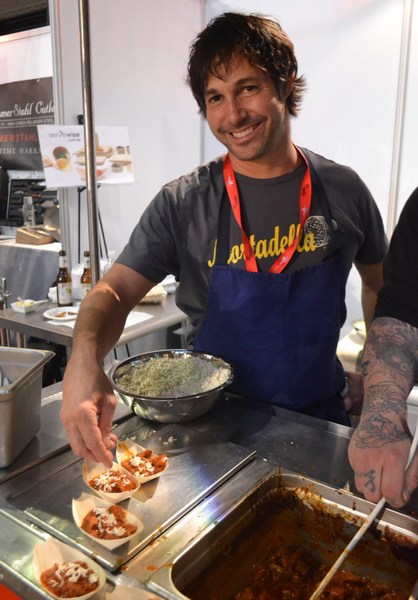 Ken Oringer presides over his Tripe Chili food cart (Regina Varolli)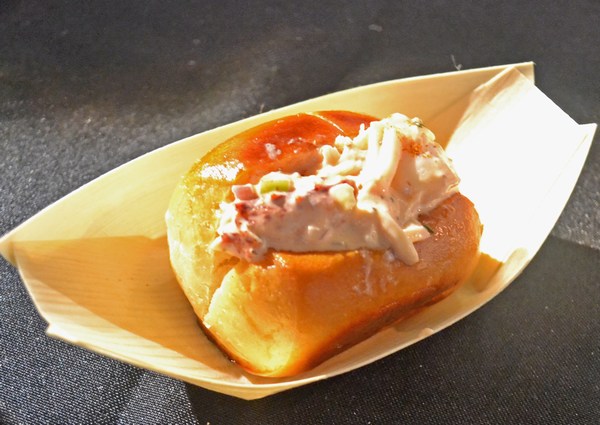 The John Dory Oyster Bar's luscious Lobster Roll (Regina Varolli)
Unified Brands paired up with three-time James Beard Nominee for Best Chef in the South, Derek Emerson of Walker's Drive-In in Jackson, Mississippi, to create a refreshing and flavorful Spiced Butter-Poached Lobster Salad with Citrus and Mango. The spicy-sweet salad had just enough heat to balance out the sweetness, and the citrus provided a nice tang on the tongue. Meat & Livestock Australia produced a mouth-watering sous-vide Australian lamb that was just about the most tender lamb I've ever had the pleasure to taste.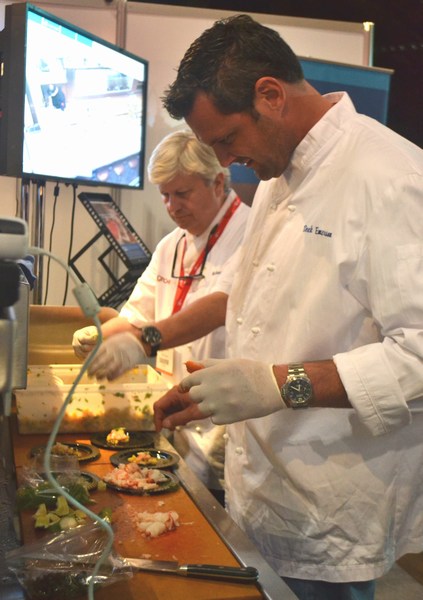 Chef Derek Emerson of Mississippi's Walker's Drive-In and Michael Williams of Unified Brands prepare a spicy-sweet and buttery Lobster Salad (Regina Varolli)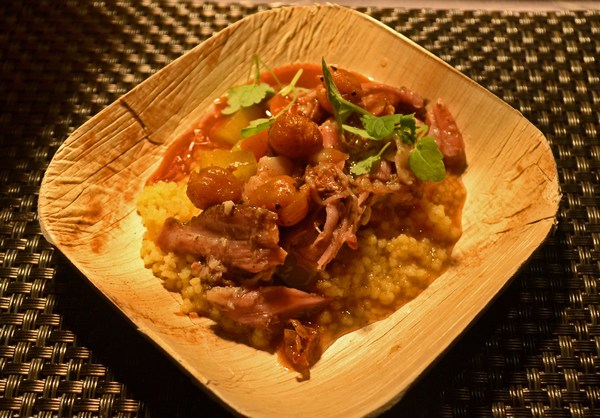 Australian Sous-Vide Lamb with Couscous (Regina Varolli)
New to ICC this year were savory samples from Peru: Aji de Gallina Tartelettes, Northwest style Seco de Short Ribs, Aroz con Pato, and a Sweet Potato-Squash Doughnut with Chanaca Syrup. The flavors unique to Peru were a pleasure to discover, and for three days the Peru booth consistently educated participants on the complex and diverse culinary landscape of their country. ProChile also gave our senses a run for the money with a King Crab and Avocado Soup, Salmon Sliders and a Manjar Meringue Pastry. Like Peru, the people representing Chili informed chefs and participants about the unique history and flavor/ingredient landscape of Chilean gastronomy.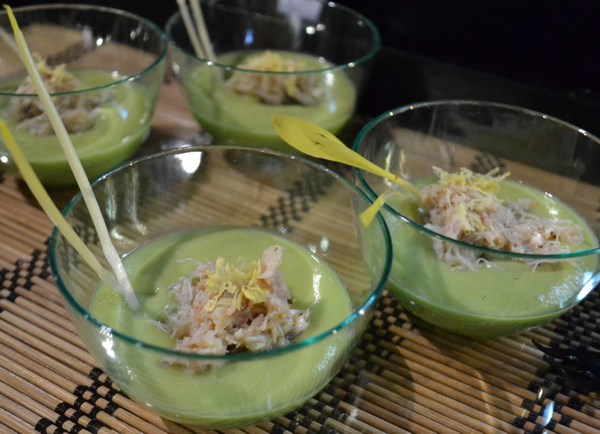 ProChile's King Crab and Avocado Soup (Regina Varolli)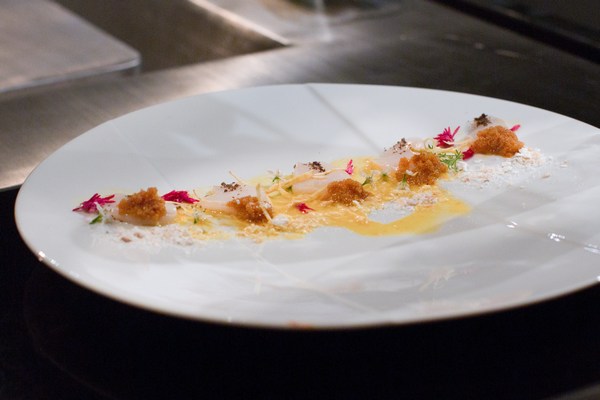 Scallop Tiradito with Scallop Roe, Amaranth Flowers, Onion Flowers, Roasted Corn, and Maca Root from Peruvian Chef Virgilio Martínez (Photo courtesy StarChefs.com)
Admittedly, again this year, I was drawn repeatedly to the Spanish importers of Jamón Ibérico, also knows as Pata Negra for the black feet of the wild pigs that make Jamón Ibérico so special (rather more like boars in their size and build). Raúl Martín, the grandson of Fermin Ibérico's founder, showed me images of pigs so large and so fat (and so happy roaming their native forest), that one can clearly see why these wild, acorn-fed animals produce such a ridiculously well-marbled and flavorful Jamón. I must be guilty of consuming at least a pound of Fermin Ibérico in all its forms: a four-year cured Jamón Ibérico de Bellota, Ibérico Chorizo, Ibérico Salchichon and Smoked Ibérico de Bellota Bacon. So I sincerely hope to find Fermin Ibérico in any shop where I would find my old favorite Prosciutto di Parma, or I'm going to start going through withdrawl. They're clear rivals for my taste buds, although the soft, sweet subtlety of Prosciutto di Parma and the hard, savory boldness of Fermin Jamón Ibérico can't really be compared. Literally, they're two different animals entirely.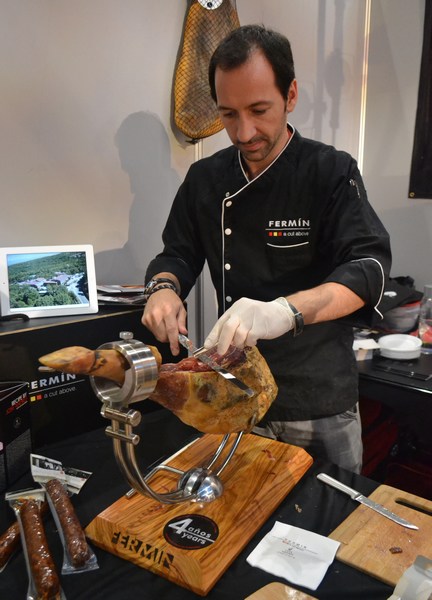 Fermin Ibérico's Raúl Martín slices Jamón Ibérico de Bellota with a proper carving technique that must be taught and mastered (Regina Varolli)
This year's ICC brought up the South. New Orleans Chef John Besh took to the main stage to talk about and cook with seafood from Louisiana and the Gulf. Speaking of the tragedy of the BP oil spill, the struggles of the fishermen and chefs, and the long process of cleaning up the Gulf, he confidently assured everyone that seafood from the Gulf region's waters are again as good as they ever were. His passion, and compassion, for New Orleans and all the cities and towns along the Gulf shone like a beacon and will hopefully guide more chefs to turn to Gulf seafood once again.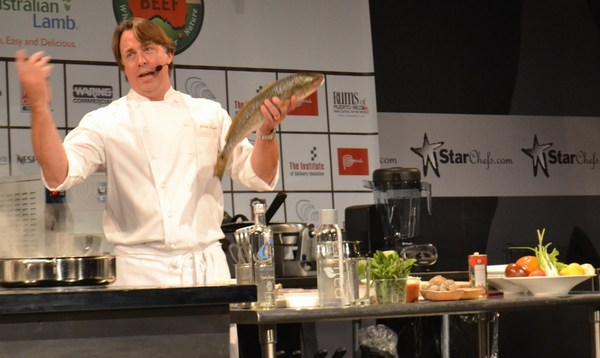 Chef John Besh cooks up Louisiana seafood on the ICC Main Stage (Regina Varolli)
Hailing from the newly anointed culinary cutting edge of the globe, Mathias Dahlgren of Stockholm spoke of his part of the world now being in the spotlight. "It used to be Spain," said Dahlgren, "now it's the Nordic countries and it won't last forever. But it has brought attention to our cuisine and what we're doing up here." Dahlgren, who won the Bocuse d'Or at the young age of 27 -- who said of the experience that he didn't go there to win, he went to "not lose" -- commented that as a chef who owns his own restaurant, "The worst thing that can happen to a restaurant is that you, the chef, feels blasé about what you're doing." Full of energy and excitement for his work, Dahlgren told his fellow chefs, "If you do something that's different, you're going to get questioned over and over again. But you stand there and defend what you're doing over and over again. You keep your ideas. Eventually you win."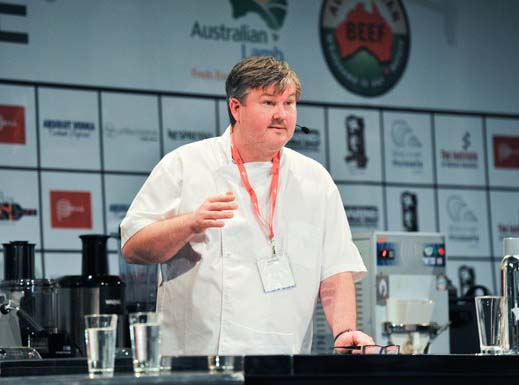 Mathias Dahlgren of Stockholm, Sweden (Photo courtesy StarChefs.com)
The savory side of the StarChefs.com ICC wouldn't be complete without Cocktails, and lots of them. Shaking it up during the Congress Cocktail were mixologists from NY and around the country. Jeffrey Morgenthaler from Portland, Oregon concocted a dizzying "Dickle Punch" made of George Dickle Tennessee Whisky, Crème de Cassis, Sparkling Wine, Soda and Lemon. Eric Morales ran the gamut of cocktails, featuring Rums of Puerto Rico, and Neal Bodenheimer and Kirk Estopinal of Bellocq in New Orleans pleased the crowds with their unique and beautiful "Cognac Cobbler" made of Cognac, Pineau de Charentes, Lemon Juice, Superfine Sugar, Bittermens Boston Bittahs, Fresh Lemon, Strawberry, Mint and Hibiscus.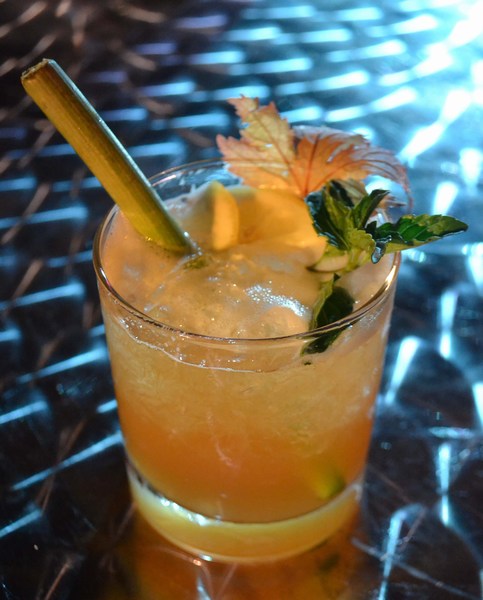 Neal Bodenheimer and Kirk Estopinal's "Bellocq Cognac Cobbler" (Regina Varolli)
For me, perhaps the best moment came when I spotted the young C-CAP students who had the chance to volunteer at the ICC. These high school kids were full of enthusiasm and excitement, and the exposure they got to everything the ICC has to offer, thanks to C-CAP and StarChefs.com, was nothing short of the opportunity of a lifetime. C-CAP students represent the future, and judging by their dedication and desire to learn, I think we can look forward to an increasingly exciting industry... and an ICC that mirrors that excitement.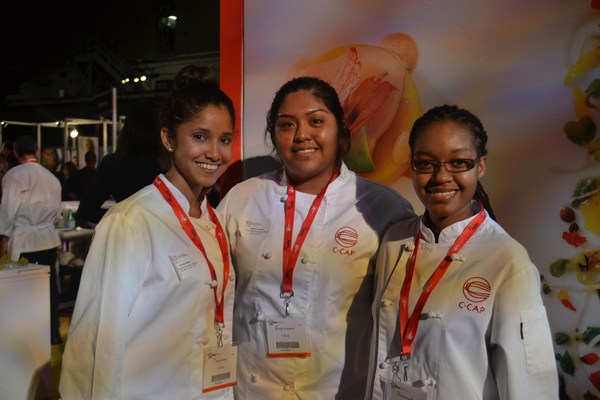 C-CAP Students / ICC Volunteers (Left to right): Emily Rojas and Wendi Velazquez of Long Island City HS, and Oskana La Rode of Monroe College (Regina Varolli)
The StarChefs.com International Chefs Congress continues to educate, inspire, satisfy and push the boundaries of an industry known for its distaste of boundaries. The unexpected is what all have come to expect from the ICC, and fortunately, it's what we still get even in year seven. And, for the first time ever, StarChefs.com produced a live stream of all main stage demonstrations. Available on the StarChefs.com website, you can still catch all the action online!
Related