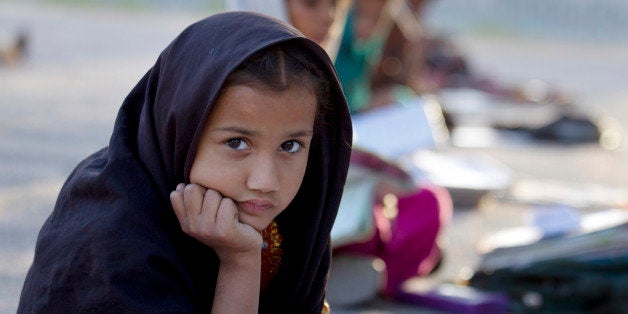 To inspire positive action for women and girls worldwide, I decided to compile a list of eight ways one can take action. Here are eight steps you can take to empower women and girls:
1. Donate to projects that work to empower girls through education; being in school keeps girls away from violence and emboldens them to make blows against injustice. Some amazing sites for grassroots projects that support girls' education include GlobalGiving.org (I recommend searching under the categories "Women and Girls" and "Education") and Givology.org, a nonprofit that connects donors to education projects worldwide. (Givology's partners focused on girls' education are highlighted on this list.)
2. Organize or attend a film screening of Girl Rising in your local community. Girl Rising, a film released in 2013, follows the lives of nine girls from nine different countries. Calling attention to the positive ripple effect that girls' education catalyzes, Girl Rising urges us to make investing in girls' education a priority.
3. Read books related to empowering women and girls, to learn more about gender inequalities and ways we can combat them. Some of my favorites include Malala's memoir I Am Malala and Half the Sky: Turning Oppression Into Opportunity for Women Worldwide by Nicholas D. Kristof and Sheryl WuDunn.
5. Follow organizations that work to empower girls on your social media platforms, so that you can quickly access news stories focused on women's and girls' issues worldwide, and learn about current nonprofit and volunteering opportunities that you can get involved with.
6. Volunteer with a local or international organization that works to empower women and girls. Whether it be working at a women's shelter, launching a local chapter of a nonprofit that supports girls' education, designing a website of a charity dedicated to overcoming gender inequalities, every hour of meaningful service will aggregate into a powerful force of positive change for women and girls.
7. Sign the petition encouraging the UN to finance more global initiatives to ensure that by 2015, we fulfill the Millennium Development Goal promise that every boy and girl can have a primary school education.
8. Tweet using the hashtags #DayoftheGirl and #IDG2014, amplifying the positive change you want to see for women and girls worldwide. Because violence against women only survives in silence, it is critical that conversations about ending violence against women take place -- whether online or offline.
Related