Last Thursday, on 16 June, we marked the International Day of the African Child, and the theme this year was 'Conflict and Crisis in Africa: Protecting All Children's Rights". Children in Africa are often forgotten, facing the brunt of war, conflict and fragility. We have a legal, and more importantly moral duty to protect them; they are the future of the continent.
As the Founder- President of the Wellbeing Foundation Africa, my work is centered around children, from the baby in a mother's womb to adolescence. This is why I believe that notwithstanding private sector and civil society actions, state implementation is key in effectively protecting the child and holding parents, the government and other authorities accountable for the treatment of a child. Although, in 2003, Nigeria signed on to the Human Rights Convention, agreeing to uphold the rights of the child. There have only been 12 states in Nigeria, which have completely implemented the Child Rights Act. This is disappointing and tragic, as many children are left unprotected, subject to inequitable social determinants, and without the necessary social safety net to ensure survival and prosperity in this country.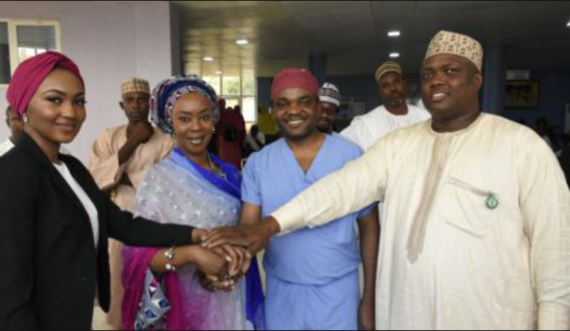 Children's rights are often overlooked, as parents naturally assume the role of primary caregiver. However, at times this can go wrong. This is what happened to baby Musa in Nigeria this month, a 20-month-old baby, born to a young mother, who was apparently abused by his grandmother and stepmother. Musa was found with no health records, one side of his face paralysed, his limbs injured, and having lost the sight in his right eye. Fortunately, his plight caught the attention of the wife of the President of Nigeria, Mrs Aisha Buhari, and a hitherto inaccessible specialist referral and the Future Assured Initiative, supported by the Wellbeing Foundation Africa, triggered system into action. Musa is now recovering well.
However, there are an inestimable number of children who face abuse and violence in Nigeria that are not as lucky as Musa who sadly do not survive. This is where implementing legislation such as the rights of the child is so vital.
As a continent, if we are ever to prosper economically and socially, we must ensure that we not only agree to international law, but we must fully implement and comply with it in our societies and communities. Nothing is more vital to our continent than ensuring that in the future, our children are helped, supported and protected.
This necessarily would include the vigorous implementation of child protection networks as recommended by Unicef, providing a basic framework for action, to be implemented by all state actors. We have recently learnt of the sharp suffering and starvation of internally displaced children in north eastern Nigeria's camps; it is only by raising the basic standards of rights, nutrition, shelter, education, and social opportunity conditions for every Nigerian child that we can ever address the needs of those in distress, and render our nation as a nation-state "fit for a child".