The Indian ambassador to the United Nations joined a room full of journalists this week to talk up the first International Day of Yoga taking place on June 21.
Ambassador Asoke Kumar Mukerji laid out some of the plans for the day in New York City, which includes a yoga teaching at the UN Plaza followed by a much larger event in Times Square that 20,000 people are expected to attend. In all, Mukerji boasted that up to 2 billion people in 192 countries around the world would be participating in the United Nations-sponsored event.
While it is clear that yoga is wildly popular in almost every corner of the world, much less understood are the origins of yoga, including the religious and cultural context out of which it grew. Changing that appears to be part of the aim of the International Day of Yoga -- and it is not without controversy.
The idea for the UN-sponsored day was first proposed during Indian Prime Minister Narendra Modi's address to the General Assembly in September 2014, during which he laid out the personal, societal and even global benefits of yoga. The UN adopted the resolution proposed by the Indian mission just a few months later, with 177 countries sponsoring.
The International Day of Yoga is being touted by India as a day to recognize the benefits of yoga in promoting harmony, fostering good health and even helping the planet in the face of climate change. Sri Sri Ravi Shankar, who is the founder of the Art of Living and is leading the yoga session at the United Nations, listed the benefits of yoga as a confusion-free mind, an inhibition-free intellect, a sorrow-free soul and a harmonious environment.
Unfortunately, the conversations around the International Day of Yoga are not entirely harmonious, and this is most evident in the very country that led the charge to create the International Day of Yoga in the first place.
While Indian embassies are preparing events around the world, the reception of International Day of Yoga back in India has been marred by underlying tensions. Even as organizers in Delhi prepare to break a world record with 45,000 people practicing yoga together, there have been religious objections raised by Muslims and other religious minorities who worry that the prescribed practice might conflict with their spiritual tradition. They also question the political motive of the day, given the prime minister's affiliation with the Hindu nationalist Bharatiya Janata Party.
At the center of the controversy is the identity of yoga itself.
The question of who "owns" yoga has gained traction in recent years. In the United States, the Hindu American Foundation started a Take Back Yoga campaign. Shripad Yesso Naik, India's yoga minister, told The Washington Post, "There is little doubt about yoga being an Indian art form. We're trying to establish to the world that it's ours." Shankar stressed the importance of understanding the origins of yoga and its important texts, such as the Patanjali Yoga Sutras. He also worries about "inauthentic" yoga and informed me that the Indian government is considering starting a certification program and standardizing the requirements to be a yoga teacher.
However, according to Andrea Jain, assistant professor of Religious Studies at Indiana University, these efforts may not be recognizing how diverse yoga has been from its very beginnings. "From a historical perspective, yoga has always been variable," she told me. "There is no one original tradition."
Jain explains that the history of yoga is diverse, and the yoga that the world currently practices is a very recent phenomenon. Before that, there were many different kinds of yogic traditions practiced by Hindus as well as Buddhists, Sufis and Jains. Yoga included devotional practices such as Bhakti, as well as a rigorous, physical yoga practiced by ascetics whose goal was not to enhance the body but to control the body and its desires, and to focus on higher goals such as connection with God or understanding the true self.
Jain, whose most recent book is called Selling Yoga: From Counterculture to Pop Culture, explained that there were very few asanas or poses in pre-20th-century yoga compared with today. Modern postural yoga came about from the encounter between yogis from India with the European and North American fitness culture that emphasized exercise and bodybuilding.
"Yoga gurus borrowed a lot of the conceptions of the body and body practices from modern physical culture and associated it with yoga. They constructed theses sequences of postures that had more in common with modern physical culture like gymnastics than anything with the pre-modern yoga tradition."
Late in the 20th century, these yogis became entrepreneurs, according to Jain, and constructed yoga "brands." Yoga became identified with modern postural yoga and marketed by these teachers as part of an overall approach to well-being. These teachers, and their students, then took yoga to every corner of the earth.
This focus on the physical aspect of yoga is evident in how it is practiced around the world. Although Modi explicitly said that yoga is "not about exercise" in his address to the UN, there are many people in studios around the world where it is promoted primarily as a physical fitness and well-being program.
According to Kosuke Takahashi, editor-in-chief of HuffPost Japan, people in Japan are not so interested in the spiritual or cultural origins of yoga, but in its physical benefits, including detoxing the body and increasing metabolism. Most practitioners in Japan use yoga primarily for weight control, relaxation and beauty care.
But just because people begin by approaching yoga as exercise, doesn't mean it doesn't have a power that can surprise the practitioner.
HuffPost Korea's trend editor, Hyunji Nam, insists that she is someone who really hated to exercise but started doing yoga a year ago while struggling with the editor curse of back, neck and wrist pain. After a very short time of doing yoga, her body began to heal and she was surprised as time went on by the other benefits of the practice: "I began to think about the people around me and the things I experienced for at least one hour a day," she wrote me. "I think a spiritual aspect of yoga made me healthier."
Katerina Nanopoulou, an editor at HuffPost Greece, introduced me to a Greek yoga instructor named Philippos Stavrinidis, who sees Hyunji's experience play out a lot in his students and feels that is a very good thing.
"Introducing someone to a yoga workout is a good first step. However, one should know that yoga is a philosophical system whose benefits extend far beyond a physical workout," Stavrinidis said. "Yoga also includes breathing exercises, meditation and a series of social norms. It adopts a holistic approach towards the person, aiming to bring balance in one's physical, mental and emotional state. I am of the opinion that growing awareness of yoga, even as a trendy style of workout initially, will at the end attract more people to get involved into the whole philosophy of yoga."
Stavrinidis seems to sum up the fundamental goals of the International Day of Yoga, which, in the final version passed by the UN General Assembly, does not insist on understanding origins or prescribing a certain kind of practice, but recognizes the proven benefits of yoga in attaining personal, societal and global well-being.
Recognizing that yoga provides a holistic approach to health and well-being, Recognizing also that wider dissemination of information about the benefits of practising yoga would be beneficial for the health of the world population, Decides to proclaim 21 June the International Day of Yoga.
While some may do yoga mostly for the exercise, like any practice, the more you do it, the deeper you go. Curiosity is often the most valuable trait for the spiritual person, and anyone who feels that yoga has benefited him or her physically would do well to delve into the rich history of this ancient spiritual practice.
It is important to honor the roots of yoga, as contested as they are. It is equally crucial to celebrate the blossoms that are blooming in ways that would have surprised those practitioners in the past.
For thousands of years, yoga grew in the rich and diverse soil of spirituality within South Asia -- in the 21st century, yoga's vitality continues to be revealed in its ability to transform lives from South America to Iceland, from atheists to Zoroastrians.
When I asked Suhag Shukla, executive director of the Hindu America Foundation, what she hoped people might understand about yoga, she wrote:
Yoga has the potential to transform both our inner and outer selves in a way that would allow us to see past differences of race, religion, gender, sexual orientation, and any other artificial identities we may create, to be able to recognize the presence of the divine in one another and all of existence.
With the ease of travel and the Internet, the world has grown rapidly smaller. Spiritual traditions will be shared and may be transformed in surprising ways. Yoga as a global phenomenon is still very young, and it will be exciting to see what celebrations of International Day of Yoga around the world look like in years to come.
HuffPost International Editions contributed to the reporting of this piece.
Also On The Huffington Post
LISTEN: What's the Real Reason to do Yoga?
Related
Before You Go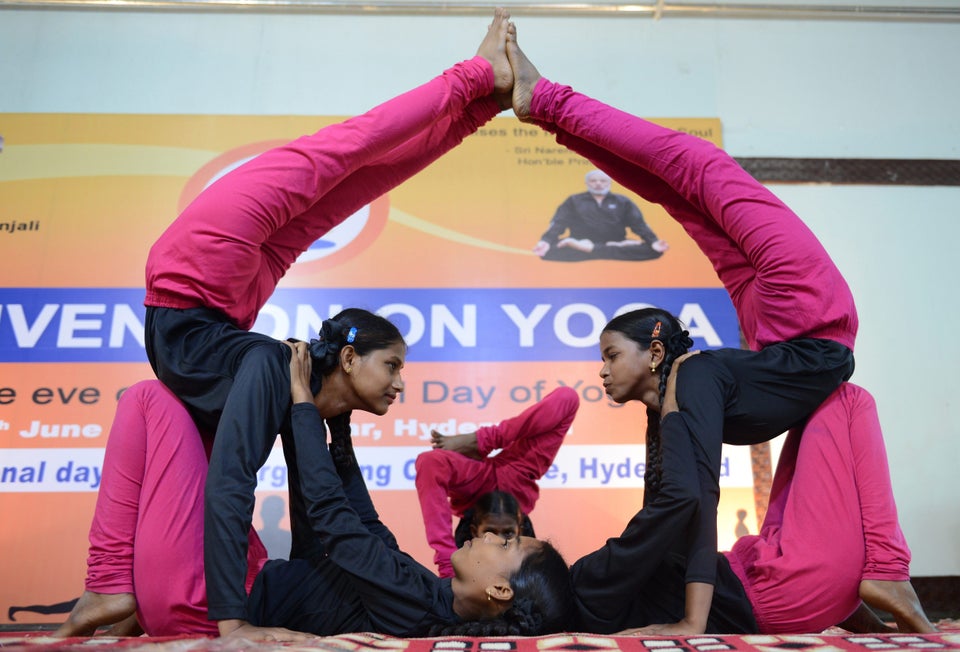 International Day of Yoga 2015
Popular in the Community