We've heard this message time and time again regarding the new Liberal Government presence on the international stage. That call from Prime Minister Trudeau the night of the election resonated around the world. So, what does it really mean?
In terms of Canada's international development action, it means a surge of fresh investments and engagements with key partners on issues Canadians deeply care about.
In the nine short months that the Trudeau government has been in office, there has been a significant shift in the tone and frequency of Canada's international development commitments. Marie-Claude Bibeau, the Minister of International Development is not afraid of doing things differently, a reason why we're once again being recognized as a leader on international assistance and humanitarian issues.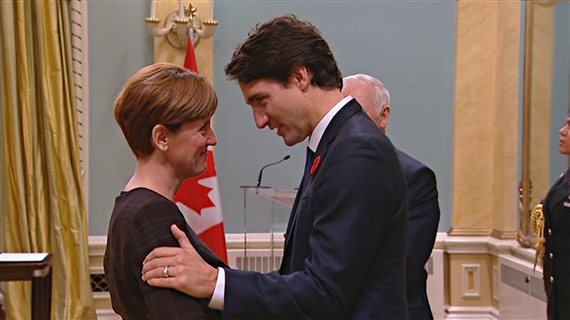 Minister Bibeau was appointed on November 4th, 2015 with a clear mandate to refocus Canada's international assistance towards the poorest and most vulnerable communities.
From the earliest days of Minister Bibeau being in office, Canadian commitments have been bigger, stronger... and louder. We are proud of the issues we defend and, contrary to the previous Conservative government, we aren't afraid of telling Canadians what we are doing and why we are making substantial investments in developing countries worldwide. But our commitment goes beyond our financial contributions.
There is so much more to being a leader than giving the most money. This has been evident by Canada's renewed and proactive approach to research, advocacy and working with our partners at the grassroots. Minister Bibeau has met countless times with NGOs, international organizations like the Red Cross and UN agencies, listening to their concerns and being challenged on how Canada can make a bigger difference on the ground. She often jokes that she has been spending more time with some NGOs than with her own family.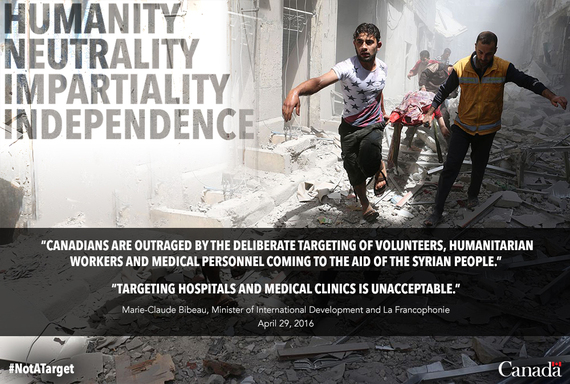 The Trudeau administration has made the defense of innocent civilians and aid workers in conflict zones a top priority in its first months.
In addition to increased funding, the government is ensuring that the approach, investments and partnerships as a whole are more innovative and effective.
Here is some of what Minister Bibeau and the new government have been up in just a few months:
• Combating climate change: Back in December, our government committed to helping the most vulnerable countries dealing with the effects of climate change. Our pledge of $2.65 billion over five years in international climate finance will ensure that global efforts address development needs in a coherent and mutually-supportive manner. • Global health: We are taking the lead as hosts of the 2016 Global Fund Replenishment Conference, taking place this fall in Montreal. The renewed attention, and a pledge of $785 million to three of the world's most devastating diseases - AIDS, tuberculosis, and malaria- will help end these epidemics, help save an additional 8 million lives, and stop an additional 300 million new infections by 2019. • Women at the heart of our agenda: With our partners at the UN Population Fund, we are breathing new life into the cause of maternal, newborn and reproductive health services by focusing on all women's rights to control their bodies and health. We have not been afraid to include improving access to contraceptive supplies as a priority. We are going further for women and girls by treating them as leaders and change-makers in their own right. • Committing for the long-term in Syria: Canada has also pledged an additional three-year commitment of $1.1 billion in response to the Syrian crisis, addressing humanitarian and development needs over both the short and long term. The conflict in Syria is complex and the needs of refugees increasing - this announcement for stable and predictable multi-year funding is a new approach and has been welcomed by stakeholders and our partners.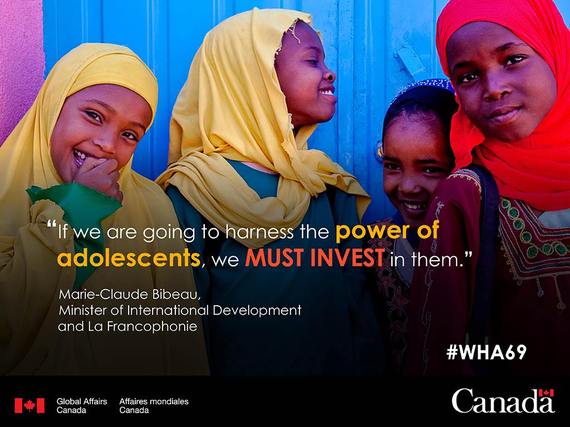 Since taking office, Minister Bibeau has made a number of announcements in support of the empowerment of women and girls like in May at the World Health Assembly.
This is just a sample of the commitments we have made and will continue to make; reinforcing that Canada is back in a leadership role when it comes to international development and the support we can, and should provide.
We are looking to provide real leadership and support real change, we are proud of our investments and aren't afraid to speak about the positions we take. Our Prime Minister is leading the charge and Canada's re-engagement is being welcomed at home and abroad. We will no longer play a passive role.
US President Obama told the House of Commons last month that "international development is not charity, it's an investment". This has always been the case but is even more important now than ever before because of the interconnectedness of problems and of people around the globe.
Let's invest in the most vulnerable, let's be smart on how we spend our money abroad and let's continue to challenge the old model of international development assistance. You can count on Canadian Minister Marie-Claude Bibeau to continue and lead by example on what it means to be an international leader going forward.
Calling all HuffPost superfans!
Sign up for membership to become a founding member and help shape HuffPost's next chapter