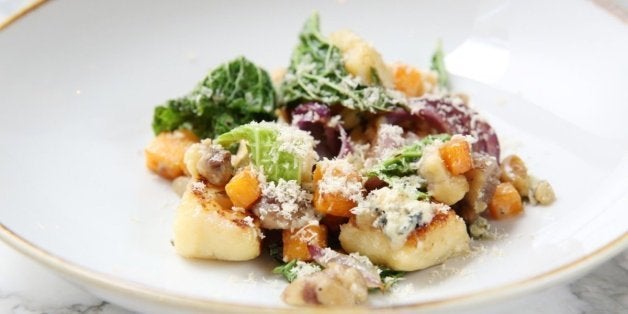 Between 1757 and 2005, London's Middlesex Hospital occupied a site in what is now known as the Fitzrovia neighborhood north of Oxford Street and west of Tottenham Court Road. The foundation stone of its original building had been laid by the Duke of Northumberland, Sir Hugh Percy. I mention this because it explains the cryptic name of the restaurant Percy & Founders, which opened in April in a new mixed-use development where the hospital used to be. It is connected with a group that operates four nice gastro-pubs and pub/hotels scattered around London, but it is very much its own restaurant, with a strong head chef, Oscar Holgado, backed up by the group's executive chef, Diego Cardoso. (Both men are alumni of my friend Angela Hartnett's Mayfair restaurant Murano, of which Mr. Cardoso was head chef until last year.)
Percy & Founders is a large restaurant, with a bar off to the left of the entrance hall and two dining rooms ahead, one with its own bar (at which you can eat), the other more sedate. Service strikes a good balance among efficiency, professionalism and informal friendliness. An unexpected element of the décor is the hospital chapel: It was landmarked and could not be demolished for the redevelopment, and a big window offers a view into the ornate interior of the beautifully restored sanctuary. Though built in the 1920s, it has more than a hint of the Victorian about it, and no one should neglect to take a peek.
The cooking is accomplished and the menu diverse and pleasing, covering lots of Modern European / Modern British territory, including upgraded versions of sausage rolls (made with chicken) and shepherd's pie (made with venison), and - though I probably shouldn't put it this way - more refined dishes like roasted cod with pearl barley, kale and hazelnuts. Plain meat and fish are available too, as is a hamburger.
At a post-theater dinner in early November, I was struck by the chefs' sense of balance: Many dishes promised bold or unexpected flavors, but these were consistently deployed with subtlety, and they never overwhelmed either the diner or the principal ingredient. For instance, we ate a crab starter that included a ginger "jam" and a brown-butter mayonnaise. Either of those things could have been taken too far: The ginger could have been intrusive or even harsh, and the mayo could have been over-buttery and incongruous with the clean seaside taste of the crabmeat. But, along with julienned apple for freshness and a clever mixed-grain crisp for crunch, they added up to a dish that was quite different from other crab salads (ubiquitous on London menus), but that demanded no intellectual effort to enjoy.
Likewise, potato gnocchi with Stilton, cabbage and chestnuts could have been weighty (as too many vegetarian-option plates of gnocchi are), but the Stilton - a cheese that has a way of taking over the plate with its power - was used sensitively and the cabbage was kept crisp-tender and sweet. I might have wished for more chestnuts - and bigger pieces of them, too: Chestnuts and cabbage are a great autumn combination.
Lamb loin was perfectly juicy and red and flavorful and tender, with a good surface sear. It came with two disks of long-cooked lamb shoulder formed into patties and browned. This is no longer a ground-breaking way to serve meat, but the textural and flavor contrasts of "lamb two ways" are enduringly appealing. The impeccable cooking and seasoning and all the accompanying onion flavors (caramelized shallots and an onion puree) made me glad we'd ordered it.
There were several tempting desserts (such as pears with rice-pudding ice cream and meringue), but one was irresistible: crêpe soufflée, one of those old-time French desserts you rarely see nowadays. It is a crêpe folded over a big blob of soufflé batter and baked until the filling is puffed and softly cooked. This version was terrific: its flavors included Grand Marnier, apricots and a bitter-sweet caramel sauce. It was big enough to satisfy two, so don't hesitate to order one to share, as Jackie and I did.
The wine list is full of interesting things from all over the place, plenty of them costing less than £30 ($45). The night we were there, seventeen were offered by the glass or carafe; we drank a half liter of uncommonly good Spanish verdejo and paid £18 ($27) for it.
There are a number of new and newish restaurants in this neck of the woods; not all of them offer cooking as polished as Percy & Founders - and none of them have a neo-Gothic chapel abutting one wall. Ecclesiastical architecture apart, it's a fine option for grown-up food without the solemnity this sometimes entails.
Percy & Founders. 1 Pearson Square, Fitzroy Place, London W1T 3BF (this is a faux address made up by the developer of the site, but you can find the restaurant easily with a Web search for the postal code W1W 7EY: It is really at the intersection of Mortimer and Berners Streets); +44 (0)20 3761 0200; http://percyandfounders.co.uk/; reservations@percyandfounders.co.uk. Open all day. Dinner for two, about £85 ($128) including wine and service.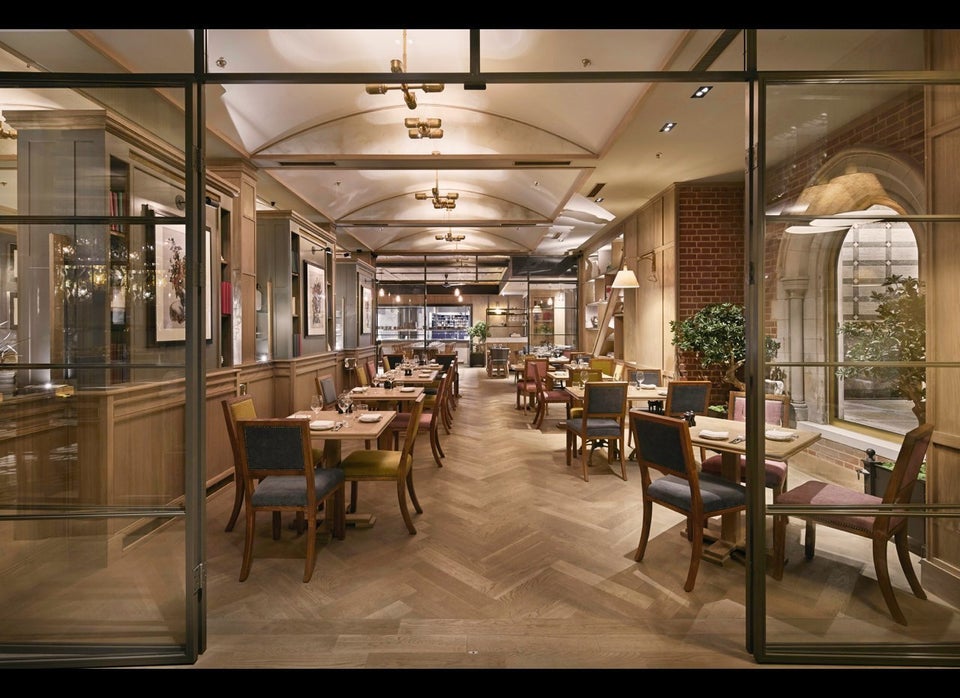 Percy & Founders restaurant in London