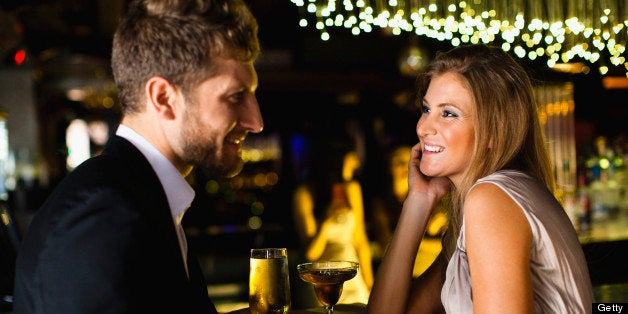 International Flirting Week started on February 9th, and as as Love Coach and author of two dating books, including How to Marry a Mensch (decent person), I'd like to offer up some tips for singles, just in time for Valentine's Day.
International Flirting Week is dedicated to celebrating the ancient art of flirting and recognizing the role it plays in the lives of singles seeking a mate, couples looking to sustain their love and those simply exchanging a playful glance with a stranger, acquaintance, colleague, etc.
TIP #1: HAVE A PROP
Breaking the ice is never easy when you see someone you would like to meet. That's where having a prop comes in. Props come in many sizes in shapes. The point is to have one that will catch someone's eye. For example, women might consider wearing an interesting pin, scarf or t-shirt with a distinctive logo or design. Imagine yourself at a gym, doing your workout, and because of the wording on your t-shirt, a man approaches you because perhaps he went to the same school, also loves that pop group, adores pets, etc., depending on what your t-shirt reveals about you. A man might wear a distinctive tie or hat. Dogs, too, can be a great prop. Dogs are "people magnets," and the right dog can work wonders. I've witnessed people stopped in the street because they were walking a cute dog. Once I even visited a dog run in NYC and saw tons of dog owners mixing and mingling as their dogs ran wild in a fenced in area.
TIP #2: MAKE THE CONNECTION
What good is trying to flirt if the person you're flirting with has no idea he or she is the object of your interest. You must make direct eye contact and smile, so that you've made the "connection" and it becomes clear that you are trying to get his/her attention. And, women, don't be afraid to initiate. Sometimes a guy is shy and might appreciate your taking the lead..
TIP #3: PROJECT OPEN BODY LANGUAGE
When you make the effort to go out to socialize, it's important to look approachable. This does not mean standing with your arms crossed staring down at the floor or into space. You should either keep your arms at your side or hold a drink and look about the room, preparing to make eye contact with an interesting stranger. Don't surround yourself with friends. That's a good way to scare someone off.
Tip #4: GO FOR THE COMPLIMENT OR CHUCKLE
When you're not sure how to kick-off a conversation with someone new, consider paying a compliment or making them laugh. If you can make the other person feel good about themself or enjoy your sense of humor, you will look all the more appealing.
Tip #5: PUT ON YOUR LISTENING CAP
Silence is golden when it comes to dating. If you're out with someone or even beginning a conversation with someone new, the key is to show you're interested in them. The best way to do that is to be a great listener. You want to be just inquisitive enough so that you engage them in conversation, but you don't want to ask for the "verbal resume." Allow them to share while you focus your attention on them so that they feel as if they are the only person in the room.
Tip #6: HAVE YOUR CONTACT INFORMATION HANDY
There's nothing worse than wanting to give your contact information to someone you've just met, and you can't get your hands readily on a pen or piece of paper. And, sometimes you have to act quickly. I know a couple now married who met on the Long Island Railroad. So, make up a "calling card" for yourself. Put your name and cell and email on it, if you like, and always have it tucked away and handy. You never know when dating opportunity strikes, and you want to seize the moment in as discreet a fashion as possible.
Related
Popular in the Community