When U.S. Rep. Ted Yoho (R-Fla.) first came to Congress four years ago, he wanted "to get rid of foreign aid." Since then, he said during a Wednesday hearing in Washington, he's had a change of heart.
"I know a lot of people might want to take a hatchet to foreign aid and say we're not doing a good job," Yoho continued. "But what I've learned is what [Secretary of Defense] General [James] Mattis said: If you cut foreign aid, buy more ammunition 'cause you're gonna need it."
The committee is in the beginning stages of reviewing farm bill programs, like the food aid initiatives, ahead of writing a new bill set to be finalized next year.
While committee members, including Yoho, spoke about the need for reform to improve the efficiency of the programs, committee members from both parties on Wednesday widely panned the president's proposal to zero out funding for both programs — spending that totals about $1.9 billion annually.
In his opening comments, committee chairman Mike Conaway (R-Texas) criticized the programs' proposed elimination as running counter to one of the president's favorite campaign catchphrases.
"International food aid programs not only contribute jobs in the U.S. agricultural sector, but also create American jobs in the manufacturing and maritime sectors," Conaway said Wednesday. "Eliminating such programs seems contrary to the role they play in a robust 'America-first' policy."
Rep. Marcia Fudge (D-Ohio) put matters a bit more bluntly.
"Of all the things we could cut, we would cut food," Fudge said. "We have become complicit, or will become complicit, in the starvation of hungry women and children. How many guns do we need, how much ammunition do we need? … It cuts jobs in this country. It is the most ridiculous thing I have ever heard."
The current need for food aid in regions such as East Africa is high.
Trump recently announced some $329 million in new food aid for the four above nations last month. But his overall proposal for international food aid spending — folding it into a broader international disaster assistance program — would represent a more than 40 percent cut in spending in the next fiscal year, an Associated Press analysis last month noted.
The U.S. is far and away the world's leading food aid provider, and the programs slated for cuts have been a key part of that effort, supporters say.
The Food for Peace program, created in 1954 by President Dwight Eisenhower and administered by the U.S. Agency for International Development, reached about 48 million people in 61 different countries during the most recent fiscal year for which data has been published.
The McGovern-Dole program, named after former Sens. George McGovern and Robert Dole, has provided meals to more than 40 million children across 40 nations since it was created in 2003.
Dole, himself an adamant Trump supporter, told the Washington Post in March that eliminating the program "would have a disastrous effect on the planet's most vulnerable children."
The president's skinny budget described the McGovern-Dole program as "lack[ing] evidence that it is being effectively implemented."
It remains unclear whether Congress will pass the president's proposed food aid cuts, as even supporters of the programs acknowledged that the nation's budget constraints could force difficult decisions.
Arlene Mitchell, executive director of the Global Child Nutrition Foundation, admitted in a phone conversation after Wednesday's hearing that she was skeptical whether the committee's remarks largely supportive of the programs would sway the administration.
"Even with bipartisan congressional support, programs can be slowed or diminished and are difficult to implement if the administration doesn't support them," Mitchell added, "but hopefully the administration would take instruction from Congress and implement the programs that Congress supports."
CORRECTION: A previous version of this story incorrectly described Yemen as part of the East African region.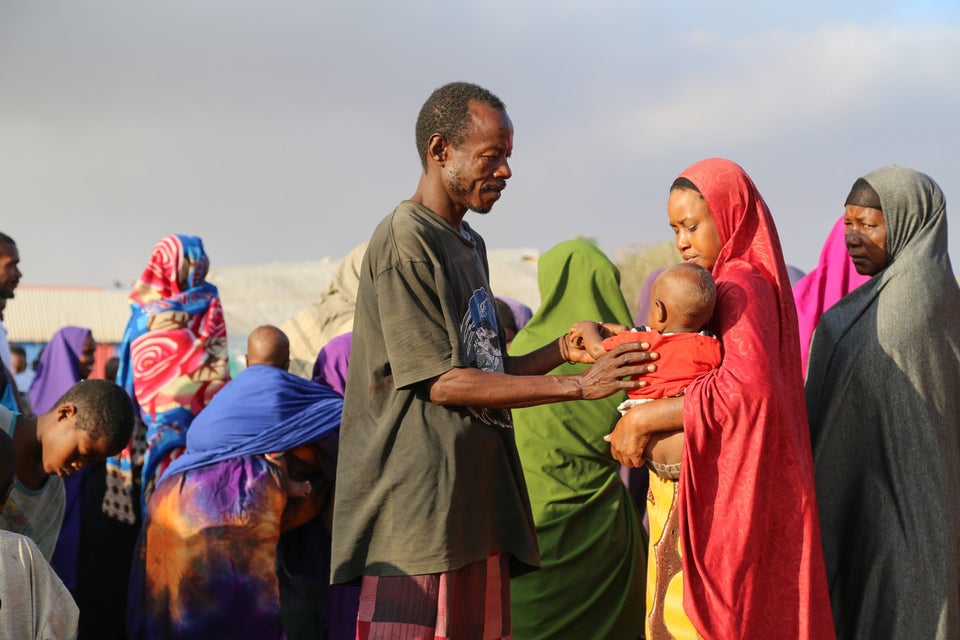 Somalia's Drought
Popular in the Community