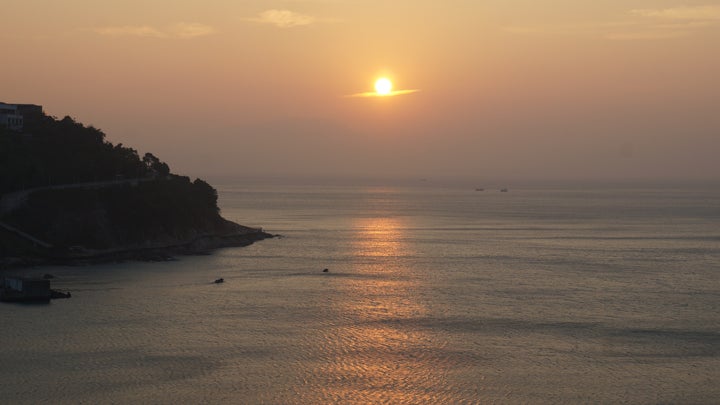 A new Chinese cruise liner has started taking hundreds of Chinese tourists to the disputed areas in the South China Sea, where they can go fishing, take wedding photos, and play beach volleyball. This notably comes after satellite images have confirmed reports of militarization on the artificial islands China has built in the South China Sea. Such increased activity vividly lays bare China's intentions to build and maintain a presence in the region, putting China in direct defiance of the Permanent Court of Arbitration's (PCA) ruling in the Philippines v. China case.
Last summer, the PCA rejected China's expansive assertion of sovereignty in the contested waters and ruled that China had violated the Philippines' sovereign rights under the United Nations Convention on the Law of the Sea Treaty (UNCLoS). The decision is considered binding as both nations are signatories to UNCLoS, but there is no official enforcement mechanism in place and China clearly has no intention of respecting the PCA's decision. This is not to say, however, that international law has failed; circumstances can change and China can be pressured into compliance with this ruling.
While non-compliance with international law is not a recent trend, especially for more powerful states, most countries ultimately comply with rulings of international courts and tribunals for fear of economic sanctions, diplomatic isolation, or other pressures that outside countries could apply. Even in instances where global powers initially ignore international law decisions, they have almost always partially complied with the rulings in the end. But it is currently unrealistic to expect China to abandon its marital claims in the South China Sea due to any such political pressure.
The United Nations and individual countries often use sanctions to coerce non-compliant countries, but this case is different. Sanctions would simply be ineffective against the world's second largest economy – not to mention the immense challenges in applying such measures. China not only sits as one of five permanent members on the UN Security Council, but is also among the largest contributors to the United Nations' budget, making it highly unrealistic for the international organization to levy sanctions against Beijing. Equally important, both the United Nations and the United States rely on Chinese cooperation to deal with North Korea, which is arguably a more pressing security threat.
Just recently, Chinese Foreign Minister Wang Yi announced that China and the Association of South East Asian Nations (ASEAN) have formulated a first draft of a "Code of Conduct" for the South China Sea. In his remarks, he also mentioned that tensions in the South China Sea had eased "notably," completely ignoring the PCA's ruling. Based on China's persistent defiance of the arbitral ruling, it is unlikely that the Code of Conduct takes the ruling as its basis, demonstrating the power China has over its neighbors. Further, given Filipino President Rodrigo Duterte's resurgent affinity for China, it is unreasonable to expect the Philippines to pressure China to comply with last summer's ruling.
But political landscapes are not immune to change, and international law can and has worked in the long run when political situations have changed. For instance, the United States initially rejected both the International Court of Justice's jurisdiction and ruling in Nicaragua vs. United States, where the court found that US naval mining of Nicaraguan harbors and assistance to the Contras movement were illegal under international law. Nicaragua tried to enforce the ruling by bringing it to the United Nations, but the United States blocked these attempts. Despite its initial refusal to recognize the ruling, due to changes in political circumstances and efficient diplomacy, the United States eventually stopped deploying mines and lifted its embargo against Nicaragua, at least partially complying with the court's decision. Within time, political circumstances can change in the South China Sea as well.
In the meantime, one strategy that can and has been working as an enforcement tool is the use of Freedom of Navigation Operations (FONOPs), where vessels of some countries, including the United States, navigate the disputed territories in the South China Sea. This asserts the vessels' maritime rights in international waters in accordance with the arbitral ruling and prohibits China from expanding its reach. These missions are useful, but alone will not force Chinese compliance.
Favorable political conditions are key to enforcing international law. While measures such as sanctions, diplomacy, and political pressure have worked over and over under different circumstances, these measures are unlikely to alter Chinese behavior in the short term. As long as tensions in the South China Sea are kept under control while FONOPs continue to function as an enforcement mechanism, compliance with international law will find a way as politics change or pressure builds to convince China into complying with the arbitral ruling.
Merve Demirel is the International Law & Governance Fellow at Young Professionals in Foreign Policy (YPFP). She earned her JD from American University in 2012. Merve has a background in foreign policy and international law.
Calling all HuffPost superfans!
Sign up for membership to become a founding member and help shape HuffPost's next chapter