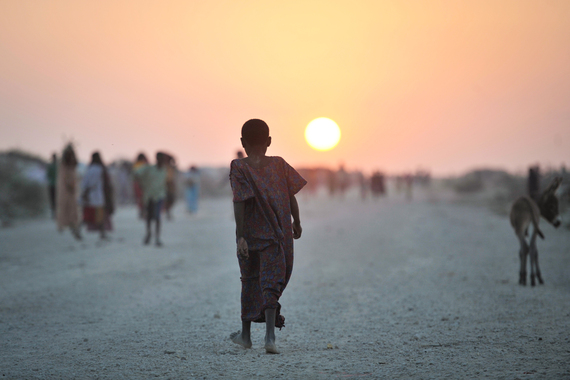 (UN Photo/Tobin Jones)
There are currently almost 60 million refugees and internally displaced people (IDPs) around the world. This is the most at any time since World War II -- a devastating reminder on International Migrants Day. For the many pregnant women fleeing violence for IDP camps or making the perilous journey to safety on other shores, their health is particularly at risk. If left untreated, undocumented, and unreported, we face a maternal and newborn health crisis that could risk the life of thousands -- if not millions -- of vulnerable people.
As a global advocate for health, the conditions facing the pregnant women and newborns in these camps are heartbreaking to me. Every day, pregnant women are arriving at refugee and IDP camps from regions affected by conflict and fragility, scared, terrified, and exhausted from the pressure of their dangerous journeys. The combination of psychological stress and physiological pressures places these women and their unborn children at a serious risk of miscarriage or premature birth. Once they have arrived at camps, the conditions facing them are unsafe. In Lebanon alone, there are 70,000 Syrian women at risk of giving birth in unsafe conditions. My home nation of Nigeria is home to 3.3 million people who have been displaced by violence with 126 babies delivered in cramped and unsafe IDP camps in Borno State every day. The impact this has on the health of mothers and newborns is catastrophic with settings of conflict, displacement and natural disasters accounting for 3 in 5 preventable maternal deaths and 45 percent of neonatal deaths.
The stresses facing these women are exacerbated by the lack of antenatal care and clean birthing facilities available to them. For Syrian refugees in Lebanon, the cost of care prevents them from seeking help, despite UNHCR covering 75 percent of delivery fees. However, this 25 percent fee is still very expensive for refugee families, with the price of a normal delivery reaching $50 (USD). If a woman cannot pay this hospital bill, she is often left to deliver on her own, in a tent. To combat the lack of access to antenatal care, the Wellbeing Foundation Africa and I will be delivering antenatal classes on International Migrants Day at the Nigerian IDP camp in Wassa, Abuja to help educate expectant parents about their health and the health of their baby.
Whilst we must urgently scale up affordable access to midwives and doctors for refugees to ensure that mothers are able to give birth safely, access to clean delivery kits is also vital. Access to clean delivery kits, such as the Wellbeing Foundation Africa's Mama Kits are an important provision that could save the lives of many women. These kits contain all the essential health commodities that can transform any location - even an IDP camp - into a safe and clean birthing area. In February, WBFA donated these kits when we visited the IDP camps at Damare and St Joseph's Catholic Mission in Adamawa State, Nigeria.
After birth, crowded living quarters and poor nutrition can result in neonatal infections and malnourishment -- all of which affect the survival of newborns. Malnourishment can also result in stunting; a condition that can afflicts children into adulthood and cannot be reversed. As Save the Children Newborn Champion for Nigeria, I am troubled about the health conditions in the IDP camps and their impact on our youngest citizens. We must act now to secure their immediate health and their long-term future.
There are root causes driving this unprecedented migration and instability that must be addressed. Building resilience within societies in every aspect of a nation -- from its education system, its healthcare system, and its political system -- is vital to ensure that countries affected by conflict and fragility can withstand the pressures placed upon them in times of crisis. Violence and instability have exposed the worst in humanity, destroying homes, families, and nations, and setting off one of the worst migrant crises in over 60 years. We need peace so that newborns born in war can know happiness, safety, and humanity at its best -- not its worst. Until then, we must do all that we can to protect the health of the most vulnerable -- the mothers, children, and newborns that have been displaced. It is in this protection that we will find salvation. It is in this protection that we will find hope, and our best chance of peace.
Related
Popular in the Community