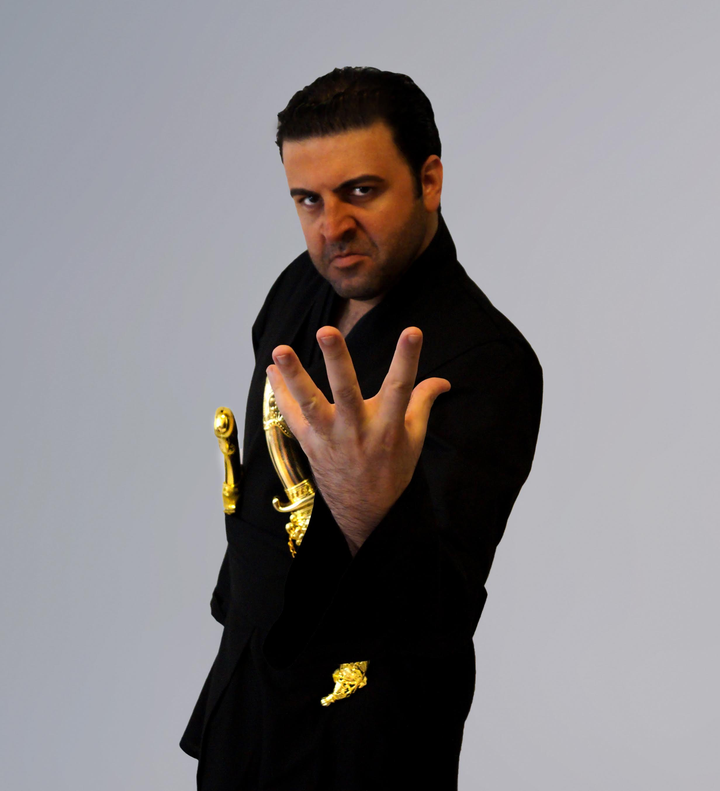 Parisian-born David Serero is a 35-year-old, versatile, classically trained actor and baritone, who has sung leading roles in opera, performed more than 1000 recitals and concerts around the world, played Don Quixote in Man of La Mancha and Happy Mac in Duke Ellington's Beggar's Holiday, has recorded and produced an album with Jermaine Jackson as well as a Frank Sinatra tribute album and his own album of Sephardic songs.
Serero comes from a family of Sephardic Jews who twice owe their existence to the generosity of Moroccan rulers. The first gave them refuge when they fled Spain to avoid choosing between converting to Christianity or being murdered by the Spanish Inquisition. The second, King Mohammed V, protected them against the pro-Nazi Vichy French government in 1941 when he refused to isolate or deport Jewish citizens.
David grew up poor in Paris, but transformed his impoverished childhood into the delightful existence he now enjoys through pluck, luck and chutzpah. He discovered musical theater, Shakespeare and opera after he arrived in to NY in 2001 and "studied with a teacher kind enough to let me fall in love with opera." He moved to St. Petersburg in 2004 to continue his operatic studies at the Rimsky-Korsakov Conservatory, "where the teachers were much more serious and didn't make much money, so their reward was your success." He made his opera debut in Russia as Scarpia in Tosca. "I started with the most difficult roles." He also played Escamillo, the toreador, in Carmen and Germont, the father of Alfredo, Violetta's lover, in La Traviata and was the first non-Russian invited to join the Young Soloists Academy of St. Petersburg's Mariinsky Theater.
Serero played leading opera roles in Europe until 2008, when the economy tanked and opera productions dried up, so he switched to recitals and concerts, filling up large French and Asian venues. I first saw him in 2012 when his deliciously retro New York debut as a one-man vaudeville song, joke and dance man won over the hearts of multi-ethnic audiences.
Serero's now back in New York with a far more ambitious project, three operas, modified by his life experiences and musical background, presented with the support of the American Sephardic Association. He particularly feels his production of Othello is unique. "It features Moroccan music and lets me return the play to Shakespeare's original inspiration -- Abd el-Ouahed Ben Messaoud, the Moroccan ambassador to Queen Elizabeth in 1600. The man, his costumes, his traditions, his looks and his darkness intrigued Shakespeare." In addition the Sultan who sent Ben Massaoud to England is supposed to have killed his wife because he believed her to be unfaithful.
Serero's Othello is an edited version of Shakespeare's celebrated classic tragedy about jealousy, deceit and murder, with a rhythmic and melodic Judeo-Arabic score along with Verdi's aria, "Dio Mi Potevi," and incidental music from the opera. The instrument that depicts Othello's raging heartbeat is an Arabic percussion instrument called the Darbuka, "an instrument that Moroccan children learn to play before they learn to speak."
I consider Serero's Othello a work-in-progress, a fascinating idea performed by an enthusiastic cast: Serero as Othello, Christopher Romero Wilson as Iago and Elena Barone and Amanda Vilanova as Desdemona and Emilia, respectively. Also noteworthy were the pianist Shawn Chang and Darbuka player Geoff Thomas, an instrumentalist that's almost impossible to find in New York.
Serero totally endeared himself to audience after the show when he introduced the performers and connected his own life to the project, telling us that Ian Cooper as Cassio, was wearing the vest and shirt Serero had worn at his own Bar Mitzvah and he wore the robe his father had worn at the same event. Fortunately Serero's mother threw nothing out.
Othello will be performed at June 26 at 8 pm; June 28 at 8 pm; and June 30 at 4 pm at The Center for Jewish History, 15 W. 16 St.
For Tickets call 800-838-3006 or go online at asforthello.bpt.me
Popular in the Community