Eureeca Capital had a great idea. Back in 2013 they launched a slick website that claimed to be the first global online crowdfunding equity platform for small and medium sized businesses. The website featured non-U.S. based companies that were offering to sell shares in exchange for investments for amounts as low as $100. Upon registration with the website, visitors to the website could gain full access to the offering materials of the companies and proceed to invest by depositing funds with Eureeca. The platform however suffered from a fatal flaw, it allowed U.S. persons to invest through Eureeca without any kind of restriction.
The U.S. strictly regulates the manner in which a website can be used to solicit equity investments in a company. Broadly speaking (and in the absence of the adoption of crowdfunding rules by the Securities and Exchange Commission (SEC), a website platform that solicits investments in companies from U.S. investors needs to have procedures in place to ensure that only accredited investors (high net-worth investors that meet certain criteria) can access offering materials and invest under an applicable exemption from registration under the U.S. securities laws. These procedures have generally included having password-restricted access and verification of accredited investor status. None of these procedures were implemented by Eureeca.
The reason for the absence of these procedures was that Eureeca purported to restrict offerings through its platform to so-called "non-U.S. persons" - thereby attempting to avoid U.S. regulation. In its "Terms of Business", terms which an investor was required to agree to prior to registering, it explicitly stated that only non-U.S. persons are permitted to register as investors on the Eureeca website. Nevertheless, the website allowed U.S. persons to gain unfettered access to offering materials and to deposit funds with Eureeca for the purpose of investing. And it was this unfettered access that led to an SEC investigation and eventual enforcement action.
According to the SEC, as of May 2014, Eureeca permitted over 50 persons who selected the U.S. as their "country" to register with their website of which three ended up investing in companies through Eureeca. As a result, the SEC found that Eureeca willfully violated the U.S. securities laws and, among other things, fined them $25,000.
What do we learn from this then? Clearly it's not enough for an equity crowdfunding platform designed for non-U.S. investors to simply post a disclaimer on its website that U.S. persons are not permitted to invest. Substantive procedures need to be implemented to ensure that U.S. persons are actually prevented from accessing offering materials and investing. Fortunately for Eureeca, the SEC fine was not enough to put them out of business. Today, if you access the Eureeca website, a pop-up appears asking visitors to certify they are not U.S. investors, there is a red banner at the top of the site warning visitors that the securities and services of Eureeca are not being offered in the U.S. and in the FAQ section of the website it states that the site does not accept U.S. investors. Presumably, there are further procedures in place to verify any claims made by prospective investors that they are in fact non-U.S. persons.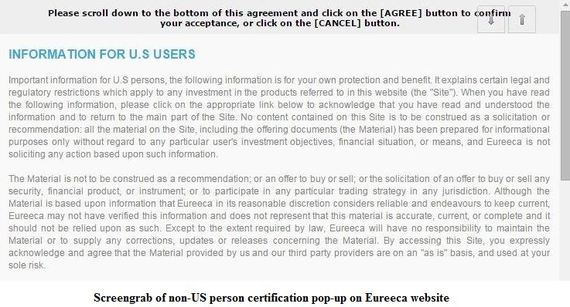 Eureeca like many other crowdfunding platforms no doubt had a keen eye on the U.S. market as a rich source of capital for companies that seek to take advantage of the phenomenon of crowdfunding. The delay in implementing SEC rules for the so-called "crowdfunding exemption" emanating from the JOBS Act, enacted two and a half years ago, has created an anomalous situation in which many crowdfunding sites have launched yet in the absence of the adoption of the SEC rules, these sites are severely restricted in their U.S. operations.
The message from the SEC should therefore be well heeded. Until the adoption of SEC rules to implement the crowdfunding exemption, operators of crowdfunding platforms should tread with extreme caution to ensure compliance with U.S. securities laws. Eureeca discovered this the hard way.
The information in this article is of a general nature and should not be relied upon as legal advice.
Popular in the Community