Are you still waiting for somebody else to bring peace into our chaotic world or are you ready to be at the epicenter of a global movement?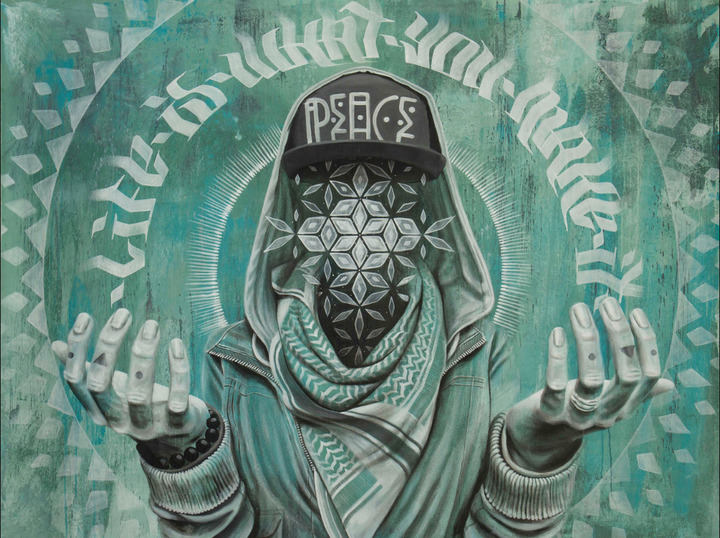 One Day is Not Enough... Established in 1981 by a unanimous United Nations resolution, the General Assembly declared September 21 as a day devoted to "commemorating and strengthening the ideals of peace both within and among all nations and peoples." But let's face it... we need more than a strengthening of ideals or a day to commemorate peace, we need a global movement. We need weeks, months, and years of sustained peaceful, compassionate action to remedy the escalating chaos on our planet and the time is NOW. We can celebrate and honor the founding of Peace Day as an inspiration and a starting point but now we will take it to a new level. Are you up for the challenge? Below is a series of tools, links, and global events to guide you on your journey to a more peaceful world.
"Compassion Games: Survival of the Kindest is a community engagement experience that invites people around the world to challenge one another to reveal and promote acts of compassion that better our lives, our communities, and all life on Earth." -Compassion Games Website
Our state of mind is the lens through which we experience the world around us yet within ourselves is often the last place we look when we seek to change the world. We have a plethora of neurological science that tells us that inner peace leads to acts of peace, while inner discord and fear lead to violence. Both peace and violence are contagious, they each spread through our social networks like a fire. It is time for an intervention and each one of us have untold powers to become the solutions we seek. Peace is not passive and it is visible through compassionate action. Acts of kindness, expressions of beauty, and feelings of empathy do much more to bring about peace than simply protesting war.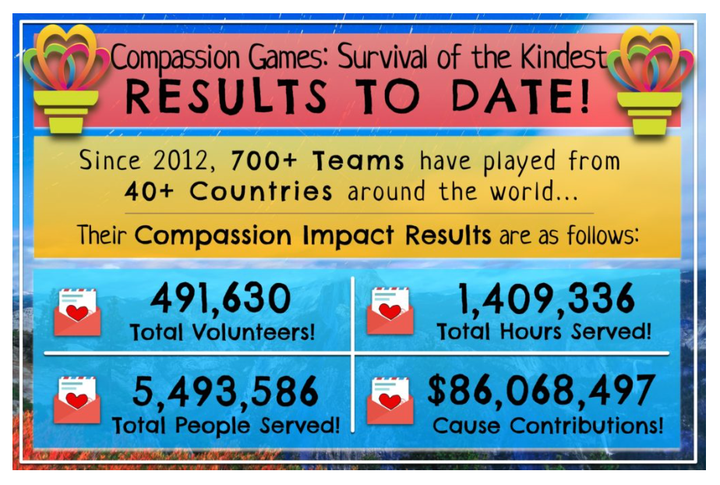 Weaving a New Narrative is essential if we are wanting to put an end to violence. Violence is the result of non-compassionate action, and has been scientifically proven to be a preventable brain disorder. Therefore stories of connection, love, and kindness are literally roadmaps to peace. The most powerful stories are the ones that we actually embody and live in our daily lives. When we reach out to others in need and show them kindness we give them a reason to believe in the goodness of humanity.
We can show each other that the stories of division, scarcity, and competition may not rule the world after all. This is how we demonstrate compassion, break the old narrative, and create a new story that shows the power of unity, kindness, respect, and love. It takes courage and inner strength to defy the narratives that keep us divided. Do you have that kind of fortitude?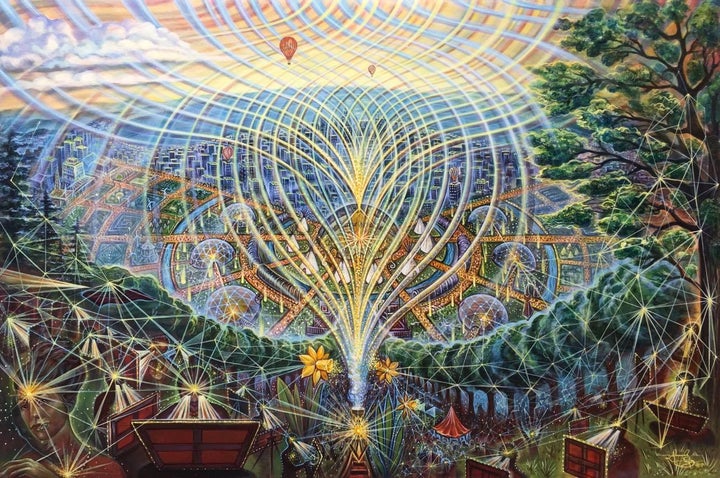 Cultivating Inner Strength, Together. The Compassion Games, in collaboration with Unify, International Day of Peace and many other organizations have created a fun way to get involved by "gamifying" compassionate action. From September 9th - 24th - we will explore and share ways in which we can contribute to the emerging New Story of our time. Together we will ask, define, and become the answers to these and other questions: What is global unity? What is abundance? What bridges peace, prosperity and the planet? And most importantly: What role do I have to play?
Individuals and teams will challenge and inspire each other to organize actions that build bridges between peace, prosperity, and the planet. Everyone is invited to create or join other service projects to create waves of compassionate action around the globe. Here are some featured ways to play. Results are then shared on the Compassion Report Map to highlight, measure, and celebrate the collective impact our actions have around the world. You can sign up here.
We are at a turning point in the development of our global community. It's an unprecedented time when many of us are reflecting on how we can make the most positive impact. We are ready for more authentic connections, to promote peace and understanding, to spread prosperity and freedom, and protect and restore our planet. Let's use this campaign to come together to build the relationships that address our complex and interwoven challenges such as ending terrorism, reversing climate change, preventing pandemics, and achieving the Sustainable Development Goals as defined by the United Nations. -Compassion Games Website
Events Worldwide are easy to find through the Unify interactive global map that is hosted on International Day of Peace website. Click here to find local events, or to add your own as we show the world what unified compassionate action looks and feels like. This is a peer to peer revolution meaning that we will not be waiting for change to trickle from the top-down. We will be creating it within ourselves, in our families, communities and beyond. This is not just for a day, a week or a month, this is a way of life and now is the time to commit to actively being the peace we seek in the world.
"It is as simple as changing the story, creating new images, breaking down stereotypes, and sharing inspiration. Dialogue can happen with an image, a hashtag, a blog, it comes with a willingness to listen, to see the humanity in each other and stop buying in to the continued demonization that is spread through mainstream media. We can no longer wait for leaders to act towards peace, the power is in the hands of the people." Peer to Peer Revolution, Open-Sourcing Peace
Creating Peace Ripples is another way that we are taking International Day of Peace to new heights. Be the Peace has been a major partner with Unify over the years in supporting Globally Synchronized Meditations. Whether it has been hundreds meditating in the streets in Barcelona, families gathered by candlelight in Mumbai, school children holding hands under the Redwoods in California, or a Youth Peace Walk in Nairobi, Kenya, we unite at the same moment, together, one world and one humanity. This year we will be hosting our 6th annual event on September 21 at 12pm in your timezone causing a wave of peace to encircle the planet. There is also a Globally Synchronized Meditation on Sunday, September 24 at 12pm PDT (7pm GMT) that will close the World Peace Weekend. Together we drop into a unified state of coherence with an intention of raising the vibration of peace globally.
Add Your Peace! The PeaceRipples Institute has a powerful program to close out the month which begins on the day of the global meditation, September 21, and runs through September 30. Born out of years of success with BeThePeace, The PeaceRipples Institute inspires and supports people in living vibrantly flourishing lives that create ripples of peace in the world. It is no longer a one-day event for peace, it is now a way of life and Peace Ripples is prepared to guide you on your journey. Click here to visit the website and sign up for ongoing programs. You are invited to share social media posts, stories and photos with the hashtag #mypeace so that we can create a global reflection for Peace Ambassadors worldwide!
There are more events and organizations happening than can be summarized in a short blog. Unify will be posting updates, schedules and articles from various events and organizations all month, be sure to go like them on Facebook! You can also stay up to date on various Peace Day events and the larger movement through my Facebook Fan Page. Our friends at Uplift are creating a powerful film called Build Compassion that will premiere September 21 online and I will be featuring the film in an upcoming article.
Remember to share positive stories, stories of compassion and be sure to surprise someone with a random act of kindness whenever you can. We are the safety net for a world in chaos, we are the bringers of peace and the weavers of a new story. Together we gain inspiration and strength as we step up to the many challenges of our global community!
Related
Popular in the Community