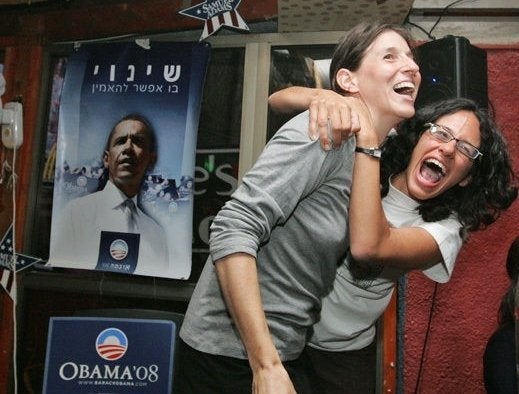 International reaction to the historic election of Barack Obama as the next President of the United States has begun. Below is a roundup of some reactions from the around the world.
The United States has seen the biggest transformation in its standing in the world since the election of John Fitzgerald Kennedy in November 1960.

This is a country which has habitually, sometimes irritatingly, regarded itself as young and vibrant, the envy of the world. Often this is merely hype. But there are times when it is entirely true.

With Barack Obama's victory, one of these moments has arrived.
Whether they found hope, inspiration or just a reason to party, Kenyans celebrated today as they awoke to learn that a man seen here as a native son would be the next U.S. president.

Residents of this tiny farming village where Barack Obama's father was born were always cautiously optimistic, but rain Tuesday night was viewed as a particularly good omen. It's hard to overemphasize Obama's popularity here. Even before he ran for president, there was a high school and beer named in his honor.

After U.S. networks declared Obama the winner, cheers and shouts erupted under tents where several hundred residents of Nyangoma-Kogelo had gathered. Women began dancing and men paraded around carrying tree branches, a symbol of celebration.
Cheers and shouts of joy erupted in central London Wednesday as hundreds of Americans who had waited all night celebrated the election of their first black president, Barack Obama.

Surrounded by US flags, eating hot dogs and knocking back bottled beer, they had anxiously watched election results filter in from across the Atlantic through in Yates' bar in the Leicester Square nightclub district.

When Obama's victory was announced, the largely Democrat crowd erupted into chants of "yes we can!" - the president-elect's slogan - and hugged each other in celebration at what many saw as a new page in US history.
They did it. They really did it. So often crudely caricatured by others, the American people yesterday stood in the eye of history and made an emphatic choice for change for themselves and the world. Though bombarded by a blizzard of last-minute negative advertising that should shame the Republican party, American voters held their nerve and elected Barack Obama as their new president to succeed George Bush. Elected him, what is more, by a clearer majority than one of those bitter narrow margins that marked the last two elections...

...Mr Obama will take office in January amid massive unrealisable expectations and facing a daunting list of problems - the wars in Iraq and Afghanistan, the broken healthcare system, the spiralling federal budget and America's profligate energy regime all prominent among them. Eclipsing them all, as Mr Obama has made clear in recent days, is the challenge of rebuilding the economy and the banking system. These, though, are issues for another day. Today is for celebration, for happiness and for reflected human glory. Savour those words: President Barack Obama, America's hope and, in no small way, ours too.
Israel is worried about what the outcome of America's presidential election may portend for Washington's policy on Iran.

On most Israel-related issues, Jerusalem foresees no dramatic changes in U.S. policy, regardless of who is elected. On Iran, however, it is worried that Democratic candidate Barack Obama will take a significantly softer line than the outgoing administration has. During his campaign, Obama repeatedly said that if elected, he would begin a dialogue with the Iranian regime.
But it is still true that President-elect Obama will take on a challenge different in nature from recent predecessors. The US is engaged in two live wars and Afghanistan is getting worse just as Iraq gets better. More than that, he takes over at a point when US leadership is questioned. In the US's foreign policy, it has suffered the greatest blow since Vietnam to its reputation for military success and its claim to legitimacy. In economic policy, its recent decisions and even its principles of economic organisation have been challenged.

Around the world, people expect him to change this. The expectations are impossibly high, as the President-elect has already acknowledged. In Europe, many of those who have cheered him seem to expect a US president who will use all of the US's power and financial weight to solve the world's problems, regardless of its own interest.

They will be disappointed.
IT IS a sublime moment - Barack Obama to succeed George W. Bush, an affirmation of America, its foundation mission, its abiding dreams.

The American people have turned the page. This is more than a vote for change. It is a act of renewal, a turning point in American history and a quest for a better nation.

The American people chose Obama yet most of the world also wanted Obama - that invests his Presidency with a potential authority unknown in history and an opportunity to touch not just Americans but people around the world.
TODAY we will feast our eyes, ears and hearts on the results of our election. Oops. Well, it does seem as if the United States' presidential election this time around belongs not just to the Americans. From the pastoral plains of Kenya, whose citizens proudly claim Barack Obama as their own, to the dizzy cheerleading of a Japanese fishing port called Obama, the US presidential race is not just some run-of-the-mill passing-of-a-governing-baton.

Locally, we will have woken up this morning to results coming in from American states in the morning right through noon and beyond. For the first time in history, people all over the world are riveted to an election they feel invested in, despite not sniffing anywhere near a Green Card.
Popular in the Community