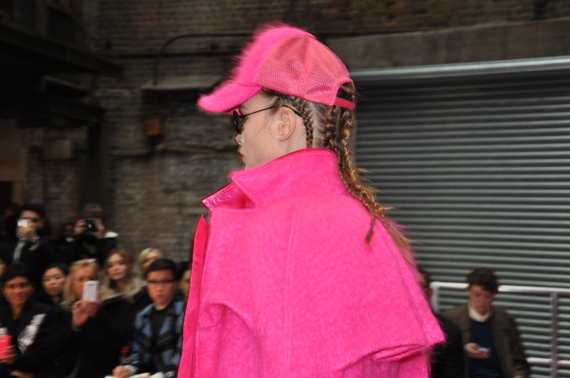 Perhaps the most dichotomous artistic event of the year, Fashion Month throws together polar opposites that truly shouldn't work but just do: late nights, early mornings, bare legs in below freezing temperatures, and creativity and business.
The organizers are also making opposing statements; simultaneously opening up Fashion Week to the public through live streaming and instant reports, and closing it by cracking down on press accreditation for non-fashion exclusive publications or bloggers.
So, what does it all mean?
If we go back to the original reason behind Fashion Week (to increase sales for designers by showcasing their collections to new buyers and press), then I can present to you some of the essential takeaways from my experience this year. While I did not attend Milan and Paris (unfortunately I would've had to clone myself to have done so) I can definitely give you my opinions on the first half of Fashion Month.
Take it away, London and Paris.
New York Fashion Week (#NYFW)
Despite the Arctic temperatures, the show went on, albeit a little more quietly than September's events.
Known for: Its afterparties.
Where does it take place: Mercedes Benz Fashion Week, Lincoln Center and now MADE Fashion Week at MILK Studios or other more interesting locations.
Best party that I attended: The NYNY Volume 3 opening party at the Tribeca Grand Hotel blew everyone away with Blood Orange playing a killer set.
Best make-up look: Prabal Gurung's Nepalese-inspired wind-burned cheeks and healthy glow.
Best unexpected event: Lockwood umbrellas, couture pop up at the Ace Hotel.
Best show at MILK Studios: Public School wowed the crowd with their debut womenswear. Sleek, monochrome and effortlessly cool, with dare I say it, plenty of swagger.
Best non-FW moment: Having the lovely team at No.8 spoil me on Saturday night with endless amounts of drinks.
Best setting: Alice+Olivia took the biscuit with an eerie fairytale stage set in The McKittrick Hotel, champagne and an incredible live jazz singer.
Best casting: Billy Reid had a fantastically diverse range of handsome models that sauntered down the runway for their show at the Highline Hotel.
Show that made me happiest: Timo Weiland. I'm going to sound cheesy but it's always amazing to see friends succeeding. The polka dots made me incredbily happy.
Best backstage: Jeremy Scott's backstage was teaming with life and a sense of humour. The models were sat in chairs that said "Eeny," "Meeny," "Miny" or "Moe" whilst they had their make up applied.
NYFW takeaway trends for AW14: Polo-necks, long skirts, earthy tones, big prints -- plaids and polka dots, flat shoes!
A wonderfully diverse mixture of colour, texture and interesting materials dominated the runways at #LFW this year.
Known for: Showcasing more innovative fashion.
Where does it take place: Somerset House, or basically anywhere in London.
Best party that I attended: Matthew Williamson's party was deceptively innocent with their health drink mixers. Two hours in and Matthew himself is up on the table dancing with a leggy Cat Deeley.
Best hair: Corn rows at Fyodor Golan were killer.
Best unexpected event: Meeting the hilarious Nimrod Kamer (who has yet to follow me on Twitter) and his motley crew.
Best setting: Nicole Farhi had a beautifully civilised presented collection in a duck-egg blue room over a juice and champagne brunch.
Best non-FW moment: Watching the BRITS over wine spritzers (old ladies much?) with Ella Catliff (La Petite Anglaise) and Millie Cotton (It's a LDN Thing).
Most intelligent show: Antipodium's Times New Roman presentation at the ICA commented on the advent of the digital age. Plus anyone who hung around long enough witnessed Creative Director Geoffrey J. Finch feeding the models grapes.
Show that made me happiest: Charlie May. Not only was it set in a beautifully light room in the OXO Tower overlooking the river, I would buy every single piece in the minimalist. collection.
Best backstage: GILES. Cara Delevingne knitting. That is all.
#LFW takeaway trends for AW14: Rollneck jumpers, earthy tones, muted colours, 90s inspired fahsion, corn rows, texture, androgynous shoes.