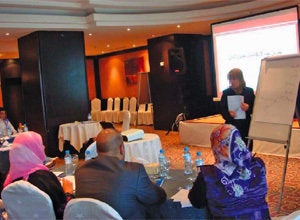 This story has been updated
A prominent democracy-building group chaired by Sen. John McCain (R-Ariz.) is being criticized by a government watchdog for its use of a $50-million grant from the State Department.
The International Republican Institute, which received $248 million in total between 2004 and 2009 to support governance, political participation and civil society programs in Iraq, made questionable decisions -- such as overpaying for security services from Blackwater, the infamous military contractor, and spending $690,000 on vehicles without approval from the government -- according to a new audit by the Special Inspector General for Iraqi Reconstruction (SIGIR).
The audit also blamed the State Department for "lax oversight" and "incomplete knowledge of regulations" in allowing "a number of erroneous decisions to continue unchecked."
IRI is a nonpartisan group funded by the U.S. government, but the majority of its officials and employees are Republicans and its board includes such prominent members as Sen. Lindsey Graham (R-S.C.), former National Security Advisor Brent Scowcroft and former Secretary of State Lawrence Eagleburger.
During the 2008 presidential campaign, the institute came under fire for providing a way for the McCain campaign to give donors access to the candidate. The New York Times reported: "Operating without the sort of limits placed on campaign fund-raising, the institute under Mr. McCain has solicited millions of dollars for its operations from some 560 defense contractors, lobbying firms, oil companies and other corporations, many with issues before Senate committees Mr. McCain was on."
Though it claims to be nonpartisan in its democracy-building work in 70 countries around the world, the institute has long been accused by progressive groups of attempting to advance a conservative agenda. Former U.S. Ambassador to Haiti Brian Dean Curran accused the institute of undermining his reconciliation efforts in that country and of training some of the leaders who overthrew president Jean-Bertrand Aristide in a 2004 coup.
According to the SIGIR audit, IRI overpaid Blackwater in comparison to other security firms -- paying $114, 470 for 31 guards in January 2008, for example, while the local firm Ardan charged $33,120 for 34 guards the following month.
IRI's hiring of Blackwater came up in a lawsuit filed against the security firm over a 2007 civilian shooting in Iraq. The complaint filed last year at the district-court level in Virginia alleged that Blackwater -- also known by its new corporate name, Xe -- "continues to flout Iraqi law and operate without a license by continuing to provide armed men under contract to protect employees of the International Republican Institute," as reported by Jeremy Scahill.
In addition, the audit details how IRI bought six armored vehicles and four "soft-skinned" vehicles for $689,500 without getting prior approval from the State Department's grants officer.
In general, the inspector general concluded that the grant's overall goals -- in terms of fostering democratic goals -- were being met, conducting 271 trainings for 5,000 Iraqis as of this past April. Yet it is difficult to assess the impact of IRI's activities, concluded SIGIR.
Some of the activities listed included: financing the Anbar Youth coalition; holding an Iraqi Women's Capacity Building session in Basrah for Communist Party members; and election training in Erbil for National Reform Current.
IRI posted a comprehensive response to the audit on its Website today, stating that it takes the report seriously but taking "substantive exception" to the findings on the institute's accounting practices. It also provides many details about the institute's work in Iraq, boasting that for the March 2010 elections, "IRI trained one in three individuals competing for office, and the candidates trained were twice as likely to win as the national average."
In addition, IRI stated that it hired another security firm, the Olive Group, to assess Blackwater's services -- the evaluation concluded that Blackwater personnel were professional and courteous and that their work matched the institute's service delivery requirements. The institute also refuted the audit's description of vehicle purchases, stating that IRI does not own "any" vehicles in Iraq -- rather, they were purchased by and are titled to IRI's security provider.
IRI responded to an earlier SIGIR report that cited the institute's excessive security costs by claiming that their staffers face threats and operate on the front lines of "this political war":
IRI has been specifically targeted by insurgents, receiving credible threats to its office in Baghdad before relocating much of its staff to Erbil in 2006. That same year, U.S. and expatriate staff working in other democracy promotion organizations in Iraq were killed. In October 2009, IRI staff and training participants narrowly escaped injury in an attack next to their Baghdad hotel that caused 200-250 casualties. The threat environment from Iraqi terror groups for IRI in Erbil is less than in Baghdad, but comes with its own risks. As recently as January 2010, for example, neighboring Iran included IRI in a list of foreign organizations accused of conducting a "soft war" against the Islamic regime.

McCain's spokesperson did not return an email requesting comment.
Calling all HuffPost superfans!
Sign up for membership to become a founding member and help shape HuffPost's next chapter