Joseph's enthusiasm was infectious. A refugee from Liberia, he was showing me around the International Rescue Committee's New Roots Community Farm in San Diego and it was clear how much he appreciated the opportunity to grow his own fresh produce so close to home. Joseph, a farmer in Liberia, was forced to flee when his country devolved into civil war. He lost family and friends in that bloody conflict and after many years living in limbo in Ivory Coast, Guinea and Sierra Leone, he finally was given sanctuary in the United States. Resettled in San Diego in 2009, he found out about the farm earlier this year and immediately wanted to get involved.
There are over 14 million refugees around the world -- people who have been forced to flee their homes and their countries because of conflict and political persecution. Millions of these people live in refugee camps. Millions more live in a state of perpetual instability, not welcome where they are, not able to go home. They eke out a livelihood for themselves and for their families as best they can, living as they do on the precarious outskirts of the law. A lucky few -- less than 1% -- are able to resettle in a third country, and of that number, approximately 60,000 are welcomed into the U.S. each year.
Joseph's plot at the New Roots Community Farm is lush and well-tended. He loves to spend time here and so does his wife, who comes every morning and evening to tend to their crops. Joseph says that being at the farm makes him feel energized, and he is glad to be able to provide fresh vegetables for his family's table directly from his own plot of land.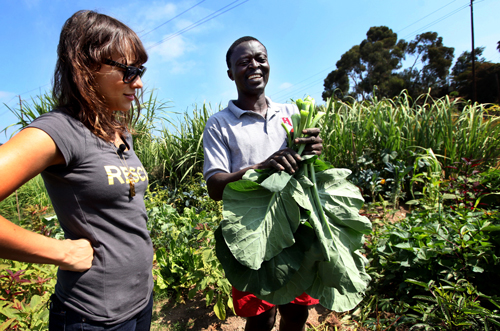 Photo: Sandy Huffaker, International Rescue Committee
I had come to San Diego in my role as an IRC Voice to visit this wonderful project run by the IRC for refugees and other residents in the neighborhood of City Heights. The 2.3-acre farm was a vacant lot before the IRC worked with the city to turn it into what it is now: thriving farmland overflowing with crops like tomatoes, spinach, kale, broccoli rabe, lemongrass, cassava leaves and amaranth.
A lot of refugees, like Joseph, come from an agrarian background. The New Roots Community Farm gives them the chance to reconnect with the land, grow fresh produce for their families, and get to know other members of their community (I've heard that refugees from Cambodia exchange growing tips with refugees from Somalia). It also gives refugees the chance to earn extra income at the local farmers' market in City Heights - another project that the IRC was instrumental in getting off its feet, and which has been of enormous benefit to the entire City Heights community.
Being at the farm, in Joseph's company, was uplifting.
This was my second trip with the IRC since becoming an IRC Voice earlier this year. My first was to Thailand, to visit the Tham Hin refugee camp on the border with Myanmar (also known as Burma). Here, the IRC provides lifesaving healthcare and clean water to roughly 8,000 people - Burmese refugees who have been forced to flee political upheaval. Many have lived in the camp for decades, unable to go home.
We all know that water is essential to live. At Tham Hin, where water is a limited resource, the IRC has set up a water collection and chlorination system, as well as tap-stands throughout the camp -- making water readily available for safe drinking, cooking and washing. Every single drop is precious.
And this is where you come in. The holiday season is here and if you are anything like me, you are scrambling to figure out what kind of presents to give to your friends and family. If you would like to support the IRC's work around the world and here in the U.S., one good way to do this is to dedicate a Rescue Gift to someone special in your life. Rescue Gifts symbolize and support the IRC's work around the world. They are a way to give a gift that matters while brightening your loved ones' holidays. (The IRC will send recipients a personalized holiday card acknowledging the gift.)
Last year alone, the IRC helped 4.4 million people get immediate access to clean water. The $100 Clean Water Rescue Gift can rush fresh water to 200 people whose lives have been uprooted by crisis, whether war, famine or drought.
The IRC's farming programs allow hundreds of refugees to plant new roots in their adopted communities in the U.S. The $60 Community Garden Rescue Gift can provide the tools and seeds to start a community garden.
These are just two of the many Rescue Gifts you can choose. I hope you'll join me in giving Rescue Gifts this holiday season, because I can't think of a better gift than one that saves lives.
REAL LIFE. REAL NEWS. REAL VOICES.
Help us tell more of the stories that matter from voices that too often remain unheard.