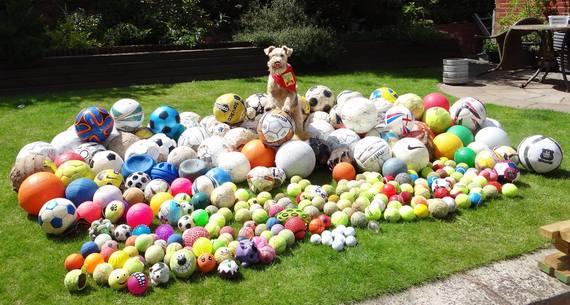 Sarah Bennett, Waffle's mom, has grown used to the dog's preternatural skill at finding abandoned balls, but last year a friend had a great idea. Fellow terrier mom Sally Grist suggested asking Waffle fans to donate £1 to Terrier SOS for every ball Waffle found in a single week. The contest resulted in an amazing worldwide response and the duo (plus canine companions) raised £4,575. This year Grist and Bennett put their heads together to come up with another way to help abused, abandoned, or neglected terriers, and Waffle and Barley's Sponsored Treshur Hunt was born.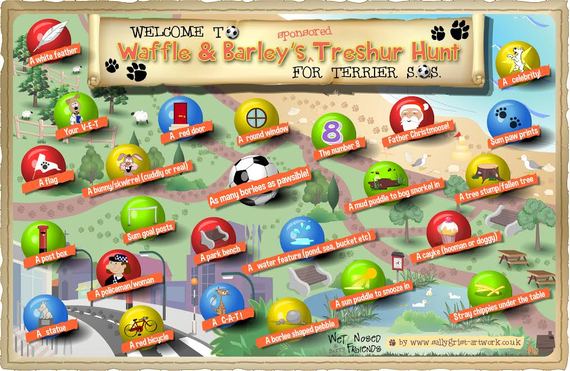 The scavenger hunt ("Treshur Hunt") has drawn international interest and participation. Bennett says "It has been amazing how many people all over the world have joined in and are still joining in the fun!" Over £4,000 had been raised as of September 10 and the hunt continues through the end of the month. Participants try to find all of the items on the map and post pictures of them on "Borlee HQ", a Facebook page dedicated to the pair's terrier rescue fundraising efforts.
As terrier moms, my wife Diane and I have been following the group's work for some time. Portions of the proceeds from sales of my book Rumplepimple are donated to terrier rescues and so we have a natural connection to the effort. And of course the real Rumplepimple participated in the hunt, traveling around the region to locate round windows, water features, and red bicycles. Here he is with his certificate and "Top Rekroot!" badge.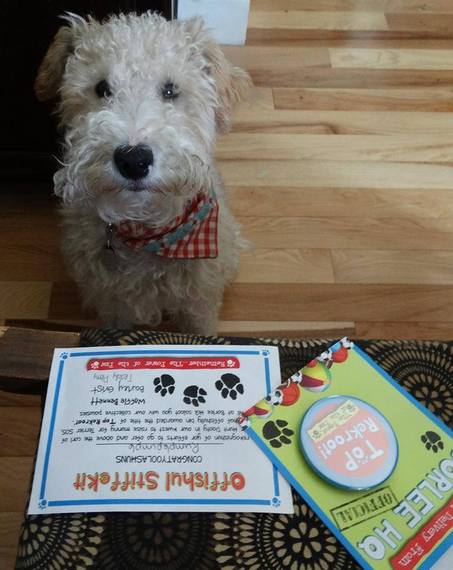 Bennett comments on the success of this year's event: "Just goes to show the good side of social media....people from all over the globe coming together to help raise money for less fortunate dogs! The money raised will make a huge difference to such a small charity that relies totally on volunteers and donations and fund raising auctions!"
Calling all HuffPost superfans!
Sign up for membership to become a founding member and help shape HuffPost's next chapter