FEMEN strikes again: Topless protesters staged demonstrations near mosques and Tunisian embassies across Europe on Thursday to express support for embattled FEMEN activist Amina Tyler.
"We're free, we're naked, it's our right, it's our body, it's our rules, and nobody can use religion, and some other holy things, to abuse women, to oppress them," FEMEN member Alexandra Shevchenko said in Berlin, according to AFP.
"And we'll fight against them. And our boobs will be stronger than their stones," she added.
In support of Tyler's plight, FEMEN labeled April 4 "International Topless Jihad Day" and organized protests across Europe.
"This day will mark the beginning of a new, genuine Arab Spring, after which true freedom, freedom without mullahs and caliphs, will come to Tunisia! Long live the topless jihad against infidels! Our tits are deadlier than your stones!" the group wrote in a statement on its Facebook page.
AFP reports that about two dozen activists showed up in Paris, where FEMEN has its international headquarters. The women tried to reach the Tunisian embassy but were deterred by police.
The Interfax News agency adds that the protests spread to the Ukraine, with police detaining FEMEN activists in Kiev. "The FEMEN activists drove up to the entrance to the mosque in a car, where they were arrested by the police," Interfax cites the police reports.
"No, it's not fine. Amina is with her family but that's not 'good news,' as some newspapers earlier wrote," journalist Caroline Fourest wrote in a blog for HuffPost France. "No one close to her, none of her friends or people in her support network have seen her or heard that she was free, free to move and speak," Fourest added.
Related
Before You Go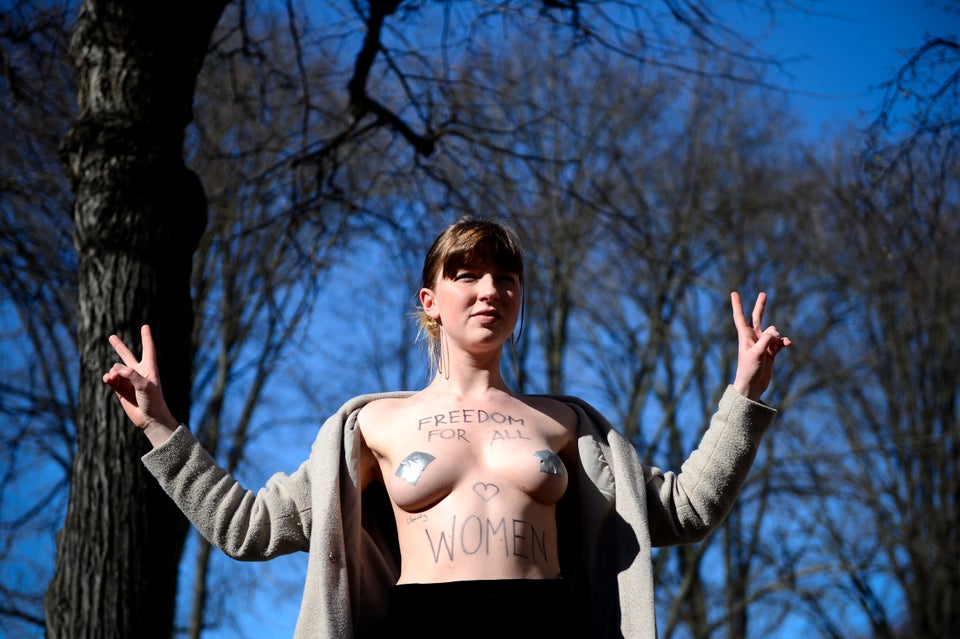 International Topless Jihad Day (NSFW Photos)
Popular in the Community