Wedded though I am to online information gathering, sometimes it takes a printed brochure to get the travel juices flowing. A few months ago the mail carrier brought a booklet from Les Talens Lyriques, a fine period-instrument/vocal ensemble based in France and led by harpsichordist Christophe Rousset. The exciting news was that the group would be performing two Handel operas at the Théâtre de la Monnaie in Brussels, a house that Jackie and I had never visited. I got on line the very day that tickets went on sale to the general public (after subscribers and donors had skimmed what they wanted) and was able to buy a couple of good seats for each of the two shows, back to back: Tamerlano on a Saturday night, and a Sunday matinee performance of Alcina. Those were the first pieces in a simple travel puzzle: Whatever else we did during our trip, we'd be spending a few days in Brussels.
Once the opera dates were set and travel booked (we also visited London and therefore took the two-hour-seven-minute EuroStar train ride from there to Brussels), we sought hotel advice - and took it, because the location of The Dominican just behind the opera house could not have been more perfect. It turned out to be the right choice in many ways. The historic center of Brussels, near the Grand Place, is packed tight with chocolate shops, bars, fried-potato vendors and restaurants. That's all very well, but even in winter it means crowds of tourists: not what you need beneath your window at night. The Dominican is just a couple of minutes' walk from the Place but is in another world as far as crowds and noise go. It's a calm and comfortable hotel for business or tourism: Not luxurious, but modern and rather seductively decorated, with window-seats and little touches of color in the rooms. It is on the site of a former monastery (the Muzak in the elevators is a calming ecclesiastical chant - odd at first hearing, but we eventually looked forward to it as we rode up to our room). There's a nice bar - buzzy but not noisy - with good drinks, and a restaurant, where breakfast is served, in the building's covered-over internal courtyard. Staff members were uniformly friendly and helpful: our traveling companion had a problem with the plumbing in her room and it was addressed speedily and satisfactorily, including an unsolicited upgrade. Unless you want gilded luxury (which has its own appeal), this is a good, central choice - probably the very best one if you're planning a night or two at the opera.
Since 1700, there has been a theater on the site of the former Brussels mint (which is what La Monnaie - De Munt in Dutch - means); the current opera house mostly dates from 1856 (the façade is older) and had its last extensive renovation in the 1980s. It's an ornate, medium-sized (1,700-seat) theater with excellent acoustics; it presents a broad repertoire of opera, dance and even solo recitals and chamber music. As with so many other European opera houses, a visit to La Monnaie is a relaxing pleasure. Coat checking is obligatory (and gratis), so there's an easy, unencumbered feeling as you make your way to your seat - or to the wildly decorated bar-salon with its trompe-l'oeil ceiling, where locals are as likely to be drinking (Belgian) beer as Champagne.
The two Handel productions we saw had originally been shown at Stockholm's tiny Drottningholm Palace theater and were now being revived jointly by La Monnaie and the Dutch National Opera (where they will play in repertory until March 1). In keeping with their original venue, they both have a simple eighteenth-century look to them: painted flats for scenery, and costumes more akin to the daytime clothes of wealthy or aristocratic contemporaries of Handel than to the extravagant dress that opera singers of the day would have worn. The simplicity, however, was belied by Pierre Audi's insightful and imaginative stage direction; he trusted the text and the composer's dramatic sense - which some directors find it hard to do - and enhanced the narrative without distorting it.
Christophe Rousset's musical direction too was eye-opening. Tempos were sometimes extreme but, in context, always seemed right: detail was not lost in fast movements, and shape and momentum were sustained even in the most extraordinarily slow ones. Just one example from Alcina: The title character's "Ah, mio cor" - a high point in any performance and wonderfully performed by soprano Sandrine Piau - was so slow that I actually emitted a (barely) audible "Wow" when I realized what was going on. This long aria typically runs ten or eleven minutes; Mr. Rousset's magical version took the better part of fifteen (I checked my watch). It was made even more other-worldly by the theorbo player, Laura Mónica Pustilnik, who laid an eerie shimmer over Handel's marcato string accompaniment; indeed, the continuo playing was consistently fine - especially when Mr. Rousset himself sat down at the harpsichord.
As for the singers, they were all strong musically, vocally and dramatically. See for yourself: the theater website will make both shows available for free video streaming from February 18 through March 10. I'll certainly be tuning in.
Jackie and I like to have something to eat after the opera, not before (lest we get dozy during the third act). Brussels is not the world's capital of night-owl dining, but the informal Café Georgette is a two-minute stroll from the theater and is open late (and every day). It has three elements: a takeout fried-potato shop, an upstairs nightclub with appallingly noisy music, and a convivial ground-floor restaurant where you can eat Belgian specialties such as carbonnade (meat and onions braised in beer), as well as tartares, pasta, steaks and nice-looking daily specials. There's no pressure to order a lot of food (at least one diner was eating only a vast mound of fries) and we had just one typically Belgian dish apiece: a pair of croquettes (the shrimp one was bland, but the cheese version was tasty enough); and moist meatballs in a creamy sauce with ham, onions and mushrooms, which were simply delicious. We drank good draft beers: blonde and amber brews from the Abbey of La Ramée.
We were opera-free on the other three nights of our stay in Brussels (the Sunday matinee let out at around seven p.m.), so we could eat at a more normal hour. Still, on Sunday and Monday our options were limited: those are days off for many local restaurants. Happily, with a bit of nosing around (and advice from Brussels resident Alison Cornford-Matheson), we did very well, dining in restaurants that were within a 10- or 20-minute walk of our hotel but that were entirely off the tourist track. We'd return to any of them in a flash.
Les Petits Oignons is a popular, well-established restaurant on the long, straight road that runs from the royal palace to the central law court - just down the street from the principal art museums, and a good choice for lunch on a culture day. Its décor is clean (lots of white) and its food and its clientele can both be described as bourgeois, which in this case means not stodgy but well-mannered and a trifle old-fashioned in a comforting way. Here, as I've noted on Huffington Post Taste, the shrimp croquettes were particularly good. There were tarragon-scented kidneys with a nice salty outer crust (perhaps a hair overcooked), sweetbreads with morel mushrooms and a rich, thickish wine-based sauce, and a fine first course of sautéed brains with capers - the Bruxellois evidently like their offal, and so do we. All - as well as a dish of skate wing, also with capers - were well-seasoned and more than satisfying.
Even on a Monday night, Les Brigittines was full of people. It is an exuberant place, all baronial dark wood paneling and fireplaces (most welcome on that cold night), with a chef-owner who is very much a presence in the dining room. The wine list is worthy of note: there must, for instance, be fifteen or twenty Alsatian Rieslings from producers large and small. And there are a few Belgian wines, the only ones we saw on this trip (yes, we ordered one, a Pinot blanc, and it was just fine). While the cooking is still rooted in tradition, there were happy twists in most of the dishes we ordered: the vegetables set on top of the mussel pot to steam along with the bivalves; the brightness of the cabbage, whelk and blood-sausage Zenne pot (named after a small river that runs through the city); the lightness of hand behind another first course of brains, this time with herbs, onions and a hint of vinegar. There are usually a few dishes on the menu that have been cooked with beer, such as the tender veal cheek I had, served with mashed potatoes and very seasonal vegetables.
By contrast, Jef was very quiet on a wintry Tuesday evening - as were most of the other restaurants we passed on the way. Behind its blue-painted store front, this family-run restaurant is simply decorated with spare modern furniture, and walls "paneled" with wine corks - though not from the all-natural/organic bottles on the short, interesting list. From the chalk-board menu we chose a classic terrine of foie gras (served too cold), with duck-fat-toasted bread and delicious fig chutney/jam that actually captured the elusive flavor of that fruit. Monkfish was perfectly cooked on the bone and filleted for service and was served with mashed potatoes (as many things were during our time in Belgium), carrots and a rather dense sauce that would have contained clams had I not asked that they be withheld: little gray shrimp were substituted, a generous and successful improvisation. Scallops, again perfectly cooked, were nicely paired with parsnip puree and a mixture of wild mushrooms. The quality of all ingredients was striking; the room deserved to be fuller, even on a dark, freezing February night.
The Dominican Hotel. 9 Rue Léopold, Brussels; +32 (0) 2 203 08 08; info@thedominican.carlton.be; http://www.thedominican.be/. Doubles can start as low as around €140 ($165) on the hotel's website and sometimes even lower on third-party sites such as hotels.com, depending on date and availability.
Café Georgette. 37 Rue de la Fourche, Brussels; +32 (0) 2 512 18 12; http://www.cafegeorgette.be/. Open lunch and dinner every day. Our spare supper for two cost €40 ($45) with good draft beer. A three-course meal for two would cost around €90 ($100).
Les Petits Oignons. 25 Rue de la Régence, Brussels; +32 (0) 2 511 76 15; info@lespetitsoignons.be; http://www.lespetitsoignons.be/. Open lunch and dinner every day. Dinner for two with modest wine about €130 ($150).
Les Brigittines. 5 Place de la Chapelle, Brussels; +32 (0)2 512.68.91; info@lesbrigittines.com; http://www.lesbrigittines.com. Closed Saturday at lunchtime and all day Sunday. Substantial dinner for two with modest wine about €140 ($160).
Restaurant Jef. 20 Rue Haute, Brussels; +32 (0) 2 437 35 73; info@jefresto.be; http://www.jefresto.be. Closed Sunday at dinner time and all day Monday. Dinner for two with modest (natural/organic) wine around €125 ($140), though the menu changes all the time.
The Théâtre de la Monnaie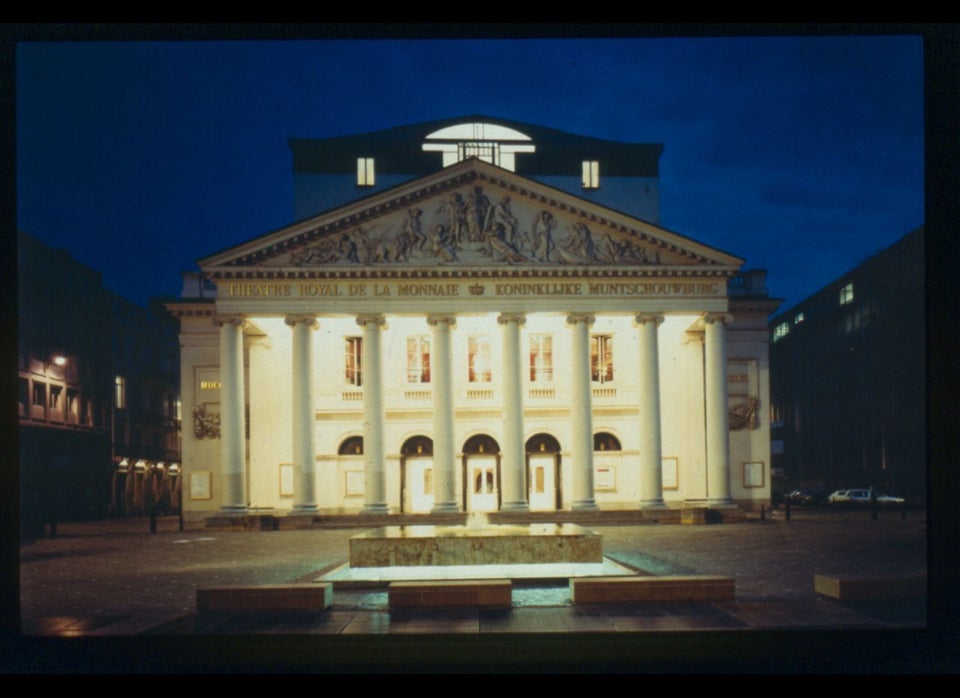 The ornate auditorium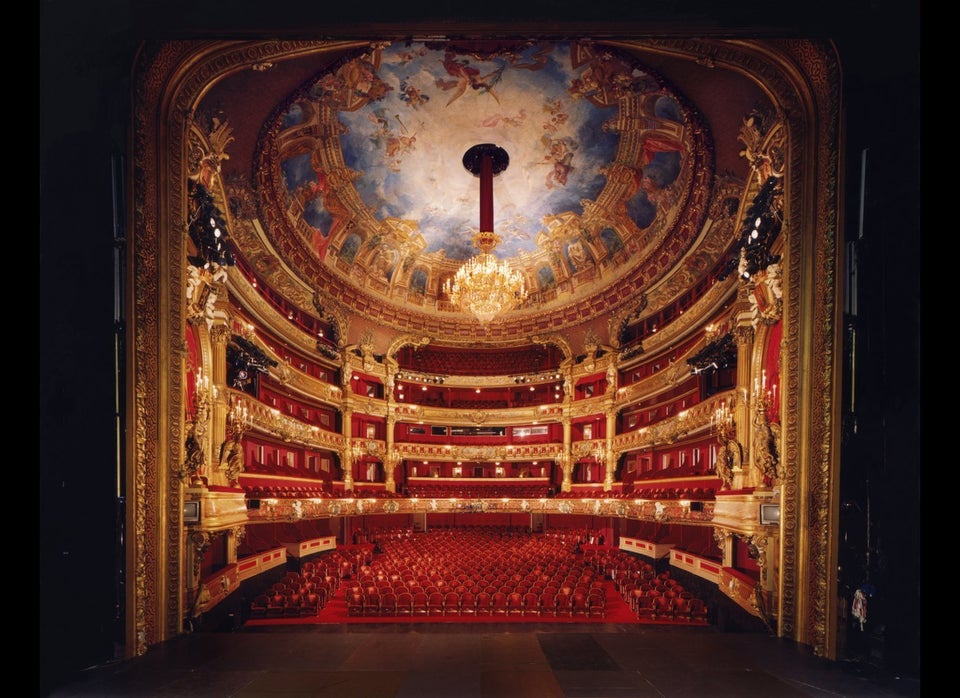 The even more ornate bar/salon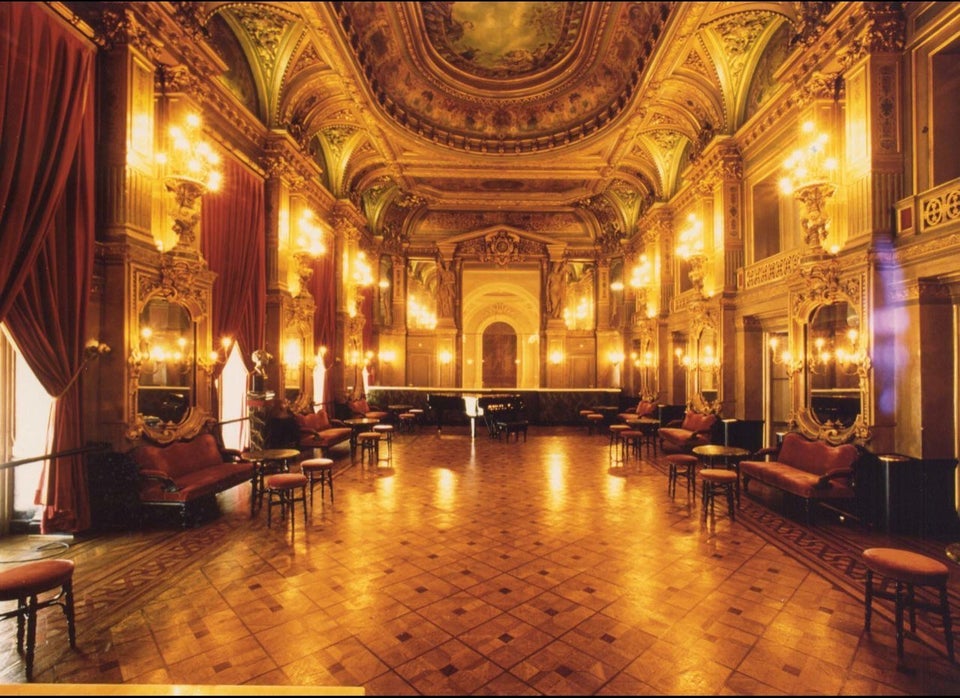 A scene from Alcina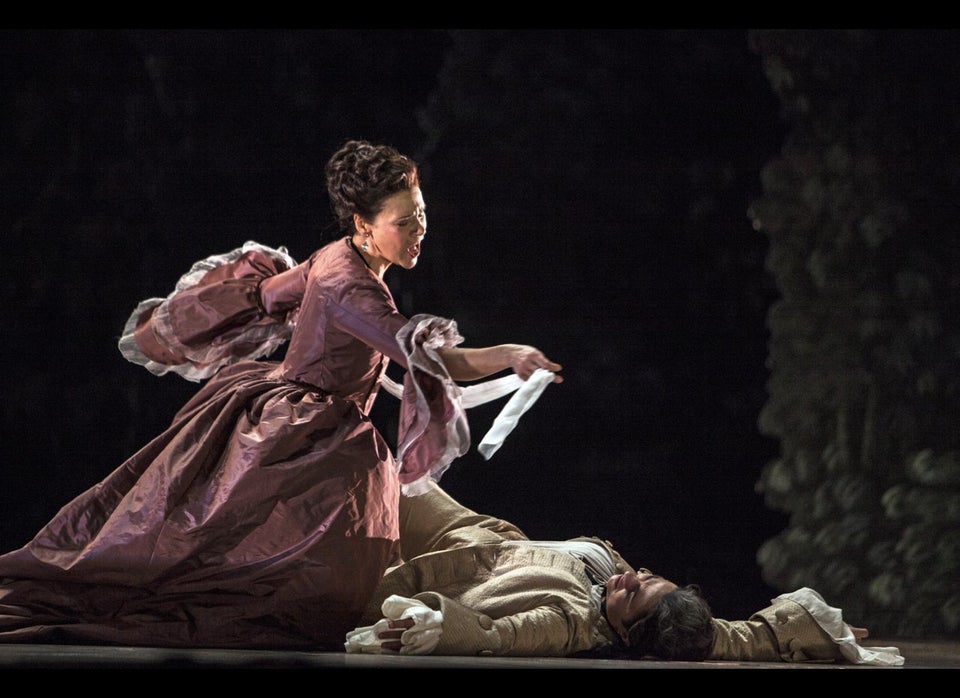 A scene from Alcina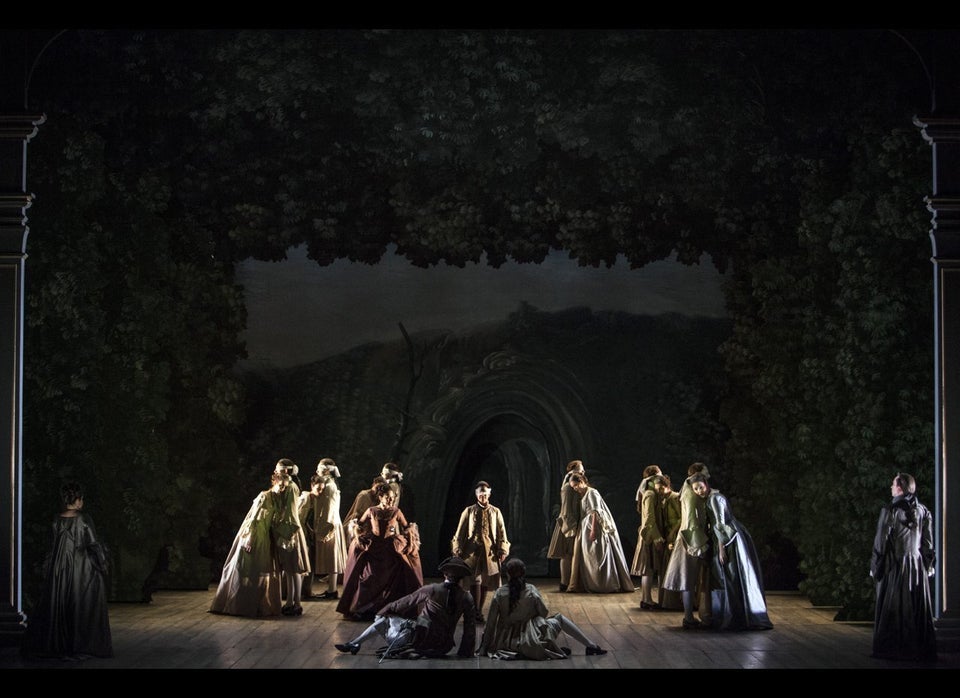 A scene from Tamerlano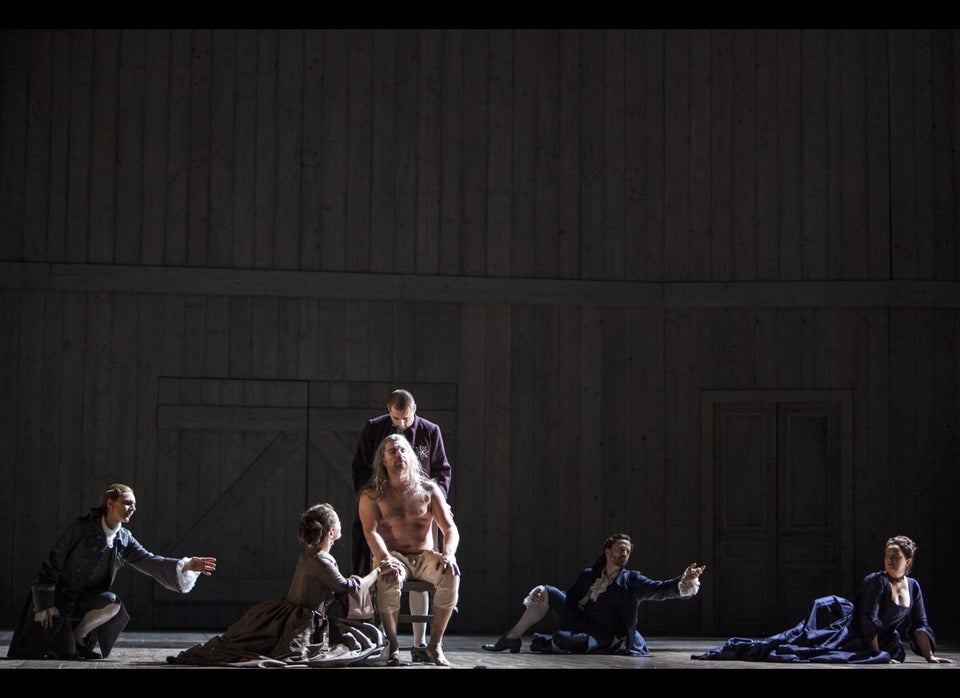 A room at The Dominican, Brussels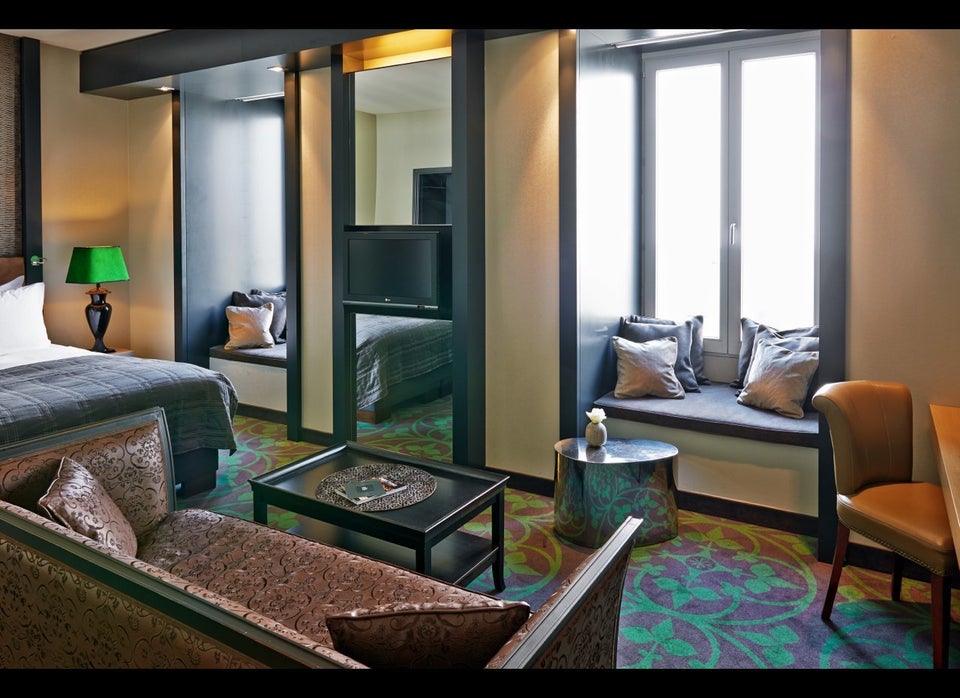 The bar at The Dominican: It's much more atmospheric at night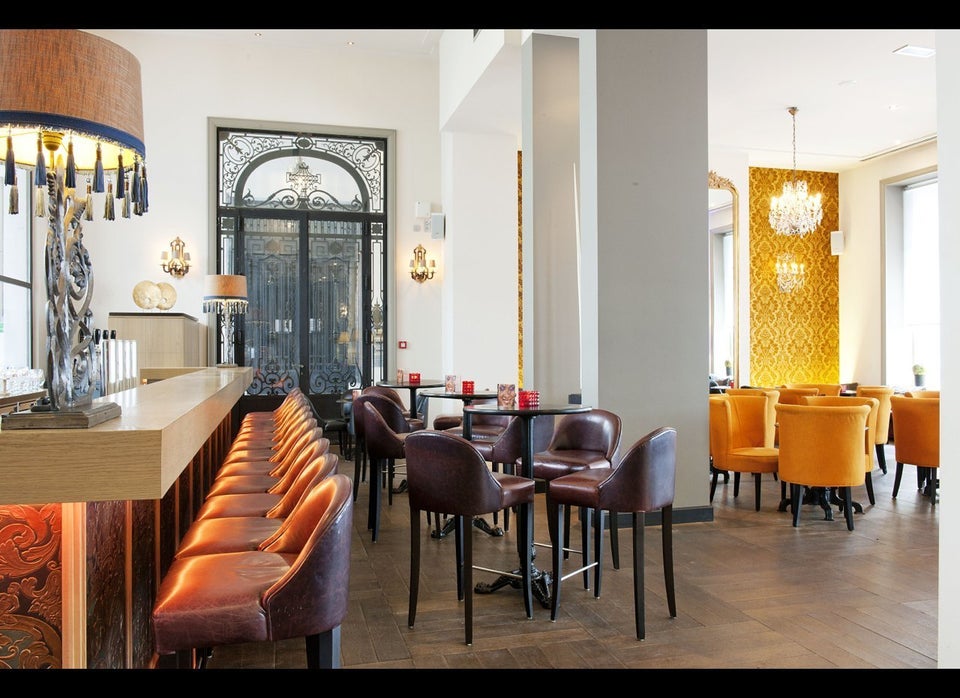 Classic skate wing at Les Petits Oignons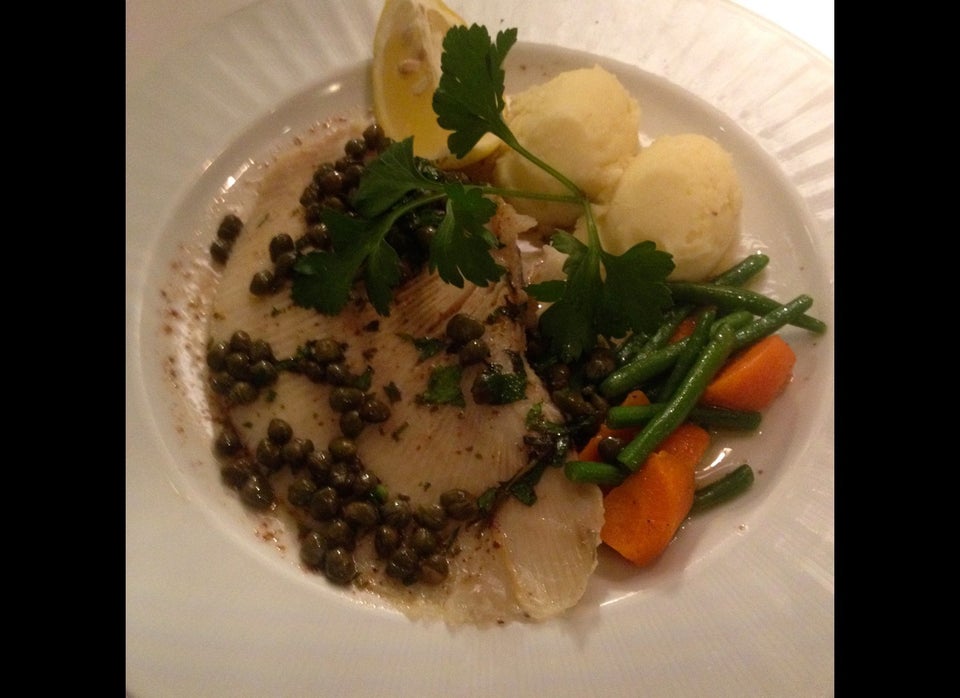 Grandma's style calf's brains at Les Brigittines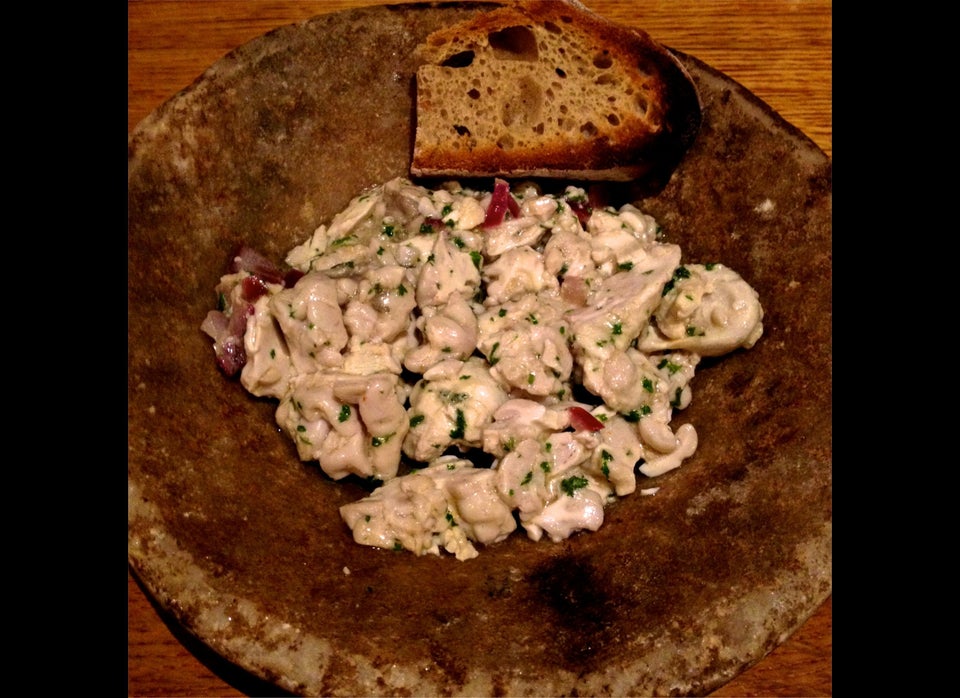 Veal cheek braised in beer with winter vegetables at Les Brigittines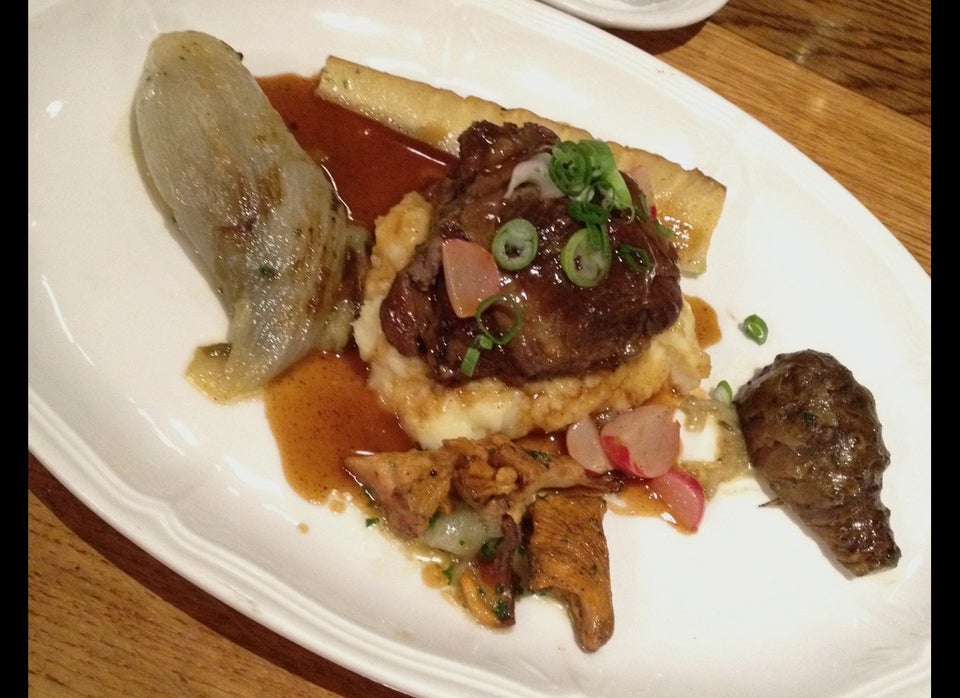 Foie gras terrine with fig jam/chutney at Restaurant Jef