It's a fact of twentieth-century history that many seemingly old buildings in Germany have been either substantially renovated or completely rebuilt. Allied bombing during the Second World War plus decades of post-war Soviet control in the eastern part of the country left vast areas of wreckage or decay.
On a recent visit, my wife and I stayed in a couple of hotels that exemplified this, both of them members of the excellent Kempinski group and both centrally located and well appointed: The Adlon in Berlin and the Taschenbergpalais in Dresden.
The Adlon Kempinski has a story too complicated to rehearse here, though it makes an interesting read. Its latest chapter is a new building opened just shy of 20 years ago, based on the 1907 original and with subsequent additions and adjustments, including a very recent renovation of the spacious lobby - Murano chandelier, fountain adorned with elephants and all; it's still new and bright and shiny, though no less inviting for that. I was much taken with the clever circular reception desk that affords guests privacy and elbow room as they check in and check out.
Our room was entirely comfortable, with a desk and seating area that gave us the space we needed to use our computer (there is no charge for WiFi), loll about and gradually eat our welcome gift: a chocolate model of the nearby Brandenburg Gate. The décor hinted at Berlin's imperial days, with extravagantly figured and glossily lacquered cherry wood veneers on the cabinet work, a judicious quantity of gold leaf and touches of old-fashioned graciousness such as a toilet accessible either from the bathroom or from the entranceway - for guests or for those times when one's partner is using the bath tub or the shower. There was a Nespresso machine, but no tea kettle: room service, however, was quick, accurate and friendly. Indeed, all the staff had a snappy, professional friendliness about them, and English was spoken by everyone we dealt with.
Berlin is a busy town even in early October, and the Adlon Kempinski is a big hotel, with more than 380 rooms. This meant that lots of people turned up for breakfast each morning and, to avoid a sense of overcrowding, were seated in several distinct rooms - including overlooking the lobby, which was fun. Yet service was efficient, generally fast and more personal than expected: one woman remembered our coffee preferences from the day before. Breakfast offerings were diverse, of consistently high quality, and generous: for example, there were blini to eat with smoked fish and salmon caviar, and on the way out each guest was given a jelly doughnut (aka Berliner) for later, which seemed silly until we returned famished from a day of tourism. We looked forward to breakfast in the hotel nearly as much as we did to our late-night spaetzle or Wiener schnitzel in Berlin's restaurants.
The hotel has a spa and a swimming pool and gym - things the 1907 building would have lacked - and several eating and drinking places, including one operated by the chef Tim Raue (at whose three-Michelin-star restaurant near Checkpoint Charlie we had a spectacular nearly-Chinese dinner on our final night in Berlin).
For us, the Adlon's location is ideal - turn right out the door, keep going along Unter den Linden, and you'll soon arrive at Museum Island - and its situation right near the Brandenburg Gate and the former East-West border is a good reminder of how far things have progressed since the wall came down in 1989.
The tale of Dresden's Taschenbergpalais Kempinski isn't quite as knotty as that of the Adlon, but it has a similar dénouement. In 1708 it was built as a palace for the mistress of the Elector of Saxony Augustus II, yet starting with its eighteenth-century-style façade, the building in which we stayed is a new one dating from 1995. While the main courtyard entrance is aristocratically neat and symmetrical, with stone fountains on mythological themes in two of its corners, the building is labyrinthine, its 214 rooms and suites reached by any of several elevators or grand staircases leading to corridors in which it is possible to get momentarily lost until you realize that if you just keep going you'll get to your destination soon enough. Eating places include a number of pleasant bars and restaurants, and there are a couple of others not operated by the hotel but housed in the building - a Munich-style bar-restaurant and an exuberantly kitschy cellar restaurant serving big portions of honest local specialties - with their own entrances and outdoor terraces for nice weather.
At 36 feet (11 meters), the indoor pool is big enough for a swimmer like me, who isn't looking to win any endurance races; it is housed in a serene room with a ceiling that evokes barrel vaulting. As in most hotels, there is often no one else in the pool, though there are inevitable surges: come back in ten minutes and it will be quiet again.
Breakfast was along the lines of the Adlon's, which is to say of impeccable quality and generosity if not on the same scale, with guests seated in any of several areas to avoid the sense that you're eating in a crowd.
Our room, also as at the Adlon, was quiet and comfortable, this time with eye-catching royal blue bedspreads trimmed with gold and red borders, like the livery of a noble house. This is not inappropriate for this regal neighborhood: the hotel is within a couple of minutes' walk of most of the city's principal sights, most notably the early-18th-century Zwinger palace (bombed and restored), which houses one of the great collections of 15th- to 18th-century European paintings, and the Residenz palace (also badly damaged and restored) with its astonishing mass of ... stuff: gilded table adornments, ivory knick-knacks and what not, all of it beautifully wrought, and a lot of it actually beautiful. The hotel is also handy for the opera house. Indeed, if you are in Dresden for museums and/or opera, the Taschenbergpalais is surely the best place to stay.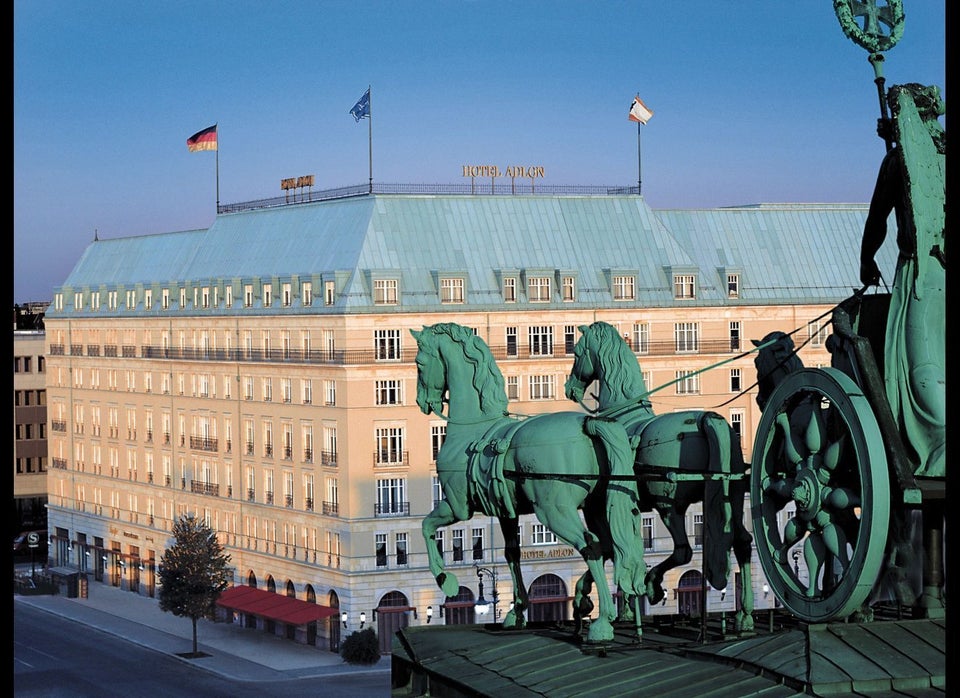 In Berlin and Dresden, Old Hotels Made New